Top News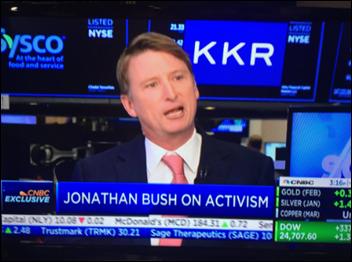 Jonathan Bush appears on CNBC six months after stepping down from Athenahealth as president and CEO, and one month after the company's sale to activist investor Elliott Management and Veritas Capital for $6 billion. The interview touched on a number of topics, from Bush's advice to CEOs facing similar pressures, to the role his personality may have played in Elliott's due diligence, to the future of Athenahealth. A few snippets:
On the dearth of publicly-traded companies: "You've got to acknowledge that the kind of cynicism and beat-downs that we witnessed probably hurt the number of stocks. There are half as many stocks on the Nasdaq today as there were when I took Athena public not that long ago, 10 years ago. You look at what happened to me … Athena was, since IPO, an average 23 percent annual return. Not for nothing Elliott was 13 over the same period. No offense guys, don't sue me. If a 23 percent annualized return is not enough because they're going to have a two-year period where things are going to be bumpy when you retool, when the administration changes, when your regulatory environment changes … It just makes it appealing to stay away."
On his attempts to cater to Elliott's early demands: "My experience is running a company with a gun to your head is no way to run a company. Better to just say pull the trigger. The damage to the company culture during that one-year period, the damage to the optimism, to employee retention, to our ability to hire technology executives, and the damage to my family, my friendships … not that anybody was mean, just that everybody was afraid all the time. People would say, 'We'd better talk in person' as if the phone was bugged. I'm sure nobody was bugging phones, but that was the tone and tenor of a company that was wildly … we were a very candid, honest, open company. That attracted people. It attracted customers and executives from places that were more defensive in their posture. The death of optimism at Athena made it a hard place to run, made it a hard place to sell, and that was exclusively due to that experience. It was not a cynical, negative, fearful place before. It turned on a dime."
On attempts to make him look bad in the media: "If you're cynical and you can use the media well, you can take humanity and twist it into a dark thing. They did a great job and I didn't do a good job responding. I do not claim to be a great activist investor battler … What I was surprised at was that nobody sort of said that, isn't this interesting … that one page of divorce filings from 14 years ago brought forward by the Daily Mail of London – after somebody sat at the Cambridge Community Courthouse to get that one page, throw out the other 1,800 pages – somehow gets playback by you guys and the rest of the press as if that's just a perfectly normal thing … they'll go through your trash, they'll follow you, and until someone was actually following me taking pictures … I was walking with a former colleague asking about a new HR hire and we were walking down the side of the Charles River … my wife got texts of the two of us walking, and you know, who's your husband with?"
On his cult of personality and its impact on his ouster: "At the time [we founded Athena], no one believed, no one entered. There was no VC in healthcare IT and we needed a little bit of reindeer games to get attention, to get on your show, to get doctors to come to our 10×10 booth at … HIMSS, to attract entrepreneurs. We went from $800 million of VC going into healthcare IT in the year we started the More Disruption Please program to $4.8 billion and almost all of them touching Athena in one way or another because we made it sexy and fun to enter this otherwise sclerotic and overregulated space."
 On his future plans, including running for office: "I like going where they ain't, and where honorable people aren't operating. Certainly healthcare IT was one of those places. It could be that politics is becoming one of those places. I don't know. I know I just want to be of service. I would like to make sure that whatever I do with the rest of my life is optimistic and has the notion of a unifying opportunity for everyone in it. Don't we all?"
On Athenahealth's future: "My fondest wish is that it becomes that secure, reliable, connected tectonic plate that allows liquidity in the healthcare system. I think it has everything it needs to be that as long as it can get the tone back, get the cultural energy back – somewhere that people want to come and get excited. I think they can do it."
---
Reader Comments
From InTheKnow: "Re: Cerner. Hosted customers experienced a five-hour downtime Wednesday due to a network looping area in one of its data centers. Customers had to break out the prescription pads and order requisitions." I reached out to Cerner after several receiving several reader reports – the company confirms it experienced a since-resolved "internal configuration matter." One reader's facility went down the second week of their ambulatory go-live, leading to his or her dry conclusion of, "To say leadership is 'not happy' is an understatement."
From Mad Fax Beyond Interoperability's Thunderdome: "Re: eliminating faxes. Not only is faxing universally available, it is built on an open standard, deployed on an open architecture, and immune from adding tolls or being hijacked for monetization. The 'usefulness' to anything other than human eyeballs brings security. Other technical solutions could solve this, but the trend toward walled garden tools and away from net neutrality worry me. The vector doesn't quite reach Mad Max post-apocalypse concepts, but a return to sneaker net is not out of the question. Patient-centered-distributed, edge-of-network that allow individuals to get their own information are out there, such as HIEofOne." Faxing is like aspirin – it would be a headline-splashing miraculous development making people gazillionaires if it were released today. Faxing is a symptom of our healthcare system's failing rather than one of its problems. Be careful of wishing ill will upon fax unless your memory is short enough not to remember what healthcare was like without it or your naivete is so strong that you see only good things resulting from taking away something that just works.
From We Bring Good Things to Life (By Selling Them to Better Companies): "Re: GE. Rumored to be selling its RCM business to Athenahealth." Unverified.
From HIStalker: "Re: Advocate Aurora Health. Had a drama-free multi-specialty, big bang go live on Epic on December 1, replacing Allscripts. The first of 10 hospitals will go live in October, replacing Cerner. When complete, AAH will be one of Epic's largest single-instance customers. Cerner Healtheintent will remain in place." The Chicago-area mega-system has 70,000 employees and annual revenue in the $11 billion range.
From LA Lady: "Re: HIMSS. CEO Hal Wolfe unceremoniously dumped long-time, highly visible COO Carla Smith without a public announcement. She deserves at least a thank you for her tireless work." Carla's LinkedIn says she left HIMSS in November after 17 years and is now consulting. I don't know the circumstances of her departure. New leaders have the right to pick their team, but we as dues-paying members might question those choices and how they affect (or signal) the organization's direction that we don't get to explicitly vote on. I suspect that those of us who were already wary of the unbridled growth ambitions and vendor-like behavior of HIMSS – funded by our dues and our other HIMSS spending — aren't going to like what's coming. They're still ignoring my request for copies of their 990 tax forms, which they're required by law to provide, and that never happened under Steve Lieber.
---
HIStalk Announcements and Requests
It's last call for the HISsies nominations for 2018. Surely you have thoughts about the year's stupidest vendor action, the most overrated technology or buzzword, and the industry figure with whom you'd like to have a few beers.
---
Webinars
None scheduled soon. Previous webinars are on our YouTube channel. Contact Lorre for information.
---
Acquisitions, Funding, Business, and Stock
ChartLogic parent company MedSphere will use $32 million in new financing for expansion efforts, including acquisitions and hiring.
Sources say Apple has at least 50 doctors on staff across various projects, with some keeping their roles a secret in accord with company culture. Others have been given a bit more media leeway as the company looks to convince providers it is taking their data-overload and "worried well" concerns to heart. Apple's consistent hiring of medical experts has pundits predicting that the company is getting serious about developing devices and apps that cater to the chronically ill. The company hasn't mentioned what part, if any, of its second campus in Austin, TX will be used for healthcare projects. The $1 billion facility will house up to 15,000 employees on 133 acres.
---
People
Evergreen Healthcare Partners names Beth Zuehlke (Healthfinch) SVP of consultant engagement.
Henry Chao (Sparksoft) joins federal health IT vendor FEI Systems as CTO. Chao led the roll out of Healthcare.gov during his time as CMS CIO and deputy director. He published "Success or Failure? The Untold Story of HealthCare.gov" in September.
---
Sales
---
Announcements and Implementations
Amazon works with Omron Healthcare to develop a skill for Alexa that connects the virtual assistant to the vendor's blood pressure monitor.
Wake Forest Baptist Health's Davie Medical Center (NC) implements Vocera's clinical communication and workflow software as part of its surveillance monitoring efforts.
A TransUnion Healthcare study finds that 80 percent of a hospital's self-pay revenue comes from  just 30 percent of self-pay accounts, an important figure as more people are losing health insurance and patient-responsible balances are increasing sharply. A previous study found that a typical hospital could boost their bottom line a lot more by optimizing their revenue cycle instead of cutting costs.
A new KLAS report on EHRs for orthopedic practices finds that SRS Health and Modernizing Medicine deliver the best workflows, Epic does well as an enterprise solution while Cerner is overwhelming to smaller facilities, and Allscripts Professional finishes last in lacking prebuilt orthopedics content.
Skilled nursing provider Marquis Companies reports reducing hospital admissions by 60 percent in a pilot project with Collective Medical, which gives individual skilled nursing facilities instant notification when a resident seeks care at a local hospital so they can, under appropriate circumstances, be treated by the SNF instead.
---
Privacy and Security
OCR fines Pagosa Springs Medical Center (CO) $111,000 for failing to cut off a former staffer's access to a Web-based scheduling calendar that included PHI.
OCR seeks input on modifying HIPAA rules to improve coordinated care, with comments due February 11.
---
Other
HCA (TN) develops and promises to share its Sepsis Prediction and Optimization of Therapy (SPOT) software, which uses AI-powered algorithms to analyze patient data in real time to look for signs of an impending infection. According to HCA, SPOT is capable of diagnosing a patient 20 hours before a physician, increasing survival rates between 4 and 7 percent.
Cancer survivor and patient advocate Grace Cordovano points out that providers aren't the only ones with questions about the Apple Watch's new ECG feature. She proposes Apple create a FAQ page for consumers that answer the following questions about alerts:
Who do I call – my primary care physician, cardiologist, or 911?
When do I confidently ignore, act upon, or wait to make actionable decisions about alerts I've received?
What do I do if I don't have a PCP or cardiologist and have to wait three to four weeks or months for a new patient appointment?
What if my care team doesn't use this wearable technology in their practice or recognize the value of the data that is generated?
Does Apple have a national registry of physicians by zip code that I may call for a virtual consult?
---
Sponsor Updates
Blog Posts
---
---
Contacts
Mr. H, Lorre, Jenn, Dr. Jayne.
Get HIStalk updates. Send news or rumors.
Contact us.