Top News

Marlin Equity Partners acquires PM/EHR vendor e-MDs and merges the company with another of its portfolio holdings, revenue cycle services vendor MDeverywhere. E-MDs founder and CEO David Winn, MD will retire.
---
Reader Comments


From Abe: "Re: Allscripts. I would like to know why the information of 250 people being laid off/fired at Allscripts is not on your web site. When all was good, you had them highlighted. Now that its looking grim … nothing." Come on, Abe, at least read the darned posts before complaining – it was right there in Monday's edition. I obviously wasn't present for the layoffs and companies don't announce them, so unless one of those 250 people tells me what happened (which they didn't), I have no way of knowing, but I went with the second-hand report of two readers. And before you claim sponsor bias, Allscripts isn't one any more – I got tired of their ignoring their months-overdue invoices and cancelled them. Meanwhile, a third reader who doesn't indicate whether they work for Allscripts says "this very disorganized company" is laying off 265 people. The MDRX share price has dropped 35 percent in the past year, so the ever-struggling company is surely feeling pressure to try something different as it hopes its oft-repeated "population health management" mantra makes investors forget about the legacy ambulatory EHRs and low-selling Sunrise that make up most of its business.
---
HIStalk Announcements and Requests
I have to bite my tongue (or fingers) not to correct people who refer to times as "EST," which is inaccurate until the clocks are turned back in November. We are in "EDT" and not "EST," but if you want to simplify, just say "ET" year-round and you'll always be correct. I've also had people get confused for interviews or calls when Lorre schedules them because she's in Arizona, which doesn't observe Daylight Saving Time (except for the Navajo Nation) and thus is on Mountain Standard Time year round, which is the same as PDT, meaning three hours behind EDT from spring until fall and two hours behind otherwise. We do all of this to try to unsuccessfully control nature, which ignores our human tinkering and raises and sets the sun regardless of how we play with our clocks.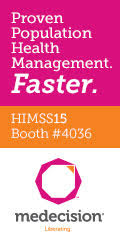 Welcome to new HIStalk Platinum Sponsor Medecision. The Wayne, PA based company's Aerial population health management technology identifies high-risk patients (or members), guides them to the most appropriate care, provides their clinicians with decision support tools, and automates manual operations, all via integration with existing systems. Aerial offers a unified clinical record, seamless integration feeds, hundreds of SOAP- and REST-based services, and a modular platform with 150 published Web services and APIs to facilitate interconnectivity. It's appropriate for any healthcare organization that is bearing risk in the move from fee-for-service to fee-for-value, supporting care coordination, care management, case and disease management, advanced clinical content, and consumer engagement. Thanks to Medecision for supporting HIStalk.
I found a just-published YouTube video that introduces Medecision.
Also sponsoring HIStalk at the Platinum level is Peer60 of American Fork, UT, which describes itself as "the best B2B research solution on the planet." CEO Jeremy Bikman founded the company after serving as a partner/EVP at KLAS. His folks tap into the company's network of 100,000 decision-makers get feedback, generate leads, and perform custom market research. Client HIMSS Analytics got a response rate 500 percent higher than it expected after working with the company, while Sectra standardized all of its performance metrics on the Peer60 platform. You can download a free copy of "What Hospitals Plan to Buy in 2015" or its report on interoperability, among other available free reports. You can also visit them in HIMSS Booth # 5009, where they will again be giving away cool guitars. I also noticed the sly comment on their site that interoperability is "making news in the many of the largest news sources on the planet (WSJ, Fortune, Forbes, HIStalk)," which was cute. Thanks to Peer60 for supporting HIStalk.
I headed over to YouTube looking for a Peer60 video and came across this funny one called "It Was the Patient Catapult!" 
Listening: new trippy-happy-hippie music from The Mowgli's, who first claimed that their misuse of the apostrophe in their name "represented the marginalization of society," but later admitted that they were just stoned when they chose it. It's as light and frothy as a pina colada on a summery beach.
We received the shirts that our HIMSS conference patient advocate scholarship winners will be wearing. Look for long-sleeved white shirts with Regina Holliday's HIStalking painting on the back.
---
HIStalkapalooza Sponsor Profile

HIStalkapalooza! As one of the platinum sponsors for this event, The Santa Rosa Family of Companies — Santa Rosa Consulting, Sandlot Solutions, InfoPartners, and Fortified Health Solutions — will be circulating the main floor as well as hosting up to 20 people at a time in our opera box. Stop by our caricature drawing station to pose for a fun way to remember the night! We'll send you a digital file of your drawing after the event to avoid worries about holding the drawing all night or protecting it while travelling home after HIMSS. Bottles of water will be provided for you as you leave House of Blues so you can hydrate on the way back to your hotel for a good night's rest for the next big day at HIMSS15.
You can find The Santa Rosa Family of Companies at various places throughout the HIMSS15 show floor: main booth #2641, Sandlot Solutions market research booth #2939, and the Fortified Health Solutions Kiosk within the Cybersecurity Pavilion. Don't miss our presentation on Monday, April 13 at 4:45 p.m. on "The Importance of Sensitive Information Discovery." Take a tour of all of our locations at HIMSS15 with our Passport Giveaway Program –pick up your passport, obtain your stamps at our various locations, and you'll be entered to win prizes that grow in value with each interaction.
We look forward to seeing you in Chicago!
---
Webinars

April 8 (Wednesday) noon ET. "Leveraging Evidence and Mobile Collaboration to Improve Patient Care Transitions." Sponsored by Zynx Health. Presenter: Grant Campbell, MSN, RN, senior director of nursing strategy and informatics, Zynx Health. With mounting regulatory requirements focused on readmission prevention and the growing complexity of care delivery, ACOs, hospitals, and community-based organizations are under pressure to effectively and efficiently manage patient transitions. This webinar will explore the ways in which people, process, and technology influence patient care and how organizations can optimize these areas to enhance communication, increase operational efficiency, and improve care coordination across the continuum.
Here's MedData's webinar from Tuesday titled "Best Practices for Increasing Patient Payments."
---
Acquisitions, Funding, Business, and Stock


Forbes profiles technology companies that are springing up to support the medical marijuana industry, with the pot equivalents of Yelp, Groupon, and Monster.com joining software developers that sell legally mandated inventory and sales tracking applications. One company is even creating a cannabis futures market that allows farmers to lock in prices for their crops.
---
HealthShare Exchange of Southeastern PA selects Audacious Inquiry's encounter notification service for its regional exchange. The statewide Florida HIE's Event Notification Service also uses the company's technology.
Golding Living chooses HCS Interactant for revenue cycle management in its 300 long-term care centers.
Children's Hospital Association chooses Health Catalyst's data warehouse for its 220 hospital members.
Greenwood Leflore Hospital (MS) chooses Dbtech's eFolders and Interactive eForms solutions for electronic forms, document storage, and electronic signatures.
---
People


HHS CTO Bryan Sivak resigns.
Shareable Ink names board member Hal Andrews (Availity) as CEO. He replaces Laurie McGraw, who is leaving the company.
Wake Forest Baptist Medical Center (NC) promotes VP/CIO Chad Eckes to EVP/CFO, where he will continue to oversee its IT department, and promotes Dee Emon to VP/CIO.
---
Announcements and Implementations

Forward Health Group joins the Health Data Consortium.
MedAptus launches Assign, which uses rules-based intelligence to automatically assign inpatients to hospitalists or other providers.
John Lynn of EMR & HIPAA posts a video interview with Vishal Gandhi, CEO of ClinicSpectrum.
Stanley Healthcare will offer Connexient's MediNav indoor wayfinding solution.
---
Other


Consumers in the US, UK, and Germany want physicians to offer exam room privacy, explain their recommendations verbally, make eye contact, and offer physical contact. They also want (but don't usually get) enough time during their visit to discuss their concerns. A commendable two-thirds of consumers bring a list of questions to their appointment, while 39 percent have checked an online source ahead of time. An amazing 97 percent are comfortable with their doctor's use of technology, with 58 percent of them saying exam room computers improve their experience. The Nuance-conducted survey concludes that technology should serve a supporting role to the art of medicine and that physicians should provide time for discussion, advice, exam room privacy, and engagement.  
Joint Commission issues Sentinel Event Alert #54 on the safe use of health IT and offers a free online course on the topic that's good for one hour of CE credit.
The CSC-led EHR project of Australia's Department of Defense, which wildly overran its budget and timelines, causes at least 30 doctors resign in protest who say the system compromises patient safety. A big concern is that anybody can modify the doctor's entries. This is probably not the news Allscripts wanted to hear as the DoD chooses its EHR vendor since CSC and HP are its partners.
The RSA Conference bans scantily clad booth babes from the exhibit hall, specifically mandating business attire that doesn't include tops that display excess cleavage, miniskirts, and Lycra body suits. Conference attendees said in surveys that they want access to technically competent booth reps who can answer their questions quickly, and as the Fortune article drily notes, "booth babes are usually temporary hires and therefore not your best best if you want a deep dive on the latest cryptographic solutions." However, it also observes that only 15 percent of the conference's 30,000 attendees are female, so the booth babe ban may reduce that number even further. It might be fun to collect photos of obvious booth babes from the HIMSS conference since they usually aren't hard to find and then call out the vendors who can't attract attention without the sexist eye candy.
Weird News Andy urges that we "hold the eye of newt." Scientists testing a ninth-century folk remedy eye salve made of onion, garlic, and cow's stomach find that it kills MRSA. I wouldn't get too excited just yet since lots of products kill bacteria in the lab but not in humans or with effectiveness tempered by unreasonable side effects.
---
Sponsor Updates
---
Contacts
Mr. H, Lorre, Jennifer, Dr. Jayne, Dr. Gregg, Lt. Dan.
More news: HIStalk Practice, HIStalk Connect.
Get HIStalk updates.
Contact us online.