A group of medical associations that curiously includes CHIME but not HIMSS urges ONC to refocus EHR certification on usability, interoperability, and safety and to disconnect EHR certification from the Meaningful Use program. They add concerns that ONC isn't paying enough attention to how ATCBs certify EHRs for privacy and security, such as not requiring complex passwords or insufficiently logging user privilege changes. Apparently the groups don't think the free market is working since the implication is that the EHR vendors they keep buying from are ignoring their customers and won't change without government intervention. Vendor priorities were so much more straightforward before Meaningful Use. 
---
Reader Comments

From JustAsking: "Re: Allina-Health Catalyst deal. Lots of headlines about a $100 million 'valuation' but no mention of additional equity, yet Allina now owns a piece of the company that investors sunk $40 million into last year. Was the customer unhappy? The Allina CEO took pains to say that it's not an exclusive arrangement." Unverified. I agree that the highly touted $100 million figure is meaningless since no details were provided about what that number represents, so I think the company overemphasized that just to add some sizzle (although the press seems to have accepted it without question). I don't get the sense that Allina is unhappy with Health Catalyst at all – they seem to be thrilled with the information they're getting. Most of Health Catalyst's board members are from investment firms who would make sure to protect shareholder value, so I'm assuming the deal makes good business sense. The only downside for the company is that whatever impressive results Allina announces won't be entirely credible given that they're now a part owner.
From Hawaiian Charlie: "Re: Scripps. I heard Cerner dropped out before demos start next week." Unverified. The semi-insider I know wasn't aware of anything new.
From Just a CEO: "Re: our national user conference. I'm looking for a speaker and one name came to mind – Mr. HIStalk! We can give you a mask or burka." I'll pass, but I will instead ask readers: have you heard a really good keynote-type speaker lately, especially one with credibility in the ambulatory world? Let me know and I'll pass it along.
From Pure Power: "Re: fitness trackers. Their allure is fading fast." As it should. It's fun for a couple of days to count steps, but the novelty fades fast as most people don't really want to be reminded to do something they don't enjoy (and whether fitness trackers change long-term exercise patterns is questionable). Wearables that can make a different in healthcare will need to: (a) measure something medically actionable; (b) contain enough smarts to figure out when data patterns – rather than a single reading – are meaningful, customized down to the individual patient; and (c) communicate those results quickly and perhaps silently to clinicians who are committed to act on them (probably without much hope of getting paid). Infrastructure will also need to be in place for clinicians to monitor what's coming in, like those people who sit in burglar alarm monitoring centers who decide whether to dispatch police. Wearables won't do much for healthy people, but with adequate sensors could help with chronic disease management, provided that those sensors aren't unpleasant to wear. From a business perspective, steer clear of wearables that diagnose new conditions since nobody wants to pay for new medical problems – focus instead on reducing the costs of managing existing, expensive conditions. We diagnose people pretty well – it's their care management that's killing us (and them).
---
HIStalk Announcements and Requests


Teach for America teacher Mrs. DiPaula sent over photos of her low-income Idaho first graders using the math games we HIStalk readers bought them a few months back via DonorsChoose.org. She adds, "Thank you from the bottom of our hearts!" I funded a bunch of grant requests using the proceeds from the top-of-page ads that I ran right before the HIMSS conference last year and I'll do the same this year if companies buy those spots.
This week on HIStalk Practice: Auburn University Medical Clinic rolls out new electronic immunization record-keeping system. Wake Emergency Physicians launches RelyMD telemedicine business. Security divas scrutinize the current state of cyber threats. ARcare selects new pop health tech. Ringly raises a new round. Kaiser makes it official with the NBA.
This week on HIStalk Connect: the FDA issues clarifying guidance on general wellness apps. Stride Health raises $2.4 million to scale up its Healthcare.gov-like insurance shopping app. A team of Harvard and MIT scientists launch InnerAge, a mail-away blood test used to predict lifespan and provide personalized nutritional recommendations to extend life.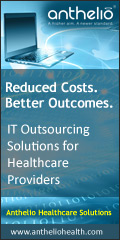 Welcome to new HIStalk Platinum Sponsor Anthelio. The Dallas-based company has been a single-source provider of healthcare-only technology solutions for 15 years, offering a long list of services (outsourcing, application hosting and management, data protection, data warehouse and analytics, service desk, EHR implementation and optimization, HIM outsourcing, revenue cycle optimization, clinical documentation improvement, population health management, legacy system archiving, and ICD-10, among many others). Products include a population health management platform, patient portal, patient-facing mobile app, and a physician coding improvement collaboration tool. You probably know industry long-timers CEO Asif Ahmad (formerly of Duke and McKesson) and SVP Gary Trickett. Thanks to Anthelio for supporting HIStalk.
I always head over to YouTube to look for videos about new sponsors, so here's an intro to Anthelio I found there.
---
Acquisitions, Funding, Business, and Stock


Quality Systems (NextGen) reports Q3 results: revenue up 13 percent, adjusted EPS $0.16 vs. $0.11, beating estimates for both.
Private investment firm Veronis Suhler Stevenson gets FTC approval to sell Strata Decision Technology to Roper Industries, which owns Sunquest. Stratus founders Catherine Kleinmuntz, PhD and Don Kleinmuntz, PhD moved on not long after selling the company to VSS in 2011. Roper also acquired post-acute care analytics vendor Strategic Healthcare Programs in August 2014 and already owned hospital dietary software vendor CBORD, so it's liking the healthcare software business.
Device and wearables Integration technology vendor Human API raises $6.6 million in venture funding.
The Advisory Board Company announces a $200 million add-on public offering. Above is the one-year share price of ABCO (blue, down 29 percent) vs. the Nasdaq (red, up 15 percent). The company's market cap is $1.6 billion.
---
Sales


Sixteen-bed Jerold Phelps Community Hospital (CA) chooses Healthland Centriq for clinical and financial systems.
University of Texas MD Anderson Cancer Center selects Capsule Tech's SmartLinx to integrate information from 2,000 medical devices with Epic.
---
Government and Politics


Several industry groups request that Meaningful Use and EHR certification require that EHRs be capable of electronically tracking implanted medical devices. They want EHR users to be able to scan the device's bar code (which contains an FDA-assigned unique identifier) to update the patient's record for outcomes tracking, adverse event reporting, and recall management. They add that the information could also be used by the EHR to trigger patient-specific device warnings.
ONC hires Michael McCoy, MD for the newly created position of chief health information officer. He'll report to Karen DeSalvo and will lead ONC's interoperability efforts. He ran a two-person consulting firm (Physician Technology Services) and has spent time as a CMIO and working for vendors such as DigiChart and Allscripts.
---
Privacy and Security

In England, NHS admits that it has ignored all of the thousands of requests it received from patients who don't want their records shared, saying that those who opted out may not have understood that they wouldn't have been notified of preventive services such as cancer screening.
SplashData studies 3.3 million leaked passwords from 2014, with the top 10 most used (and thus the worst ones to choose) being:
123456
password
12345
12345678
qwerty
124567890
1234
baseball
dragon
football
---
Innovation and Research

The Center for Integrated Diagnostics at Massachusetts General Hospital (MA) is performing genomics research using InterSystems HealthShare, using the population information it collects for personalizing treatments.
---
Technology


Microsoft announces the HoloLens, an eye-worn appliance that blends holograms with vision. If nothing else, it should nudge Facebook to bear down harder on its Oculis Rift virtual reality headset. The company also announced that Windows 10 will be released later this year as a free upgrade for users of Windows 7 or 8 if they upgrade in the first year. I like Windows 8 just fine, but a free upgrade offer means plenty of users don't.
---
Other


It's interesting to read Mayo Clinic's history as it prepares to implement Epic and its "one patient, one record" philosophy. Henry Plummer, MD created the concept of a centralized medical record at Mayo in 1907, replacing ledger books kept by each of its clinics. Mayo built a pneumatic tube system to move records from location to another. It looks a lot like the ones still used by bank drive-through tellers. Most of the hospitals I've worked in considered the tube system or dumbwaiter to be their central nervous system – computers work fine for information, but not for objects. I once convinced one of my tiny co-workers to climb into the dumbwaiter so I could send her up to third floor, where she popped out and terrified a nurse who was waiting for something to be sent other than a mischievous, perky blonde.
New York gun rights activists file an injunction to strike down the state's two-year-old SAFE Act, saying that it gives authorities access to protected health information that is used to confiscate the firearms of people who seek mental health treatment. The tough gun control law was passed a month after the Sandy Hook shootings of December 2012.
Early bird pricing for HIMSS15 ends January 26, so members will save $100 by registering now instead of later (or even more for the real procrastinators who'll pay $1,145 if they wait until March 17). Attendees also get free online access to the session recordings, which is a nice benefit  — I used to always buy the CDs to review later.
I was reading an interesting legal case that involved an EHR. A patient being treated by a physician practice for insomnia found that his wife was having an affair and then killed her and then himself. The man's estate sued the practice, claiming that the doctor failed to diagnose his depression and should have referred him to psychiatric help. The doctor testified that he asked the patient about suicide even though the pre-populated EHR checkbox didn't say so. The plaintiff's attorney used that discrepancy as an argument that the physician was practicing "point and click medicine" and wasn't listening to the patient, arguing that the EHR interfered with the physician's thought process. The jury found the practice liable for $8 million. The interesting aspect is that the jury's deciding factor was conflicting, auto-generated EHR entries.
Hospitals in Vietnam report that thieves are posing as the family members of patients in order to steal jewelry or money (inpatients usually have cash because hospitals there require upfront payment for each service). In one case, a guy posing as a doctor convinced a woman in the OR waiting room to pay him for her husband's perioperative blood transfusion, after which he he printed her a receipt from his iPad then took off with her money.
Weird News Andy says he could understand if it were pediatrics, but OB/GYN? Police responding to a hospital's call about a "young black male who appeared to be a child was dressed as a doctor" find find a fully garbed 17-year-old in an exam room with a doctor and a patient. The teen, who had been hanging around the hospital for weeks, wasn't charged since his mom says he's under unspecified medical treatment and refuses to take his meds.
---
Sponsor Updates
---
Contacts
Mr. H, Lorre, Jennifer, Dr. Jayne, Dr. Gregg, Lt. Dan.
More news: HIStalk Practice, HIStalk Connect.
Get HIStalk updates.
Contact us online.