An ONC blog post says that National Coordinator Karen DeSalvo, MD will continue to lead ONC while under reassignment as Acting Assistant Secretary of Health, saying she will continue to chair the Health IT Policy Committee and work on ONC's Interoperability Roadmap. ONC seems to be trying to reassure observers of its leadership exodus in adding, "The team that is ONC is far more than one or two leaders. The team of ONC is personified in each and every individual – all part of a steady ship and a strong and important part of HHS' path toward delivery system reform and overall health improvement."
---
Reader Comments


From Pedro Fumar: "Re: hospital handwashing video. This kind of thing gives me a douche chill, but I'm sure it can be effective." It's awful but annoyingly hard to turn off, sort of like "All About That Bass," but anything that elicits an obscure "Arrested Development" reader quote is OK with me.
---
HIStalk Announcements and Requests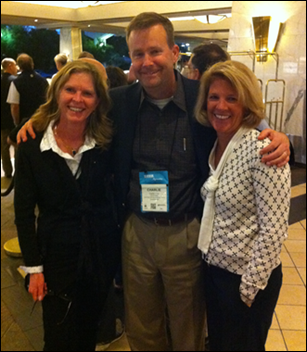 Jenn's magnificent daily MGMA conference recaps on HIStalk Practice will make it feel like you're there, especially if you actually are. I'm enjoying them.
Welcome to new HIStalk Platinum Sponsor TransUnion Healthcare. The 46-year-old Chicago-based company offers patient-centric patient access and collections systems that create a better, more transparent financial experience and reduce bad debt. Hospital solutions include ID and address verification, eligibility, patient payment estimation, ability to pay determination, medical necessity, and charity care determination. For collections and reimbursement, the company offers insurance coverage discovery for self-pay accounts, reimbursement optimization, Medicaid re-verification, presumptive charity care, and claims statusing. Most of these services are offered through strategic partners as well. TransUnion also offers data breach services – they will get a campaign up and running within two days that provides a case manager to identify and report fraud, notify affected patients, provide customer notification templates, and optionally stand up a toll-free telephone breach hotline. TransUnion has a #1 KLAS-ranked solution, five HFMA peer-reviewed solutions, 1,000 hospital clients, 75 partners, and 500 million consumer credit histories under management. Thanks to TransUnion Healthcare for supporting HIStalk.
Listening: new from Johnny Marr, who was the other songwriter (with Morrissey) of The Smiths and guitarist for Modest Mouse. It's not amazing and his singing isn't great, but he gets a pass for being a semi-legend.
---
Webinars

November 5 (Wednesday) 1:00 ET. Keeping it Clean: How Data Profiling Leads to Trusted Data. Sponsored by Encore, A Quintiles Company. Presenters: Lori Yackanicz, administrator of clinical informatics, Lehigh Valley Health Network; Randy L. Thomas, associate partner of performance analytics, Encore, A Quintiles Company; Joy Ales, MHA, BSN, RN, senior consultant, Encore, A Quintiles Company. Data dictionaries, organizational standards, and pick lists for data entry fields may describe the intent of a particular data field, but don't guarantee that the data captured in the source system actually reflects that intent. Data profiling is the statistical analysis and assessment of the data values in source systems for consistency, uniqueness, and logic to ensure that the data landing in a data warehouse or analytic application is as expected. Attendees will learn which projects benefit from data profiling and the resources needed to accomplish it.
November 12 (Wednesday) 1:00 ET. Three Ways to Improve Care Transitions Using an HIE Encounter Notification Service. Sponsored by Audacious Inquiry. Presenters: Steven Kravet, MD, MBA, FACP, president, Johns Hopkins Community Physicians; Jennifer Bailey, senior director of quality and transformation, Johns Hopkins Community Physicians; Robert Horst, principal, Audacious Inquiry. Johns Hopkins Community Physicians reduced readmissions and improved quality by implementing a real-time, ADT-based encounter notification service (ENS) to keep the member's healthcare team informed during transitions in care. Johns Hopkins presenters will describe the clinical, operational, and financial value of the ENS for care coordination along with its technology underpinnings.
---
Acquisitions, Funding, Business, and Stock


Optum will acquire Alere Health for $600 million, with Alere President and CEO Namal Nawana stating that the company wants to focus on the rapid diagnostics market. The Alere Health business includes clinical decision support, care management, home monitoring, and connected device technologies acquired over the years from DiagnosisOne, MedApps, and Wellogic.  
Revenue cycle and analytics solutions vendor MediGain receives $38 million in funding from Prudential Capital Group.
Portland, OR-based Bright.md closes a $1 million funding round to further develop its telemedicine platform. Co-founder Ray Constantini, MD was formerly a regional medical director for Providence Health & Services.
Bellevue, WA-based corporate wellness platform vendor Limeade receives a $25 million investment from Oak HC/FT's venture fund. That might be the best startup name ever, chosen purely because it's memorable though irrelevant.
IBM shares have dropped sharply in the past few weeks. Above is the one-year share price of IBM (blue, down 11 percent) vs. the Dow (red, up 7 percent). Maybe they can get Watson to develop a new corporate strategy (or maybe they already did).
Sunquest parent Roper Industries announces Q3 results: revenue up 7 percent, adjusted EPS $1.55 vs. $1.42, missing expectations on revenue but beating on earnings. Chairman, President, and CEO Brian Jellison said in the earnings call, "We had great performance, just great performance in both Sunquest and MHA. Sunquest continues to drive execution around the Meaningful Use implementations and upgrade which is finally getting us out at some of the backlog that we had experienced last year with Sunquest. So productivity is up sharply here."
In New Zealand, Orion Health registers for its IPO of $119 million, valuing itself at around $792 million. However, the company declined to provide financial information in its prospectus, which the COO justified by saying that only a third of its revenue is recurring, making forecasts unreliable due to its ongoing reliance on big-dollar new sales.
McKesson announces Q2 results: revenue up 36 percent, EPS $2.79 vs. $2.30, beating analyst expectations for both. Horizon Clinicals continued to drag down the Technology Solutions segment, whose revenue was down 6 percent.
CCHIT has shut down effective immediately after 10 years and will donate its assets to the HIMSS Foundation.
Cerner co-founder Cliff Illig joins Neal Patterson as the second Cerner-created billionaire as the company's shares hit an all-time high that values it at $22 billion.
---
Sales


Beaufort Memorial Hospital (SC) replaces pagers with the Imprivata Cortext communications platform.
Palmetto Primary Care Physicians (SC) selects the eClinicalWorks EHR and care coordination system for its 250 providers and 34 locations.
Priority Management Services (LA) chooses HCS Interactant for three of its long-term acute care facilities in Louisiana and Texas, which will implement the company's revenue cycle, financial, EMR, mobile, and Insight modules.  
Wake Forest Baptist Medical Center (NC) chooses Omnicell pharmacy, nursing, and analytics tools for medication management.
Agnesian HealthCare (WI) joins Premier, Inc. to make group purchasing, supply chain analytics, and ASCEND available across its enterprise.
---
People


Experian promotes Scott Bagwell to president of Experian Health.
Payment solutions vendor Altegra Health names Bob Drelick (Lovelace Health System) as CIO.
Analytics vendor Clearsense hires former PeaceHealth CIO Ryan Ball as CEO.
David Miller (University of Arkansas for Medical Sciences) joins Optimum Healthcare IT as CIO.
---
Announcements and Implementations

Emdeon announces retirement of the CaparioOne technology platform brand, replacing it with Emdeon One following its just-completed $115 million acquisition of revenue cycle vendor Capario. The company also added a denials management service to the system.
CareCloud launches an analytics suite for its medical practice users.
Cambridge University Hospitals-affiliated Addenbrooke's Hospital and The Rosie Hospital go live with Cambridge's $355 million Epic system, stated to be the first Epic go-live in the UK.
SCI Solutions releases a new version of its Schedule Maximizer enterprise scheduling system.
Vocera launches two products — appointment reminders and delivery of 12-lead ECGs to physician smartphones — and announces new EHR integration with its Vocera Collaboration Suite.
ADP AdvancedMD launches a patient portal, financial dashboard, and mobile e-prescribing capabilities.
---
Government and Politics 

An AMA statement says that the mass departure of ONC officials "leaves a significant leadership gap which could jeopardize the growing momentum around interoperability," adding its stump speech components that EHRS are "poorly performing" and that ONC should follow its recently announced framework to improve Meaningful Use.
Perhaps self-proclaimed public health expert New Jersey Governor Chris Christie should be focusing on this instead of traveler quarantines: 98 percent of New Jersey's hospitals have been fined for readmissions, by far the largest percentage in the US.
Meanwhile, The New Yorker runs a satirical piece called "Christie Sworn In as Doctor":
Dr. Christie said that, beginning on Monday, he would begin a series of random "house calls" to check New Jersey residents for Ebola and assign them for quarantine. "I can usually diagnose someone with Ebola in under a minute," Dr. Christie said. "Even faster if I don't actually see them." The doctor said that before moving forward with his plan to quarantine scores of New Jersey citizens he suspects of having Ebola, he consulted with other prominent epidemiologists, including Dr. Rick Perry of Texas.
An MGMA survey of 1,000 medical practices find that around 85 percent of them think Medicare's quality reporting programs detract from patient care and reduce physician productivity. More than three-quarters of respondents say the programs are too complicated, irrelevant to specialty care, expensive to implement, and include unachievable thresholds.
---
Innovation and Research


A Netherlands university graduate student designs a defibrillator-carrying drone that can be quickly dispatched in response to 911 calls. The device's GPS allows it to land at the patient's location, where it will initiate a live video session with emergency services to provide instructions. The student says the drone's faster response (since it isn't impeded by traffic) will increase the heart attack survival rate from the current 8 percent to 80 percent. He estimates that the "flying toolbox" will cost $20,000, but adds that  it will take a few years to fine-tune its object avoidance system. It's also not legal to fly automatically directed drones in his country.
---
Other


St. Bernard Parish Hospital (LA) blames Healthland's systems for its failure to collect $3 million, with the CEO explaining, "We have two systems, a billing system and a patient system, and those two systems didn't communicate with each other." The hospital's lawyers are negotiating with Healthland to get some of their money back.
The CVS and Rite Aid pharmacy chains stop accepting the week-old Apple Pay, joining several large retailers that are developing their own mobile payment network to avoid paying Apple Pay's 1.5 to 3 percent fees. They likely also have an unstated interest in continuing to collect data on shoppers using systems they control, possibly reacting to this Apple statement to consumers: "We are not in the business of collecting your data. So, when you go to a physical location and use Apple Pay, Apple doesn't know what you bought, where you bought it, or how much you paid for it," which of course is because it really can't since it only knows who was paid and how much, not what items were purchased.
Cerner's Neal Patterson pays $200,000 for the prize-winning steer at the American Royal Association's Junior Premium Livestock Auction fundraiser. No word yet on whether he pardons it like a White House Thanksgiving turkey, turns it into a freezer full of beef, or sends it to Judy Faulkner to live out its days grazing on Epic's farm.
CHIME's Leslie Krigstein tweeted out this picture of conference attendees volunteering at the San Antonio Food Bank.
Queensland, Australia's health minister releases a report stating that iMDsoft's Metavision ICU software, installed at nine of its hospitals, creates a 60 to 90 percent chance of contributing to a patient's death in the next 30 days. The report, citing several near misses, says that "monitoring of patient records by pharmacists has revealed several potentially serious prescription errors specifically caused by the system." Queensland Health is manually overriding the system and reviewing charts daily for problems while waiting on a vendor fix.
Jenn picked up this fascinating tidbit on HIStalk Practice: University of Texas Southwestern Medical Center is using Tabasco sauce in its Ebola precautions training for employees. Mock Ebola patients are anointed with hot sauce to simulate their bodily fluids, and if the skin of doctors and nurses burns as they remove their protective apparel, they know immediately that they've done something wrong. I use a similar technique to validate my hand-washing after chopping jalapenos for salsa, usually receiving a painful reminder of my sub-par technique conveniently close to the bathroom sink.
Weird News Andy likes the idea of an announced iPhone-powered cancer detection device, adding his intrigue that the company is also release 3D-printable versions of the sample trays it requires. It's interesting, but surely will never see the light of day in the US unless a bigger company with money to spend on FDA-required studies buys it.
---
Sponsor Updates
T-System client Dosher Memorial Hospital (NC) completes its pilot of a new version of EV that includes ICD-10 capabilities.
Medhost is showcasing its emergency care solution at ACEP14 this week in San Antonio.
Hamilton General Hospital (TX) meets Meaningful Use Stage 2 requirements using Medhost solutions to pull Q2 2014 data.
Health City Cayman Islands is featured in a documentary "From the Heart: Healthcare Transformation from India to the Cayman Islands." Appearing is Dale Sanders, former CIO of Cayman Islands Health Services Authority, now SVP of Health Catalyst.
BJC HealthCare (IL/MO) is live on ZeOmega's population health management solution Jiva.
Consulting Magazine recognizes Paula Elliott (Impact Advisors) and Nicola Johnson (Deloitte Consulting) in its "8th Annual Women Leaders in Consulting Awards" list.
ZirMed announces its User Group Conference and Partner Forum theme November 10-12 will be "Shatter Expectations."
Craneware will co-present with NorthBay Healthcare at the 2014 HFMA MAP Event in Las Vegas on November 3.
Levi, Ray & Shoup will participate in the 2014 SAP TechEd && d-Code event in Berlin, Germany November 11-13.
Sutter Health (CA) describes how Validic helped get patient/client steps, heartbeat, and sleep patterns into Epic.
---
Contacts
Mr. H, Lorre, Jennifer, Dr. Jayne, Dr. Gregg, Lt. Dan, Dr. Travis.
More news: HIStalk Practice, HIStalk Connect.
Get HIStalk updates.
Contact us online.