From The PACS Designer: "Re: RIA post followup. Since TPD's last post on Rich Internet Applications (RIA), an article has come out in InformationWeek magazine giving an excellent description of what RIA is all about." Link.
From DrM: "Re: Epic. Does anyone know the formula Epic uses to determine the minimum staffing levels at an organization that wants to implement Epic? I need to reality check some people and this would be useful information."
From Lukas: "With regard to the Kaiser deal to provide medical records on USB drives, there is a small problem: organization of the medical record. No provider can take the time to dig through a medical record that contains a lot of pages from a lot of specialists. Organization may not be a problem at Kaiser, but could slow things down with other practices. The rule of thumb for profitability is a family practice doc needs to see one patient every 15 minutes. Derm, one every 10 minutes. Which is why in derm we say: if it's dry, wet it. If it's wet, dry it. If it sticks out, cut it off. That helps out a lot with the turn around time for derm." I've been saying that too. Doctors don't want to go prowling around a hodgepodge of mostly irrelevant information (whether electronic or not) when they know patients will tell them anything important anyway. There's not much point in keeping a PHR if doctors won't look at it, but doctors already get more information than they have time to process (that's why they interrupt you within seconds in many cases). And you've got me worried with that "if it sticks out, cut it off" philosophy (I assume there are anatomic exceptions).
From Mike: "Re: earthquake. UCLA did fine. I was in another building nearby, but my friends who were inside the hospital said it felt like they were on a boat, swaying side to side a bit. Mildly disorienting because you felt like you had lost your balance, but nothing serious. It was a bit rougher where I was. Most people I know still thought it was the strongest they had felt. It was so much weaker than we're supposed to be able to take, though, that it barely counts (mag 5.4 35 miles away, and we can take a mag 8.5). Our old 'non-seismically-safe' hospital did fine too."

From Bailout: "Re: [vendor name omitted]. People are leaving in droves. In the last six weeks, President, CFO, VP Sales, all of support staff, both Sales Engineers, half of sales, IT support staff, etc., etc.. Looking for angel investor. Inside source said if they don't get funding, doors will close. Rumor is they owe everybody money." I'm trying to verify and I'll add the name if I do.
Symantec announces a virtualized desktop product that will let a user run their applications and data from anywhere.
Dann tells me that the HIStalk Fan Club he started on LinkedIn is up to 202 members. "Wow" is about all I can say about that (except "thanks"). Inga and I will promiscuously approve all intro requests if you're trying to build up your connections.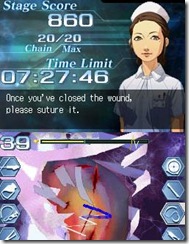 Hospitals are using Nintendo Wii games to tune the hand-eye coordination of surgeons. I bet doctors everywhere are thinking "tax deduction" for those Christmastime purchases of hand-eye coordination simulators.
Reorg time at Promedica, with an expanded role for CIO David Selman.
The remains of revenue cycle vendor MedAvant (aka ProxyMed) will be sold at auction next month.
I like Boston pretty well, so if you do too, check out the open positions at Children's Hospital. Where else could you work for a CIO who owns a record label and records electronic music?
UPMC bags #1 in the list of US hospitals spending the most on lobbying: $520K so far this year. They justify it by confiding to the locals that it's to bring more of your federal tax dollars back to the 'burgh.
Sparrow Hospital (MI) fires and disciplines an unstated number of employees for peeking at the EMR of Governor Jennifer Granholm.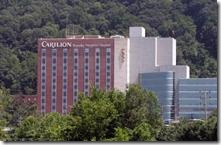 Carilion Clinic's (VA) transition from hospital to clinic isn't going so well: it lost $40 million in the first six months of the year, although much of that's from investments and not operations. It borrowed $160 million during that time from the state's small business fund, surely stretching that definition and taking money away from several hundred real small businesses.
The Harris County Hospital District (TX) employee who lost downloaded PHI is an associate administrator and could be in HIPAA trouble, according to reports.
Teleradiology is blamed in a lawsuit against an Illinois hospital. A radiologist working from home on a 12-inch monitor missed an ED patient's brain injury that eventually killed her. Said the radiologist, "I wouldn't have missed it. I see it plain."