From medHead: "Re: databases. I am looking for feedback from those who have reviewed the Multum Lexicon or VantageRx databases. In particular I would like to hear from those who have chosen NOT to license the content. Any feedback as to your decision criteria would be helpful."

From Grizzled Veteran: "Re: athenahealth. Wal-Mart/Target are still rolling out sites with eClinicalWorks on a daily basis. Without seeing the analyst's report, I can speculate that the relationship athenahealth has with CVS and MinuteClinic for revenue cycle management (announced in the spring) may be what is causing the confusion. CVS needed this because filing pharmacy claims gets a much quicker reimbursement than medical claims and they needed to employ a company to file, follow-up and collect A/R. Medical claims have a diagnosis and procedure code, pharmacy claims do not. All indications are that WM/Target are pleased with eCW."

From HIT consumer: "Re: Eclipsys. Do we know why Eclipsys has let its top two leaders of its Services group (Frank Stearns and Charles Wagner) go in the past few months? Who is exactly running the show now? What impact will this have on their customer service and their earnings?"

From Blue Hen Dave: "Re: DHIN. Delaware Health Information Network got wrapped up in a lot of state budget cutting, but not too badly. It won't be a major blow, but it does reinforce the need for state-supported programs to constantly communicate value and accomplishments to government."

From augurPharmacist: "Re: heparin errors due to confusion between 10 units/ml and 10,000 units/ml concentrations of vials in routine use. These products are generally purchased as ready-to-use vials or pre-filled syringes. Hospital pharmacies are not preparing these heparin IV flush orders dose by dose. What's happening is a supply chain breakdown – the wrong vials are getting from the hospital dock and through the pharmacy to the nurses' stations. In my opinion, we need to expand our concept of bar coding in the intra-hospital pharmacy supply chain according to the idea, 'each time the product changes hands it gets scanned,' i.e., scanned into pharmacy inventory, scanned at pick from inventory, scanned at dispense to the unit, scanned upon delivery to the unit and scanned at the bedside. CPOE does reduce certain types of medication errors. but these heparin errors are from faults beyond CPOE in the intra-hospital drug supply chain."

From Kent Winkdale: "Re: Epic in Dubai. A reader comment said the Epic decision was based on TCO. While cost was important, even there, they won with a superior demo and site visit. Scripted demos took over two days for each vendor, with thousands of line items and many scorers. Epic stuck to the script, showed real software, and ran a great site visit with a difficult schedule. Cerner and Eclipsys had last-minute site visit changes, less client enthusiasm, and facilities that didn't match the vision of University Hospital at DHCC. Epic just blew its competition away."

A Kansas City TV station joins Leapfrog Group in advocating irrelevant technology that wouldn't have helped the heparin-overdosed babies in Corpus Christi one iota. Leapfrog, which should have known better given its self-proclaimed expertise in technology and patient safety, shrieked "Everybody should buy CPOE" in response, showing a dangerous naivete in confusing drug ordering with drug preparation. Now the Cerner-friendly local TV station chimes in that bedside barcoding like Cerner sells would have prevented the tragedy. Can we please stop publishing consumer-facing drivel from people who have their own agenda, but no clue what they're talking about? The statement from CHRISTUS CMO Richard Davis clearly states that the pharmacy mixed the heparin incorrectly (yes, I know that pharmacies don't typically prepare heparin flushes, but I assume the man knows the situation). To reiterate: CPOE would not have helped (the heparin was ordered correctly). Bedside barcoding would not have helped (those systems can't check the contents of pharmacy-prepared products, only that the label matches). The only technology that could have prevented the error is something like what's shown below, which I'll almost guarantee you won't find in your hospital pharmacy because all the money to pay for it was spent on CPOE instead.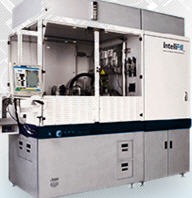 (I should disclaim that I don't have any connection with ForHealth, which makes one such robotic IV compounding system pictured above, but I am slightly familiar with their product). 
Allow me to editorialize: CPOE catches mistakes, but the vast majority of them would have been caught anyway (transcription errors rarely cause the wrong drug to reach a patient because someone double-checks, i.e. the Swiss cheese effect). Preventing errors is vastly different than preventing patient harm. Most serious patient harm is caused by IV drugs, so if you want to help patients, spend your money on technologies that address the "sharp end of the stick," such as pharmacy automation, bedside barcoding, and smart IV pumps. All of this was explained in Lucien Leape's seminal work involving medication errors going back to the 1990s, which showed that only 2% of nurse administration mistakes are caught. Hospitals allowed vendors and consultants to convince them that CPOE would solve their problems, apparently missing the point that it has minimal potential to address the main sources of true patient harm, most of which rests with pharmacists and nurses, not doctors.
I like to think that the Wall Street Journal got this idea by reading HIStalk since it's awfully darned close to what I wrote before their piece appeared, but I'll never know, of course. Also lost in all the excitement: do we know for sure that CHRISTUS Spohn doesn't have CPOE already? They're a Meditech shop and a 2008 HealthGrades Distinguished Hospital for Patient Safety winner (warning: PDF), so they might. I would hope (but doubt) that Leapfrog asked that question before posting its self-serving and self-damaging press release.
I know it's sophomoric, but the irony of a hospital named Saline is never lost on me. The piece on EHRs also included a quote from a doctor with a generation-jarring first name of Misty, reminding me of a line from a movie that itself is nearly a generation old now: "Real doctors aren't named Megan."
I mentioned Medicity in my little RHIO comment last time. Someone involved in a Middle East project e-mailed me to say that he's run into the company there, so I'm speculating that a deal is imminent. That usually means new jobs, which might interest some of the HIT folks being displaced.
I said before that I'd tried Second Life and wasn't impressed for business purposes, but most of what I disliked has apparently been eliminated by the most-feared competitor you can have: Google. Google Lively has a small web applet, although it's still in beta and prone to erratic behavior. If you like avatar-driven social networking or just want to keep tabs on what the Googlers are up to, it might be worth a look (I need to try it myself).
Jobs: Business Requirements Director, C++/Windows Software Engineer, Cerner SurgiNet Consultant, Implementation Project Manager.
Another hospital and its Senator want far-flung federal taxpayers to pay for its EMR, although it's willing to match the money (pork for 50% off?)
I went by the Apple store Saturday afternoon. The line was around the block just to get in the door. I know the iPhone is cool and all, but it's a PHONE, people. Then to the electronics store, which reported that you can't buy a Nintendo Wii anywhere because the millions they're making are grossly insufficient, even though it's 1 1/2 years old. At  least some folks have discretionary income, apparently.
Healthcare provides several reader-contributed examples of "The Very Worst Uses of Windows." One: "I was in the Massachusetts General Hospital laying in an fMRI tube because I was participating in a psychology study (and getting compensated financially). After a few minutes of inactivity I wondered when things would start happening – they soon extricated me from the tube. Turns out the cause of the problem was that the Siemens machine running Embedded Windows (as proven by a prominently-affixed license sticker) had locked up while I was entubed, and they had to reboot."
Another crappy quarter from GE, but really not bad given the market and Q1 fears. The company turned in a 6% drop in earnings. GE Healthcare, however, had an 11% increase in revenue and profits were up 8%.
Here's an Intel picture of its newly FDA-approved home health gadget. Pretty cool, I think.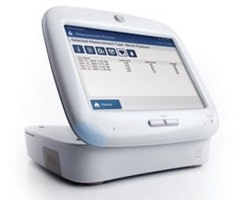 Eric Morgan is named CEO of AdvancedMD Software of Salt Lake City, which sells web-based practice management systems. He used to be CEO of StatCom.
A brave customer signs on with Emageon for RadSuite.
New York state is considering accrediting the governance capabilities of RHIOs.
Lawson software's Q4: revenue up 9%, EPS $0.02 vs. $0.04 after a one-time charge.
Merge Healthcare is excited that it regained Nasdaq compliance when shares rocketed above the $1 minimum, but the cork-popping didn't last: shares are now at $0.82, down 17% and starting the 30-business-day delisting clock all over again.
Sage Software Restructuring Response

A magazine article about last week's layoffs at Sage Software included an odd quote from SVP Sharon Howard. An HIStalk reader's comment said it seemed callous, while I agreed that it was at least questionable. I received this e-mail, which I'm running in its entirety since Sage employees (both the 235 affected and the remainder) should have the chance to hear her response, even if their feelings about the company aren't necessarily so warm at the moment.

Dear Tim and Inga:
Would you please share the following with your vast readership? I do not want my verbal missteps to reflect badly on our team, who sincerely value all our employees and who took great care to handle the restructuring with respect and compassion.
The Sage Software Healthcare executive management team made a conscious decision to be open and honest about the events of this week … both internally and with the media. By choosing to discuss this topic openly — rather than hiding our actions as some in the industry have done — we believe we are remaining faithful to the Sage Principles of Trust and Integrity. Both the executive management and human resources teams worked diligently to ensure that this painful process would be handled with as much dignity and respect as possible.
One of the pitfalls of being completely honest with the media about difficult situations is the chance that quotes will be misunderstood. That was the case with a recent article related to our necessary restructuring.
The writer was completely professional, and I won't hide behind the usual, "I was misquoted" excuse. However, I do want to explain how a comment that appeared uncaring ended up in print.
In my effort to be completely open about the status of affected employees, I responded to a question without clarifying what the reporter was really asking. The resulting quote conveyed a tone that in no way reflects my personal feelings.
We all have been affected by this issue, and I hope you will accept my apologies for this out-of-context quote that makes us sound disrespectful of the contributions of our former and current employees.
I appreciate that you mentioned that Sage did not seem like a callous company, because we are not. I'd hate to have people think we are because of my misstep.
Kind Regards,
Sharon