From rumorMILL: "Re: Eclipsys. Frank Stearns out as EVP of 7/1. You won't see him surface for a year, per his 8K employment agreement. The in-vogue thing among vendors is to take out the Services guy for not being able to weave all the crap together." No announcement yet, but his picture's gone from the site.
From J. Random Anyone: "Re: Sage Healthcare. I hear that Sage Healthcare is going to be laying off over 200 people. They already let go the Senior VP of HR and I hear technical support, marketing, etc. is next. I also hear that they are going to be outsourcing all of their technical support which might be the reason for these layoffs." Inga asked a Sage exec. She says the SVP got a job he was going after in St. Louis and there are no plans to outsource support. However, the company, like its ambulatory system competitors, is trying to offset a decrease in revenue. No layoffs for now. They promised to let us know if anything changes.
From Wireless Guru: "Re: Sonitor. Did they rig the RFID study?" Link. A blog reader pointed out that one author of the JAMA article that says RFID systems interfere with medical devices is the CTO of Sonitor Technologies, whose locating system uses ultrasound (i.e., non-interfering sound waves instead of radio waves). Sonitor's US CEO responded (summary: both Sonitor and the R&D organization involved with the article are in Oslo and Sonitor's CTO used to work there, but there's no connection otherwise). A press release says Sonitor concluded 10 year ago that RFID wasn't suitable for hospital use because of the possibility of interference. I'm pretty sure you haven't heard the last of the RFID issue since there's a lot of money on the line from both sides.
From Edith Piaf: "Re: Medicare delayed processing. Is anyone else extremely concerned about this? Round my way, in med/billing software land, there is a real tizzy going on over how to deal, react, etc."

Alex Scarlat, MD, the informatics doc at Trinity Health (MI), sent over a writeup on the Cerner SurgiNet and anesthesia go-live at Battle Creek Health System a few weeks ago. The anesthesia module is connected to medical devices via DataCaptor from Capsule Technologie.
I've received a couple of e-mails about layoffs at the former JJWild (now Perot) last week. I'll ask Inga to confirm.
For my fellow Firefoxers, specifically those using Firefox 3, a reader mentioned very high CPU utilization when accessing HIStalk. I suggested disabling all plug-ins since I'd heard of various problems. Result: CPU utilization dropped from 98% to 0% (it was a Flash plug-in). Check Task Manager to see if you have the problem. Another reader mentioned a plug-in that will open IE-only pages in a Firefox tab, which I found here.
Orlando Health, the former Orlando Regional Healthcare, goes with warehousing systems from TECSYS for its self-distribution of hospital inventory.
A reader e-mailed about her positive experience in a new hospital since I'd written about how hospitals aren't really designed for patient comfort or relaxing recovery. I just e-mailed her back, then figured I might as well post what I just dashed off: "I admit I'd want those rooms, too! Not only because of their amenities, but because getting into a new building often means employee morale goes up, policies are re-evaluated, efficiency is often increased since the facility was designed around modern processes, and the quality of staff recruited can improve since even employees want to work in shiny new buildings. Too bad about the wireless – it's hard to believe that hospitals still struggle with technology that a $40-a-day Super 8 motel mastered long ago!"
I updated downloadable reprints of the PatientKeeper and RelayHealth interviews on HIStech Report, just in case you're interested.
The CTO of NHS says standards bodies need to work together to allow interoperability and NHS itself will collapse its 15-20 standards into three: HL7 v3 (including its Clinical Document Architecture) and Snomed.
February's TEPR has been renamed TEPR+, probably because plain old TEPR (or maybe TEPR-) was on a steep slide. Here's what they say about it: "TEPR+ promises the innovative thinking, new technologies, and practical ideas that you've come to expect from TEPR, but with a wider focus on the range of healthcare IT solutions both currently available and developing. We'll provide more programming on the difficulties that arise with the incorporation of IT and discuss the cutting-edge technologies that will change the way we understand health IT today. TEPR+ – the evolution of TEPR and the future of health IT." OK, it's only seven months away – shouldn't there be a few more details instead of a boring monologue about how great it will be? One problem, perhaps, is that the call for papers just opened up (and you can't even read it without registering first). I want to like them, but everything about them is so serious (boring) and provincial. If they get a bunch of vendors as presenters again, I'd say put a fork in it.
A nice writeup on Sunnybrook Health Sciences and its Google Enterprise Search, which clinicians use to search its databases. Benefits: no training required, results are weighted by relevance and date, and people now post their material knowing it will be easy for others to find. The article included a screen shot of a typical search, which I've cropped and included below. Great idea. I always thought Google Search Appliance would be an easily justified hospital purchase.
DoD and VA say they'll be sharing data by the end of the year and then looking at how to make their EMR systems interoperable by September 2009.
UK newspapers seem to enjoy ripping into NHS and its IT projects, so I take such articles with a grain of salt. For those who don't, unnamed insiders at a hospital say its Cerner implementation has been "10 days of chaos," claiming that clinician workload has tripled (because they refuse to give up paper, it appears), training was insufficient (not Cerner's problem), and appointments aren't getting scheduled. All of that aside, I liked this quote best: "… staff had been told this was the bee's knees of computer systems." The unnamed insider must be a flapper girl.
Listening: HIStalk Radio, specifically, Happiness Factor and Beatsteaks. 
Sean McDonald, founder of the Pittsburgh-based pharmacy robotics vendor Automated Healthcare that McKesson bought in 1996, gets a regional E&Y Entrepreneur of the Year award for his current company, oncology test vendor Precision Therapeutics.
For anyone who cares about the Epic-WMC brouhaha, here's an update: a WMC statement complains about a liberal agenda to suppress free speech, the local press speculates it was the entire Epic management team and not just Judy who decided to issue the statement (maybe underestimating the consequences of doing so along the way), and the Madison paper rips a UW professor who said Epic's actions are "ethically dubious," putting Judy right up there with Gandhi (well, may that's a little over the top).
Former hospital CFO Tim Hubbs, who founded tax software vendor Drake Software (NC), is named CEO of Angel Medical Center (NC).
Carol Somer, who has done marketing and PR for Care Fusion, Vianeta, Bridge Medical, and APACHE, has joined Axolotl as director of marketing. All those companies were acquired, so maybe Axolotl is next. Or not.
An interesting look at medicine on the USS Ronald Reagan from a family practitioner and reservist. Sailors can e-mail the sick bay to make an appointment and normal lab results are e-mailed back, all on a secure, ship-wide Intranet; there's minimal paperwork, but not much continuity; and this comment about medical records: "We are using paper charts as well as an electronic medical record. We are the first in the fleet to use it at sea. I wish I could say it is robust and intuitive, but it is not. But it does the job it was designed to do, which is make the health record more portable."
Speaking of military medicine, here's an article on the MC4 combat system being used in Iraq. Stats: $10 million a year in annual costs, 26,000 trained users, 24,000 pieces of hardware. It says MC4 runs on speech recognition, can be accessed anywhere, is faster than typing, and the army is working on single sign-on. Said a medic and patient: "You can imagine what it must have been like 20 years ago if a doctor had to rely on an injured patient to give their own medical history … What was key for me was that over a year later, I couldn't possibly remember all the procedures I had gone through as an injured soldier, but I had the electronic database."
Kaiser is rolling out 94 self-service kiosks in its clinics, offering touch-screen patient check-in English, Spanish, Chinese, and Vietnamese. Most of the users, a Kaiser doc says, are under 35 years of age.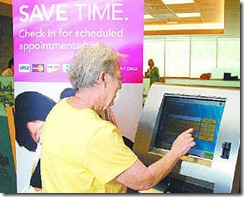 General Data launches a healthcare barcode site.
Pennsylvania senators slip in a bill that would give a local hospital $100,000 for an EMR system.
Not everybody's unhappy with healthcare's bureaucracy and confusing nature, as this article points out. A "healthcare advocacy" charged an rich businessman $92,000 for some basic EMR setup and arrangements, not including any actual medical services. The guy calls it "concierge medicine squared," while critics naturally say it's one more example of how screwed up the system is. PinnacleCare charges $10,000 and up for membership and says that at least 20 families on the Forbes Richest list are members.
The death of an unattended patient in a New York hospital's psych ED is drawing outrage that patients are routinely boarded there when beds aren't available. Somehow the fact that acute care hospital EDs do exactly the same was not mentioned.
German HIT vendor CompuGroup, spurned in its attempts to buy iSoft a year ago, is snapping up vendors left and right.
This editorial exposes consulting companies that help hospitals cheat to quality for Medicare outlier payments. The most fascinating factoid: the whistleblowers who tipped off the DOJ about Tenet doing that got $133 million for reporting fraud, their share of its $900 million penalty for overbilling.
$1,000 was enough, despite my ridicule at the paltry reward offered, to get someone to cough up the University of Utah computer backup tapes stolen from a courier's car last month. Sort of. The three geniuses who stole them, after hearing on TV what they were, sent a pal to try to collect the $1,000. Within three hours, police had the tapes back and the the perps, all of whom had long criminal records, of course, are in jail. Detectives believe the contents of the tapes escaped the forensic analysis of the thieves. "They definitely aren't techies, there's no question about that. I don't think they could find their rear end with both hands."
Bizarre lawsuit: a 17-year-old girl's family was hosting a going away dinner for a youth pastor. The girl, a child, and the youth pastor were jumping on her trampoline when she flipped and landed on her head, rendering her a quadriplegic. She's suing the pastor and the archdiocese that employed him for $33.5 million, claiming he should have known his weight of 183 pounds would put the 115-pound girl in danger. Also named is the trampoline manufacturer (who should have provided netting and warnings about weight distribution, the suit says) and the hospital, which she says allowed her to fall backward on a sitting position and whose nurse called her a quitter (which they all do, of course, to motivate rehab patients).