From Sir Lord Baltimore: "Re: hospitals not like hotels. These two are at least taking steps in the right direction. The first is for a Group Health project in Bellevue, WA . The second is the new SSM facility in KS." Link 1, Link 2. Interesting, especially from a design standpoint, but unless they decline to accept insurance, they'll still be ruled by the treat 'em and street 'em mentality that makes hospitals more like quick lube places than the quiet, restful places in the country they used to be back in the "sanitarium" days. Can you imagine a hotel being paid to see how quickly they can get you to leave? Maybe the whole concept of insurance was a socialist experiment gone bad, especially when the social goal of "healthcare for all" really means selling everyone insurance.
From Samuel Kershaw: "Re: Firefox. This sucks big time." Link. Google, in a rare retreat, pulls the plug on its Browser Sync and says competitors' products were better than its own anyway.
From Trampas McClure: "Re: employer award. Our hospital IT department won one of those magazine awards for being a great employer. Management put signs around to remind employees how good they have it and pretending it to congratulate staff for something or other. Just down the hall is a bulletin board full of open position postings. If it's so great, why did all those people leave?"

New poll to your right: should hospitals require prospective CIOs to have specific application or vendor knowledge?
Forsyth Medical center (NC) gets a mention in the local business journal about its upcoming Microsoft Amalga implementation, although only the first four paragraphs are visible to non-subscribers (like me).
Over in the UK, it sounds like there's a good possibility that BT will slide into Fujitsu's former role of implementing Cerner Millennium, at least in the south trusts. That's what I hear, anyway.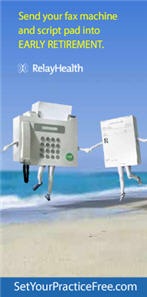 A warm welcome to RelayHealth, now an HIStalk Platinum Sponsor. Inga and I had worked with the folks there on our interviews about the company (Virtual Information Exchange and Financial Clearance Services) and we thought they were pretty cool with their Fake Ingas and badge ribbons at HIMSS, too. So now we're all hitched and everything. They're a sponsor of HFMA's ANI, which starts Monday, June 23, and I'm sure they would appreciate your stopping by to say hello (on behalf of HIStalk, since I'll be slaving away at work instead of playing the slots in Las Vegas). They're a load of fun in our book (the people we know, anyway) and they really want to support HIStalk's readers. Thanks to RelayHealth.
Listening: to HIStalk Radio, of course. Most recently played: L7, Bikini Kill, Yeah Yeah Yeahs, Operator, and Go Betty Go. If you haven't listened to new music since college, jump on, at least if your tastes are like mine (girl singers preferred but not required; punk, prog, and surf  influences OK; no soft rock or singer-songwriter warbling; no rap or so-called country that's really insipid pop; and anything indie, emotional, and rough around the edges preferred over formulaic corpo-rock and choreographed posers).
Ministry Health Care (WI) will move to the clinical system developed by Marshfield Clinic, discussed in my November interview with former Director of IT Tanya Townsend. CattailsMD even has its own web site, the tone of which (and the successful pursuit of early CCHIT certification for it) suggests that maybe Ministry will be the alpha site before commercialization, either by the clinic or maybe by an interested vendor (hmm … guesses who would be interested? although GE's lack of results from Intermountain should be a cautionary tale). Will Weider, CIO of both organizations, has more. I told him he'll be a media darling now – he'll get that USA Today photo yet.
Tennessee's Shared Health HIE upgrades its Clinical Xchange, with technology from Allscripts, IBM, Initiate Systems, MedAI, Oracle, and Orion Health.
Here's to the power of shared knowledge and inspiration. Several weeks ago, a CIO reader took me to task for some comments I'd made, leading me to write an editorial called Perfect is the Enemy of Good Enough: Waiting for IT Nirvana Kills Projects and Patients (her comments inspired me to dash the whole thing off in one sitting in a Panera while eating one of those orange-iced "scones," stretching that definition to to ease the customer's guilt over having dessert for breakfast). Anyway, another CIO e-mailed me yesterday to tell me that he planned to use the editorial to launch some discussion among his team. Pretty cool.
A Cerner intern wins a prize for developing a mobile phone application that lets college students sell their used textbooks locally. 
The author of that Newt Gingrich interview article I mentioned last time, e-mailed me to mention that it was actually published in State Legislature Magazine and came from the Forum for State Health Policy Leadership, part of the National Conference of State Legislatures. Also suggested: readers should check out their web site and state legislative tracking database.
Here's a great article on Epic Systems. Tidbits: nobody had heard of them locally until they started building the new HQ; the company was small (and confident) when they decided to build the monstrous $205 million campus; new construction will push its Verona, WI facilities investment to $500 million; and the company is actively going after business outside the US. Snips: "A contemporary photo of Faulkner, 64, is impossible to find, and a brief trade-news account of her 2002 speech to the Accelerate Madison tech group (she reportedly stipulated that her talk could not be recorded) is treated by Epic watchers as the Rosetta Stone for understanding Epic's idiosyncratic approach to personnel … Epic is famous for its rigorous screening of job applicants and providing its staff a world-class work environment. Private offices for everyone (not the cubicles so common in the tech world), imaginatively designed conference rooms for work-team meetings, art-filled buildings, gourmet food, an anything-is-okay dress code, generous stock plan, the sabbatical program and more. All to spur creativity, productivity and loyalty."
The new AVP and "chief growth officer" at Inova Loudoun Hospital (VA) is former CIO James Rohrbaugh.
Interesting technology: a retired ED starts a company to market his invention, an $8,000 imaging machine that highlights patient veins for nurses trying to start IVs.
Two Mayo Clinic retail pharmacies in Rochester are shut down temporarily because of unspecified software problems.
Odd: a Georgia doctor and two office assistants are charged with false arrest after allegedly refusing to allow a female patient to leave the office when she couldn't pay her bill immediately. Her lawyer claims she was told her visit would cost $98, but when she couldn't come up with the $755 final charge, she was locked in a room, forced to look up her bank records on the computer, and was walked outside to retrieve a payroll check from her truck while staff kept her keys.
GE Healthcare lays off hundreds of Waukesha workers because of declining imaging sales.
This article on a Santa Rosa (CA) clinic's EMR implementation has a great quote from the medical director: ""We don't really have a health care system. We're building a model for efficient, safe, timely, patient-centered care so that when we have a national health system, we can be part of that solution."
A Michigan paper does a pretty good job describing a physician group's use of Covisint's physician service, which includes e-mail, results, and claims. I saw it at HIMSS and was impressed, at least given my rather quick perusal.
Idiotic lawsuit: a 52-year-old female cop is suing Victoria's Secret after she claims her eye was damaged when a thong she was putting on shot a piece of rhinestone trim into her eye, requiring her to use ointment. Her attorney tried to stave off "idiotic lawsuit" eye-rolling and also declined to say how much she's suing for, saying "In terms of money, that's not what we really want here. We want to make Macrida fully redressed for her grievous injury." Money, in other words. She might want to either choose a non-thong next time, consider bumping up a couple of sizes, or re-sew the bling with some 50-pound test fishing line. I'm pretty sure I don't want to see a 52-year-old traffic cop in a V-string in any case.