From Ralph Hinckley: "Re: replacing Vista with XP. I just did it. Make sure your licensed version of XP on a CD is bootable. Boot from the CD. Nuke the partition when given the chance and install XP. If you attempt to do it while Vista is running and insert the XP CD, that will fail."
From Dnomyar: "Re: Epic .NET rumor. At the Epic User Group Meeting last fall, one of Carl's announcements was an intention to move the Hyperspace environment from a native client to the web in an incremental fashion. As I remember, he estimated that that the full conversion would take at least five years, although some specific modules or applications (e.g. Prelude) might be deployable on the web sooner. Haven't heard whether Epic has picked .NET for their toolset, though."
From Geek99: "Re: Epic .NET rumor. Epic moving to web deployment (regardless of whether they use .NET or some other application tier) does not necessarily have anything to do with the 'end of Cache in healthcare'. Epic is a client-server application moving to an n-tier application. It's highly unlikely that they would change databases on the back end just because they are changing the presentation layer."

From B: "Re: Epic boycott. Probably worth noting that Epic itself doesn't support PP – certain employees do. Each employee gets to direct a portion of the yearly giving to area/national charities of their choice. Kind of sad that it comes to this, as I imagine this will end up affecting where some people want to have their charitable giving directed." Actually, as a reader pointed out, that page the first reader sent in is over two years old, which I missed because it looked like a news item. So, whatever the boycotters hoped to accomplish apparently hasn't happened since Epic seems to be doing just fine. Nothing to see here, move along.
From Arse-Enio Hall: "Re: Epic's non-compete. Here's the latest list of companies that Epic identifies as competitors for non-compete purposes." On the list: Allscripts, Cerner, eClinicalWorks, Eclipsys, GE Healthcare, Google's healthcare area, InteGreat, McKesson, Misys, Meditech, NextGen, and Siemens, along with all parent companies, affiliates, joint ventures, etc. including those pending. I'm pondering: is being on the list a good thing since that means Epic is taking you more seriously than other vendors?
From Roy Loney: "Re: Firefox. For some reason, HIStalk causes the Firefox 3 Beta 5 browser to consume a very high percentage of CPU. IE uses less than 2% after the page is loaded. It's not HIStalk and it's not Firefox, but the combination is a problem. Maybe FF3 is inefficient with those separate Flash objects for sponsor ads and will be cleared by by the time it's GA." I noticed that it handles Flash poorly on other sites, particularly video (always stopping a couple of seconds in). It also doesn't work with my employer's web E-mail client or portal. Guess that's why it's a beta, but I'm still using it.
From Dash Riprock: "Re: VA. VistA is bulletproof when run in one instance per hospital, with at most an hour a month for maintenance. What has happened since the VA's reorganization and move to regional data centers  is unprecedented in scope and inconceivable to staff. This is more than 30 outages in the past six months. Most are 1-2 hours long so they don't make the press." Link. An April 10 outage in 12 medical centers was caused by hardware failure in the VA's Denver data center. In addition, Qwest had a one-hour outage just as the VA began troubleshooting its own problem. Stakes are higher when you centralize IT.
From Dr. Chumley: "Re: CEO Enrichment Index. How about this one? The interim CEO at Grady Memorial Hospital is a state representative who missed 177 of 233 House votes this year. She is managing partner of her  law firm, a Grady board member, and was appointed to the Grady non-profit corporation. After firing the CEO, she took the position herself and accepted the $600,000 salary, She has never been a CEO." State Rep. Pam Stephenson was named a couple of months back. Here's a little reporting error: a Grady official was quoted as saying that Stephenson is "imminently qualified to run the state's largest public charity hospital." Unless she's expecting a just-in-time dose of executive experience, I think the intended word was "eminently." A fellow Representative said he will introduce legislation prohibiting board members from taking executive positions at hospitals they oversee, calling Stephenson's appointment "a conflict of interest of epic proportions."
From Carb Venturi: "Re: Cerner. I've noticed that web search tracking tools are showing a spike in searches for  'cerner layoff' and 'cerner layoff age discrimination'. I report this, but I have no idea what it means."

From McK-Nuggets: "Re: McKesson. John King, son of former McKesson/HBOC CEO Graham King, is appointed to SVP of sales, central region, for Mckesson." It is good to be King.

Here's a reader's submission for "Name That Hospital". Looks kind of ominous to me.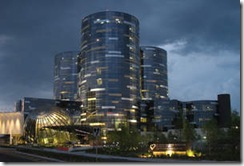 Patient Privacy Rights (Deborah Peel) issues a press release about the NEJM article on PHRs. "Contrary to popular belief, the 'P' in HIPAA does not stand for 'privacy.' Rather, HIPAA allows millions of healthcare businesses to snoop in our personal health records without our permission for 'treatment, payment and operations' (TPO), which allows data mining, marketing and the sale of our electronic records." The NEJM article seems to be getting a good deal of attention.
Look for a fun writeup on Monday or so: HIStalk 911. You asked for more coverage of small vendors, so we offered to give a volunteer company a CIO-level first impression. We got information from an executive there, did a telephone interview with a customer, and sifted through everything on their Web site and our e-mailed question responses. Inga and I will offer our thoughts on how they could improve. The company won't see our conclusions until they read along with you, so you can bet they're sweating right about now. HIStalk 911 is a dramatic but misleading name (the company isn't desperate and we're not passing ourselves off as esteemed experts), but we thought it was fun. Best of all, we'll ask for your thoughts, too. Companies willing to accept public critique in return for visibility are welcome and we're doing it pro bono, of course, although it does take a fair amount of time so we can't do it too often. See you then.
A new study says healthcare IT needs 40% more people to implement advanced systems on a national level.
Jobs: IT Director of Business Applications (NC), Consultant (MA), Cerner PathNet Consultant (PA). Gwen has a deal for HIStalk sponsors running position listings.
Meditech co-founder and MIT professor Ed Roberts wins an MIT entrepreneur mentoring prize.
Clinical reference provider Epocrates, fresh off its iPhone stage time with Steve Jobs and apparently unafraid of a terrible stock market, files for a $75 million IPO. It's profitable, anyway.
If you subscribe to Google Alerts and are getting updates from Advance for HIE, I'd ignore them. They apparently screwed something up and are blasting out all kinds of undated news story links that are years old (I don't know why you'd ever post a news story without a date, but they do). Inga was atwitter over a QuadraMed news alert she received today that was interesting, but when I found the original press release, it was from early 2006.
All the geeks are aroused over Second Life, so I gave it a try and left unimpressed, at least for its business usefulness (maybe it was a pop-up offer to buy avatar genitalia about 30 seconds into the orientation that did it). It was a resource hog and isn't easy to figure out, although it's kind of cool. Maybe I'm being curmudgeonly, but it seemed like yet another time-waster for Internet hermits desperate for phony friendships or cybersex. I can't imagine companies building Second Life storefronts and training centers will get their money's worth.
This guy is interesting: at 26, he earned OHSU's first PhD in biomedical informatics and is now a Harvard Medical School instructor. His interest and doctoral dissertation topic: working on the Nationwide Health Information Network.
The PACS Designer's Open Source Software Review
TPD was happy to see our fellow blogger Shahid Shah posted a list of 100 open source software programs for medical professionals. TPD has decided to review some these programs for HIStalk readers. It will  be a review of their usefulness in daily work activity and not much about their technical aspects. The first review is about Debian, which is an alternate operating platform than you would traditionally see in a medical practice.
Debian looks like it would be useful in work environments of small practices where one of the staff members has a broad knowledge of operating platforms and has done some previous installs of similar systems. Since there will be frequent bug fixes, you will have to evaluate each fix as to how it will affect your system. It would probably not be useful in large institutions unless it was first tested in a pilot of a select group of users.
Debian is available on the hardware platforms of  Hewlett Packard, Dell, and a few other hardware suppliers. Support functions can be outsourced to them if Debian is deployed in your practice. There is also a broad developers network and many universities across the world are using Debian.
TPD Usefulness Rating:  8.
Link 1, Link 2, Link 3, Link 4.
An Epic Customer's Impromptu Visit to Verona
I'm a general surgeon and Epic user. You might be amused by my impressions of Epic and my poor cell phone photos of the campus.
While I was in Madison WI, my wife and I drove out to Verona. We could not find Epic's address in our GPS, so we just drove out. Once in town, my wife just went up to the counter of a mini-mart and asked them, "Where is Epic?"  Everyone knows where Epic is! We got directions with only one turn, and voila!, we were looking at the familiar view from Google Maps.
We just drove around this HUGE campus, with many buildings still under construction, and nervously parked our car at what appeared to be a visitor's parking spot and walked up the steps and hill to the Mecca. All around you see whimsical little sculptures and paintings and themes, like this one of Humpty Dumpty sitting on a wall holding a laptop that says "Epic!"
There are multiple finished buildings in a general circle of top of one hill all generally constructed in a brown, red, and grey theme, but each one designed differently. Across an artificial ravine, about 1/2 mile away, there is another massive office building of green and chrome glass, presumably an office and training center, which will dwarf this current new campus.
We walked inside and introduced ourselves to one of three secretaries and explained we came on short notice to visit. She said she would arrange a tour. In the entry lobby, we got the impression of the Pacific Northwest, with artificial trees, tree trunks framing a staircase nearby, and little ceramic photos and items hanging on the walls. Wood paneling and dark browns and greens mingled with Geek cultural icons like the head of Yoda of Star Wars perched on some end tables where visitors wait.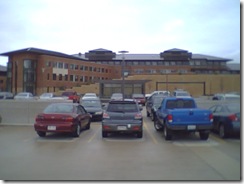 There are some photo books that I should have picked up, 24 Hours in the Life of Epic, featuring photos of employees getting up, getting ready for work, driving into work in minus 11 degree weather, and at work around the world, in airports, and on site.
It turned out there was no one to give us a guided tour, so we were given a four-page color brochure of Epic's "Intergalactic Headquarters" and map of the campus and told we could take our own unescorted tour. We were introduced to the "Lake Conference Room" (on a lake theme with a rowboat in the side of the room framing a large paper tablet). More scenic sites were hard to figure out, "Wall of Hands," "Sunroom and Fireplace," or "Galaxy" or "Ice Palace." We were perfectly free to wander around and look inside offices and conference rooms which seemed to be about 1/3 full and 2/3 unoccupied.
People were pretty preoccupied. There were a few people sitting on couches with laptops, dress was casual, there were grease boards up in every office, many computers and laptops about, and all sorts of juxtaposed sculptures, furniture, artwork in whimsical arrangements and themes — an overview of our popular culture. It was at once distracting, interesting, and full of play.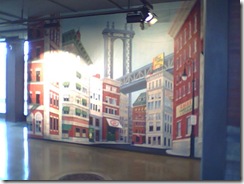 There seemed to be little concern for stealing trade secrets or unauthorized access. In several very large auditoriums, there seemed to be large employee orientations going on, teaching them principles of responsibility and responsible reporting.
Different buildings had different themes and names. We did not venture into the dining area, "Cassiopeia" but we found out that building "Formalhaut" was in a New York City theme with city streets, park benches, subways, and stuffed dummies adding to the décor. We did meet a few denizens of the building "Ganymede" who showed us around a little.
We were late for a dinner, so we stopped by the entrance, said goodbye, and drove off, musing at what is in store for Epic, a privately-held company with business expansion, lots of employees and space, and no significant financial debt. It looks like a company to watch.
Inga's Update

Seems as if some TriZetto shareholders aren't pleased by the company's plan to be acquired by Apax Partners for $1.4 billion and are filing a class-action lawsuit. Mr. H predicted the acquisition might not be a slam dunk.
Medford Medical Clinic in Oregon is deploying Krptiq's eScriptMessenger for eRx.
The University of Tennessee Medical Center selects GE Healthcare's Centricity Perioperative Solution.