From Sleepless: "Re: Hackensack. If the Soarian rumor is valid, it would not be a surprise. I was involved in their Soarian Financials decision in 2002. They have been looking for 'perfect' rather than 'good' since then. They could have gone live with Financials three years ago, but they kept moving their 'wants' list, rather than address their 'needs'. Lex is somewhat to blame, but his constituents keep moving the bar on him. His FTEs are extremely competent people, but the clinicians across the street constantly move the target. Siemens competed heavily against EPIC and IDX back in 2001/2002 and again for the Clinicals in 2005. No surprise that one of the clinicians has maintained a relationship with EPIC."
From On A Friday: "Re: Cerner marketing slick. An unidentified man seems way too happy to be configuring his computer's BIOS. Scroll down to page 2, look closely at the text on the computer screen in the picture." Link (warning: PDF). Yep, Stock Photo Man is poking vigorously at a BIOS setup screen, of which the IDE drive's master/slave settings are clearly visible.
From Wendell: "Re: GE Healthcare. 150 people cut Thursday."
From The PACS Designer: "Re: SAP. TPD has worked with SAP and noticed their expanding healthcare presence. Their software is quite complex and not easy for users to comprehend, so it could be a difficult sell if IT is unfamiliar with their applications. One option could be to hire a consulting firm to do custom development and provide training. When the SAP application is turned over to the client for daily use, the quantity of the data collected can grow quickly, thus providing real value to the client while reducing the number of data silos."
From Carl Hubbell: "Re: Unibased Systems Architecture. Health IT Strategist ran a blurb on the company's CEO, with the last sentence being 'Unibased declined to provide Covington's age.' Isn't that odd, both that they wouldn't say and that the journalist printed that fact? Maybe it's like a back-handed compliment in discussing John McCain's 50 years of service."
A well-placed source suggests that Misys will be losing some top-level salespeople (like VPs and directors) when the company's fiscal year ends in May.
One reader guessed one hospital from the set of pictures I ran last time – UPMC Presbyterian. Nobody recognized MD Anderson (or said they did, anyway). Here's another, sent in by Ray. Hint: the Swan-Ganz catheter was invented there (that gives it away, right?)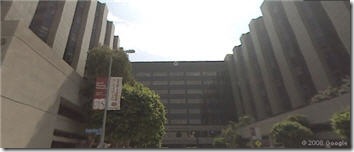 I see new HIStalk sponsor Innovative Consulting Group redesigned its web site.
Newt Gingrich is a self-worshipping blowhard at times, but he gets off a good line at Princeton: ""In the average doctor's office, when a UPS person walks in, they double the amount of technology in that office." He also mentioned that some South Florida pizza restaurants registered as HIV clinics to rip off the federal government, apparently a widespread practice there.
TEPR unleashes another example of the marketing savvy that has made it a trivia question compared to HIMSS. The name of its latest award: "EMRs Best Meeting Medicolegal Requirements." I know they do serious work there, but theirs is the least-fun conference I've ever attended (once, long ago), about as dry as that name. Still, 5,000 attendees is pretty darned good and I guess that's what you get when you dump the boat show and emphasize education. And while we're all freezing in Chicago in April, TEPR attendees will be enjoying Fort Lauderdale in May, a far wiser decision.
Daph sent over some HIMSS pictures. Feel free to reminisce:
The first is a trio of lovely lasses (two of them Professional Fake Ingas) at the HIStalk reception. I should bring them to a TEPR shindig to spice things up.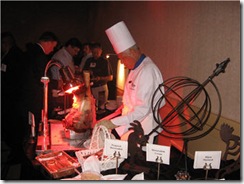 The beer encouraged more food and vice versa and Healthia arranged a first-rate spread. If I had Neal Patterson's money, I'd have a guy like this in my kitchen around the clock just in case I wanted a sandwich while toiling away on HIStalk, as opposed to the current arrangement whereby I drop broad hints and Mrs. HIStalk tells me to get my own peanut butter.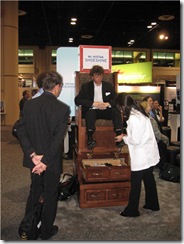 This is Red Hat's Mr. HIStalk Shoeshine. It's strange to see your stage name on beauty queens and shoeshine stands. I rather like it, actually. 
Here's another patent extortion company making money from healthcare. Kaiser Permanente "buys a license" for running a call center, the patent for which is claimed by a company that's allegedly extracted over $1 billion through aggressive lawsuits that end up being settled for the purchase of a license. The company's patents are notoriously vague and short – here's an example.
The folks at Raymond James sent over their quarterly KLAS review, which is handier than digging through KLAS myself (although keep in mind they're in the stock biz, so there's some vested interest inherent). Some nuggets, which mostly involve my interpretation (disclaiming so the KLAS folks don't complain that I'm not presenting the entire statistical story):
Epic continues to slay everybody, now stealing another #1 in the pharmacy systems category and still busting it in the large ambulatory practice segment. If you sell against Epic, you might as well bow down now instead of waiting for the inevitable, especially if you're a hamstrung publicly traded vendor.
GE's Lastword Clinicals is dead last in primary and detail indicators. In fact, GE Healthcare turns in the most pathetic performance of every vendor IMHO, especially given the company's inconceivable resources and reputation. The whole portfolio seems to be heading down the crapper as everybody waits for the genie to come out of the Intermountain bottle to save the day.
Cerner ProFit isn't any better than it was. Too bad – it looked like they might salvage it a year or two ago.
Epic and Allscripts lead the ED segment. Hello again, Epic.
Centricity Lab's scores are so low they mess up an otherwise tightly packed chart, surely one of the most dramatic first-to-worst stories ever written. It was #1 before Triple-G sold it to GE, if I recall.
Ditto GE's medication administration product, the cellar dweller.
Ditto GE's pharmacy system, also #1 at one time before BDM sold it to GE. Sensing a pattern?
For small-practice EMRs, Allscripts HealthMatics, Greenway ,and eClinical Works lead the pack, with Allscripts moving up a little and eCW dropping, with the analyst's conclusion that eCW is having product and services delivery problems.
athenahealth leads the small-practice billing and scheduling segment, widening its lead in PM over eCW, whose "best vendor" score dropped from 95% to 69% in 12 months.
My impressions after a quick skim: Epic, athenahealth, Allscripts, Greenway, Sunquest, and McKesson Paragon are winners (with the Allscripts scores reminding everybody that the company is more than just TouchWorks and stock problems). Laggards trending down are GE and Cerner. Doing very well but worth watching in the next report is eCW.
OSU Credit Union donates its used telephone system, valued at $100,000, to Samaritan North Lincoln Hospital (OR).
A three-stented heart patient scheduled for a monitor implant in the UK is scared out of her mind when her appointment is cancelled. The hospital told her it was because of equipment and staffing levels, but a spokesperson contacted by the newspaper said the patient scheduling system messed up.
The Wall Street Journal rips non-profit hospitals that roll in the cash, citing 25 that earn more than $250 million a year and calling attention to Ascension Health's $7.4 billion war chest. They mention Gary Mecklenburg's $16.4 million parting gift when he left Northwestern Memorial in 2006 (he's now a venture capitalist), nearly as much the paltry $20.8 million it spent on charity care (less than 2% of revenues, a ton less than the tax breaks it gets for doing so). UPMC, defending its $3.35 billion in cash and investments, says it will spend $1 billion (!!) to create electronic medical records, although the reporter mentions its $10 million in advertising and $3.3 million CEO salary. A billion-dollar EMR built on top of Cerner? How much better or cheaper would care have to be delivered to pay back a billion dollars? In the mean time, Pittsburgh is rotting away because there aren't many taxpaying businesses left in it.
An enterprising doctor in Australia admits he used a PC to blast out boilerplate treatment plans to receive reimbursement, of which "every single one of them was considered inappropriate."
Inga's Update

Will Congress be hot to focus on patient privacy issues now that one of their own might have had his privacy breached? Apparently Rep. Joe Barton was one of 3,000 patients whose records were on a stolen NIH laptop. Barton was already a strong privacy advocate, having founded the Congressional Privacy Caucus.
No surprises here. Men are more likely to lose money on Internet scams than women, losing $1.67 for every $1 the fairer sex loses. Send a man a sexy photo and an e-mail and you never know what you'll get back. So I hear.
Will the palm be more popular than the finger? BioGuard announces the launch of PalmGuard for biometric authentication. The product will look at unique pattern of veins in the palm for authentication.
Here is a link to participate in the Medical Records Institute/Philips Speech Recognition survey on EMR trends and usage. Results to be released in July.