Top News
Scotland-based RCM vendor Craneware will acquire Sentry Data Systems, a Florida-based hospital pharmacy procurement, revenue cycle, and compliance solutions business, for $400 million.
Sentry offers software and services that support health system 340B drug purchasing programs.
---
Reader Comments
From Little Wing: "Re: software. I'm looking for a company that develops AI-based applications that a local government could use to track and report on the treatment and care for abused children in the social services program." Readers, suggest a company from your experience and I'll forward the information.
---
HIStalk Announcements and Requests
Welcome to new HIStalk Platinum Sponsor Azara Healthcare. The Burlington, MA-based company is the leading provider of data-driven analytics, quality measurement, and reporting for the Community Health and physician practice market. Azara solutions empower more than 1,000 Community Health Centers, physician practices, Primary Care Associations, Health Center Controlled Networks, and clinically integrated networks in 36 states to improve the quality and efficiency of care for more than 25 million Americans through actionable data. Specific products include data reporting and analytics; care management; patient outreach; MIPS and APMs management and reporting; patient registry and population health; and the FHIRstation interoperability platform. Recent company news includes its merger with the population health division of SPH Analytics and its #1 Black Book ranking in end-to-end population health vendors, best-of-breed provider technology. Thanks to Azara Healthcare for supporting HIStalk.
---
I'm required to occasionally purge inactive email subscribers from the HIStalk Updates list. You might want to enter your email address again just to make sure you didn't fall off the list inappropriately (you won't get duplicate emails regardless). Signing up for no-spam email updates is the secret weapon of more than a few industry leaders who are driven to be the first to know.
---
Webinars
June 24 (Thursday) 2 ET: "Peer-to-Peer Panel: Creating a Better Healthcare Experience in the Post-Pandemic Era." Sponsor: Avtex. Presenters: Mike Pietig, VP of healthcare, Avtex; Matt Durski, director of healthcare patient and member experience, Avtex; Patrick Tuttle, COO, Delta Dental of Kansas; Chad Thorpe, care ambassador, DispatchHealth. The live panel will review the findings of a May 2021 survey about which factors are most important to patients and members who are interacting with healthcare organizations. The panel will provide actionable strategies to improve patient and member engagement and retention, recover revenue, and implement solutions that reduce friction across multiple channels to prioritize care and outreach.
Previous webinars are on our YouTube channel. Contact Lorre to present your own.
---
Acquisitions, Funding, Business, and Stock
At-home testing company LetsGetChecked raises $150 million in a Series D funding round, increasing its total to $260 million.
San Francisco-based primary and urgent care company Carbon Health marks its first foray into chronic condition management with the acquisition of digital diabetes clinic Steady Health. Carbon Health hopes to have 1,500 clinics across the country within the next four years. It operates 70 clinics in 13 states and offers virtual care in select locations.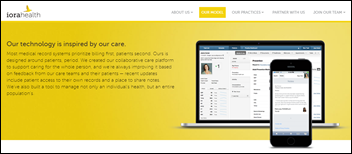 Membership-based primary care company One Medical will acquire Iora Health, which offers similar services for seniors, for $2.1 billion. Iora Health co-founder and CEO Rushika Fernandopulle, MD will become One Medical's chief innovation officer.
Mendel will use an $18 million Series A funding round to further scale technology that uses AI to make sense of unstructured health data from health records and medical literature. The startup markets its services to healthcare organizations that are looking for analytics-ready data.
---
Sales
---
People
Erich Huang MD, PhD (Duke Health) joins Onduo as chief scientific and innovation officer.
HealthTrust promotes Michael Seestedt to CIO.
CitiusTech names Bhaskar Sambasivan (Eversana) president.
Hospital supply chain, analytics, and interoperability solutions vendor SCWorx promotes Tim Hannibal to CEO.
Conversational AI vendor Orbita hires Patty Riskind, MBA (Qualtrics) as CEO.
---
Announcements and Implementations
Apple adds new health-related functionality to IOS 15, including the ability to share health and wellness data from its Health app, new trending tools for health measures and goals, a Walking Steadiness measure, improved lab results display, and the option to store immunization and test results directly in the Health app. Apple Watch adds a measure of respiratory rate during sleep and a new Mindfulness app. Cerner announced that it will support the enhancements in the fall.
Wolters Kluwer Health releases telehealth-specific Health Language value sets for use in claims processing, care coordination, and benefits systems.
Jvion develops a Behavioral Health Vulnerability Map to help providers better address conditions that contribute to mental illness.
Augusta Health works with care and social services coordination software vendor Unite Us to develop Unite Virginia, a tech-enabled care coordination network for healthcare and social services providers.
Seven hospitals in Ontario will go live on a shared Epic system in December.
MUSC Health (SC) implements Etiometry's clinical decision support software in its cardiovascular ICU, with an eye to also installing it in the OR.
KLAS distills its information on each of the four major health system EHR vendors into individual "Complete Look" reports, which conclude:
---
Other
Teladoc sues Avail – which offers an audio-visual platform that supports surgery collaboration, consultation, and education – for infringing on three of its patents.
Amazon offers Prime customers a six-month supply of some common prescription medications for $6 with free two-day delivery.
Two universities – one a non-profit, the other a for-profit – are vying to give Montana its first medical school. Colorado-based Rocky Vista University College of Osteopathic Medicine wants to open a satellite college in Billings, while Benefis Health System (MT) CMIO Paul Dolan, MD, MMM is leading an effort to bring a non-profit medical school operated by Touro College and University to Great Falls. The US has eight for-profit medical schools opened or announced, all of which are in the West and all but one of which offer osteopathic rather than allopathic training.
---
Sponsor Updates
Blog Posts
---
Contacts
Mr. H, Lorre, Jenn, Dr. Jayne.
Get HIStalk updates.
Send news or rumors.
Contact us.