Top News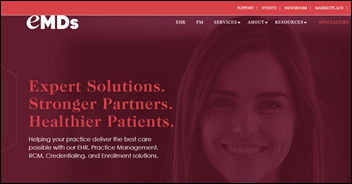 Germany-based health IT company CompuGroup Medical will acquire ambulatory-focused health IT vendor EMDs for $240 million.
CGM paid a similar amount earlier this year to acquire Cerner products that are marketed in Germany and Spain.
EMDs, which acquired competitor Aprima nearly two years ago, employs 1,400 people in the US and India to serve 60,000 practice-based end users.
---
HIStalk Announcements and Requests
Welcome to new HIStalk Platinum Sponsor Lumeon. The Boston-based company helps health systems take control of their care delivery processes by orchestrating and automating care journeys to operate with predictability and efficiency. It acts as the auto-pilot for healthcare delivery in coordinating teams, communications, tasks, and decisions to deliver superior outcomes at a lower cost, optimize resource utilization, and increase revenue. Lumeon's solutions are enabled by their cloud-based care pathway management (CPM) platform. Capitalizing on the patient's electronic health record (EHR), health systems can start simply with immediate benefits and evolve to orchestrate their entire care process. More than 70 progressive health systems across 12 countries have deployed Lumeon's multi-award-winning platform. Thanks to Lumeon for supporting HIStalk.
I found this Lumeon explainer video on YouTube.
Listening: the new studio album from AC/DC, which won't change your mind about the band either way since its sound is so predictable that it could be generated by AI. The accomplishment here is perseverance rather than boundary-pushing, but that alone is remarkable enough given the recent loss of Malcolm Young to dementia and then death, the dismissal of Brian Young due to hearing loss, the home imprisonment of drummer Phil Rudd for attempted drug-related murder for hire, the resignation of bass player Cliff Williams, and the presence of "where's all me mates gone" 65-year-old schoolboy uniform-wearing Angus Young as the only remaining original member until recently. Johnson is back at 73 years of age after successful hearing treatment, Rudd returns post-incarceration, and Williams is back as a tribute to Malcolm Young, restoring to 60% the count of current members who were heard on 1979's "Highway to Hell." AC/DC's recent business plan has been releasing a loss-leader album of songs that are indistinguishable from their hits, then cranking up the touring cash machine for fans who are happy to expensively relive their youth's soundtrack of "Back in Black" and "Dirty Deeds Done Dirt Cheap" for the thousandth time. Monetization will thus be a race between COVID limitations and the bandmates' advancing years, but at least they've put out their first studio album in six years and it holds the #1 spot on Billboard's chart, only their third album to summit that commercial apex ("Back in Black" was a curve-flattened release, selling 25 million copies, but over such a long period that it peaked at #4).
---
Webinars
December 3 (Thursday) noon ET. "Why Patient-Centered Billing: How University Physicians' Association Increased Revenue and Reduced Days to Pay." Sponsor: Relatient. Presenter: Christy Bailey, VP, University Physicians' Association. Financial recovery calls for a better patient financial experience as providers drive revenue, engage patients, and reduce costs and bad debt. The presenter will talk about patients as payers and how delivering a financial experience that meets their expectations can improve the financial outcomes of providers, hospitals, and health systems.
December 3 (Thursday) noon ET. "Unlocking the Power of Data: How HIEs Can Better Support Their Participants." Sponsor: Intelligent Medical Objects. Presenters: Jaime Bland, DNP, RN, CEO, NEHII; Naresh Sundar Rajan, PhD, CTO, NEHII; Matt Cardwell, PhD, VP of client services, IMO; John Laursen, VP of business development, IMO. HIEs need accurate, actionable, and normalized EHR data to unlock its analytic power to support alerting, regulatory reporting, interoperability, and clinical surveillance. The presenters will describe how to interpret the descriptions and standard code sets that health system partners send, how leading HIEs use normalized data to improve their client and community offerings, and how a new normalization approach may provide operational savings.
Previous webinars are on our YouTube channel. Contact Lorre to present your own.
---
Acquisitions, Funding, Business, and Stock
AI-powered predictive data modeling vendor ClosedLoop.ai raises $11 million in a Series A funding round. Co-founder and CTO Dave DeCaprio helped lead MIT's Human Genome Project before stints at GNS Healthcare and Mount Sinai's Icahn School of Medicine.
Special purpose acquisition company GigCapital2 will merge with Cloudbreak Health and UpHealth Holdings to create a digital health management company that will be valued at $1.35 billion. The SPAC raised $150 million during its 2019 IPO and plans to raise another $160 million to finance the deal.
Digital patient communications company Well Health raises $45 million in a Series C financing round, bringing its total funding to $75 million.
---
Sales
Union Hospital (IN) selects Masimo's SafetyNet patient management system to help discharged COVID-19 patients recover at home.
---
People
Dana Safran (Haven) joins Well Health as SVP of value-based care and population health.
University of Utah School of Medicine hires Yves Lussier, MD (University of Arizona) as chair of biomedical informatics.
Sarah Sample-Reif (Incredible Health) joins Zivaro as chief strategy officer.
---
Announcements and Implementations
Philips announces a vendor-neutral Radiology Operations Command Center that uses telepresence to conduct imaging operations virtually.
In England, Leeds Teaching Hospitals NHS Trust goes live on Agfa HealthCare's enterprise imaging software.
Campbell University (NC) and Wayne HealthCare (OH) implement Emerge's ChartGenie data-conversion technology as they respectively prepare to implement Athenahealth's EHR early next year.
Kettering Health Network (OH) adds CenterX's real-time prescription benefit and electronic prior authorization capabilities to its e-prescribing workflows within Epic.
A Lumeon survey of patient access executives finds that patient experience and access to care will be their most important differentiators in 2021, while more than half believe that fragmented processes and technology – such as the 72% of providers that still manually call waitlisted patients to fill cancelled appointments — prevent them from meeting their patient access goals
---
COVID-19
The number of hospitalized COVID-19 patients hit another record Monday at 85,836. The COVID Tracking Project warns that states probably won't file complete reports until next week and thus numbers will be underreported as they were over Labor Day. It's fascinating that a pandemic that has killed 258,000 Americans still doesn't warrant state employees working weekends and holidays.
Experts say that CDC's warning last week that small gatherings involving non-cohabitants are responsible for a lot of COVID-19 spread is not supported with data, but has been repeated enough times to convince states to limit such gatherings, perhaps illogically. US contact tracing has been overwhelmed with non-participation and overly wide coronavirus spread, but where state data is available, the leading sources of infection spread remain long-term care facilities, food processing plants, prisons, healthcare settings, restaurants, and bars. The New York Times notes that while Minnesota's governor has banned people from different households from meeting indoors or outdoors, the state still allows churches, funeral homes, and wedding venues to hold indoor gatherings of up to 250 people. A Vermont ban of neighbors walking together distanced and masked while restaurants remain open for indoor dining is "bizarre," says an infectious disease modeler who notes, "I can get together with nine of my best friends and sit around a table at a restaurant, so why can't I do that in my house?"
Urban hospitals are being overwhelmed by COVID-19 patients from rural areas in which masking orders are either absent or ignored, with the head of Kansas City's health department saying that it's unfair for city residents to be denied an ICU bed that is occupied by a resident of a county that goes mostly maskless.
---
Other
Federal prosecutors seek a judge's approval to use texts and other digital exchanges between Theranos founder Elizabeth Holmes and former president Sunny Balwani to help prove that the pair – who were once romantically linked – knew that the company's technology was not as groundbreaking as they led investors to believe. Messages refer to terrible validation reports, the "painful" FDA approval process, and one of their labs being a "disaster zone." The delayed trial will take place in March.
---
Sponsor Updates
Blog Posts
---
Contacts
Mr. H, Lorre, Jenn, Dr. Jayne.
Get HIStalk updates.
Send news or rumors.
Contact us.