Top News
Unsealed court documents reveal that two Iranian hackers were responsible for SamSam ransomware attacks on 200 organizations earlier this year in the US and Canada, including Allscripts. The victims, which also included hospitals and municipalities, wound up paying over $6 million in ransom and incurring over $30 million in lack-of-access losses. Allscripts hasn't revealed how much money it handed over to the still-at-large hackers, and could wind up losing more money if a class-action lawsuit filed against it by an orthopedics practice in Florida winds up in court.
---
Reader Comments
From Client Advocate: "Re: SpinSci. Does Anyone know if SpinSci is still in business? And, which hospitals have deployed their solutions successfully? Looking at their website, the company was started in 2005 but the latest documentation is from 2017. Crunchbase lists them as having 49 employees and $1.7M in revenue; either their staff is predominantly outside the US or, after almost 13 years, they may not have ever really taken off? Can anyone shed some light on this organization?" The oddly worded language throughout their website would suggest they've at least offshored their copyrighting talent. They say they're a Dallas-based company with several global locations, including India and China.
---
Webinars
December 5 (Wednesday) 1 ET. "Tapping Into the Potential of Natural Language Processing in Healthcare." Sponsor: Health Catalyst. Presenters: Wendy Chapman, PhD, chair of the department of biomedical informatics, University of Utah School of Medicine; Mike Dow, senior director of product development, Health Catalyst. This webinar will provide an NLP primer, sharing principle-driven stories so you can get going with NLP whether you are just beginning or considering processes, tools, or how to build support with key leadership. Dr. Chapman's teams have demonstrated phenotyping for precision medicine, quality improvement, and decision support, while Mr. Dow's group helps organizations realize statistical insight by incorporating text notes along with discrete data analysis. Join us to better understand the potential of NLP through existing applications, the challenges of making NLP a real and scalable solution, and the concrete actions you can take to use NLP for the good of your organization.
December 6 (Thursday) 11 ET. "Make the Most of Azure DevOps in Healthcare." Sponsor: CitiusTech. Presenter: Harshal Sawant, practice lead for DevOps and mobile, CitiusTech. Enterprise IT teams are moving from large-scale, project-based system implementations to a continuously evolving and collaborative process that includes both development and business teams. This webinar will review healthcare DevOps trends and customer stories, describe key factors in implementing a DevOps practice, describe how to assess Azure DevOps, and lay out the steps needed to create an Azure DevOps execution plan.
Previous webinars are on our YouTube channel. Contact Lorre for information.
---
Acquisitions, Funding, Business, and Stock
CVS Health finalizes its $70 billion acquisition of Aetna, promising to include claims data, analytics, connected devices, digital health apps, and remote patient monitoring in a "new innovative healthcare model" that will focus heavily on preventative care. CVS Health CEO Larry Menlo has also said the company will devote more retail space to medical services as it seeks to become a healthcare destination.
Seattle-based startup Xealth announces GA of software that enables providers to send patients digital recommendations for over-the-counter healthcare products, apps, and services from within their EHR and patient portal. Pennsylvania providers Providence St. Joseph Health and UPMC have gone live with the technology (which seems to be retailer-agnostic despite headlines to the contrary) in several departments. Privacy advocates warn that patients may wind up sharing sensitive PHI with retailers like Amazon, though the company will likely get its hands on that information anyway if its just-announced EHR data-mining capabilities come to fruition.
HGP puts together a list of digital health investors by round size, observing that size-agnostic investors like Khosla Ventures (Color Genomics, Iora Health, Oscar Health, Vicarious Surgical) tend to be more driven by the potential for disruption than incremental change, especially when it comes to patient empowerment technologies. 
In local news coverage of Minnesota-based St. Luke's $300 million expansion plans, President and CEO John Strange vocalizes the tension many hospital execs must be feeling when it comes to managing consumer expectations in the midst of budgeting for new square footage while attempting to adopt the latest and greatest health IT:
"With the technology changes, you are still going to need certain facilities such as operating rooms and ICUs, but more and more care is moving to outpatient. We're just trying to make sure we have the right facility for the technology and that is an interesting scenario. The real wild card is Amazon and Google getting into healthcare, and there is rumor they are applying for a manufacturing license," Strange said. "You could see a physician and have your prescription droned out to you. How does the local pharmacy compete against that? The hospital pharmacy is a significant part of our budget. I tell people our competition here is not Essentia. It is Amazon, Google, and Apple."
---
Sales
Southcoast Health (MA and RI) selects collaborative care and telemedicine technology from Orb Health to help it launch chronic care management services.
---
People
Former UPMC CMIO Dan Martich, MD joins The Chartis Group as principal of its informatics and consulting practice.
---
Announcements and Implementations
During its annual investor day, UnitedHealth CEO David Wichmann touts the company's PHR, calling it an "effective closed loop health information exchange centered on the consumer." The software, which will be offered to all beneficiaries, is being beta tested by three ACOs, and will soon become available to 1 million providers. Wichmann added that it's capable of connecting to multiple EHRs (one of those likely being Athenahealth, given the company's attempts to purchase it). UnitedHealth plans to eventually offer the technology to other payers, though it would seem the PHR market has been losing relevance since Apple came on the scene. 
---
Government and Politics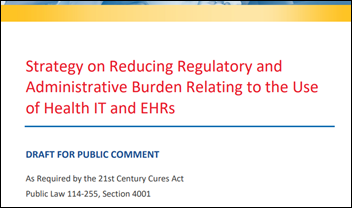 Ahead of ONC's annual meeting, HHS releases 74 pages of weekend reading in the form of proposed recommendations for reducing regulatory and administrative burdens caused by health IT. Comments on the draft strategy are due January 28.
Executive Director John Windom says the VA's Office of Electronic Health Record Modernization will hire 135 people over the next six months as it ramps up Cerner implementation efforts. Five hundred VA and other EHR end users will attend trainings at Cerner's campus during that same timeframe in preparation for deployment beginning in 2020.
CMS launches the Procedure Price Lookup tool to help consumers compare prices at outpatient facilities and ambulatory surgery centers.
---
Privacy and Security
An alliance of healthcare stakeholders develops a code of conduct to help developers of third-party apps outside the scope of HIPAA appropriately handle consumer health data. The code of conduct is part of a three-phase framework that the CARIN (Creating Access to Real-time Information Now) Alliance hopes will ultimately compel developers to certify their apps according to its standards. The alliance was formed by former federal health IT heavyweights David Blumenthal, MD David Brailer, MD Aneesh Chopra, and Mike Leavitt.
Atrium Health (NC) reports that over 2 million patient medical records may have been compromised by hackers who targeted its billing services vendor, AccuDoc Solutions, in September.
---
Other
Healthcare management experts Lawton Burns and Mark Pauly pen a tongue-in-cheek report on the healthcare industry's tendency to make, believe, and buy in to "deceptive, misleading, unsubstantiated, and foolish statements." Touching on everything from the failure of Theranos to the misguided marketing blitz behind IBM Watson to CVS Health's promise to achieve – finally – the Triple Aim with Aetna's assets, the authors break down the origins of healthcare's acute tendency to "say something positive when there is nothing positive to say."
Cleveland Clinic MD Mikkael Sekeres recounts how health information exchange allowed him to follow a patient's final days from afar.
New healthcare access research from Kyruus finds that convenience is king when it comes to luring consumers through the four walls of a medical facility. Appointment availability, location, insurance acceptance, and clinical expertise were the deciding factors of those looking for new providers. Over half of the largest age groups in the study said they would switch providers if they didn't offer online appointment scheduling.
---
Sponsor Updates
Blog Posts
---
---
Contacts
Mr. H, Lorre, Jenn, Dr. Jayne.
Get HIStalk updates. Send news or rumors.
Contact us.