Top News
Intermountain Healthcare (UT) joins Cerner and Leidos in their bid for the DoD's new EHR system. Intermountain will provide clinical governance of solutions and workflow to be proposed for the $11 billion Defense Healthcare Management Modernization Initiative (DHMSM). Intermountain is in the process of implementing Cerner's EHR and revenue cycle solutions across its 22 hospitals and 185 clinics. The move is no doubt yet another feather in the cap of Cerner President Zane Burke, interviewed this week in the local paper: "It's a really interesting time. We have a lot of work left in front of us, but I love the position we're in and the clients that we have on the journey with us. It'll be a lot of fun."

Dim-Sum, HIStalk's intrepid DHMSM insider, shares always entertaining and thought-provoking insight into the Intermountain "collaborative." A snippet:
"After a cursory read of the DHMSM Team Leidos article about a collaborative effort linking Cerner's mega client Intermountain Health on governance structure, I thought of what other collaboratives I would want to accentuate and/or at least commoditize so that I might differentiate my team to compete for the DHMSM opportunity. IBM will certainly throw in an Epic-esque client that has provided the groundwork for improvements across the Epic stable of solutions. I even think CSC and Allscripts might find their favorite client pet co-development. I think I like collaboratives."
---
Reader Comments
From Chris Jaeger, MD: "Re: Sutter Health's HIE discussions with Orion Health. As Sutter Health's CMIO and executive sponsor of its HIE efforts, I can state without a doubt that the following post is false:
From Deal Breaker: "Re: Sutter Health. Stops discussion with Orion Health after its HIE project goes on for nine months. …"
Our collaborative relationship with Orion and related HIE efforts have never stopped – to the contrary, we continue to make great progress while also actively planning the next phases of establishing robust data exchange with those that share in the care of our patients."
---
HIStalk Announcements and Requests
This week on HIStalk Practice: Athenahealth looks for the next great startup. TekLinks partners with Greenway. Doximity goes live in Utah. Physician practices in Texas take home quality improvement award for use of HIT. Physicians feel slighted by CMS thanks to attestation "glitch." Healthcare.gov costs more than originally thought. Physician executives have options when it comes to standing desks. Thanks for reading.
This week on HIStalk Connect: Dr. Travis analyzes the non-traditional roles that cloud-based computing has found in healthcare thus far, and speculates on its future. Researchers in Paris are working with 3-D video cameras to create virtual reality-based surgical training aids. Virtual visit provider Teladoc raises a $50 million Series C.
---
Acquisitions, Funding, Business, and Stock

Allscripts and Citra Health Solutions (formerly Orange/MZI) announce a partnership to make their services available to each other's customers. Citra, which provides consulting services and technologies for providers and payers, unveiled its new name and branding at the Allscripts user group meeting last month.
ZirMed acquires predictive analytics vendor MethodCare and announces plans for a Chicago-based Healthcare Analytics Center of Excellence led by MethodCare staff. Moving forward, MethodCare will operate under the ZirMed name.
Conifer Health Solutions agrees to acquire physician practice business solutions vendor SPi Healthcare for $235 million. SPi CEO John O'Donnell will join Conifer's senior management team, reporting to President and CEO Stephen Mooney. The transaction is expected to close in Q4 2014.
---
Sales
North Philadelphia Health System (PA) selects Medhost's inpatient EHR for implementation at St. Joseph's Hospital and Girard Medical Center.
Beaufort Memorial Hospital (SC) selects the Access Passport online forms solution to take its paper-based accounts payable, human resources, and administrative documentation processes digital.
---
Announcements and Implementations
Community Hospital (NE) goes live on a patient portal from Relay Health.
Children's Healthcare of Atlanta joins the Georgia Health Information Network. CHOA has integrated GaHIN's Georgia ConnectedCare product into its Care Everywhere HIE application, which it launched earlier this year to facilitate data sharing with other providers using Epic.
Kennedy Health System (NJ) adopts the MedAptus Professional Charge Capture Solution for hospitalists at its three acute-care facilities.
Sightseeing.com announces the availability of the MyMedicalRecords PHR to its customers. The PHR will offer travelers access to their medical records and such documents as passports, birth certificates, immunization records, and insurance policies.
Practice Fusion announces that its customers will soon be able to order, manage, and receive lab test results within its EHR through Quest Diagnostics. Physicians will also have the option to share test results with patients through the Patient Fusion portal.
---
Research and Innovation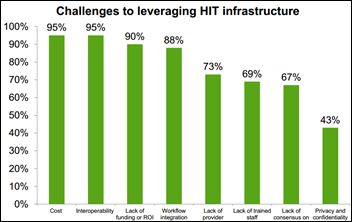 A survey of 62 ACOs reveals that poor interoperability between organizations remains a big barrier to improving clinical quality. Additional findings include:
100 percent of respondents find access to data from external organizations challenging.
95 percent find interoperability of disparate systems to be a significant challenge.
90 percent feel the cost and ROI of HIT has become a key barrier to further HIT implementation.
88 percent face significant obstacles in integrating data from disparate sources.
83 percent report challenges integrating technology analytics into workflow.
WEDI releases the results of its ICD-10 Industry Readiness Survey, which finds that vendors, payers, and providers have made some progress in preparing for the October 1, 2015, transition, but not nearly as much as likely needed for a glitch-free switch.
---
People
Jim Dowling (QuadraMed) joins Qpid Health as vice president of sales.
Michael McDermott, MD (Radiologic Associates of Fredericksburg) takes on the role of CEO at Mary Washington Healthcare (VA) beginning January 1, 2015.
Bob Taylor, DO (Greenway) joins Clinical Architecture as CMIO.
Ryan Witt (Juniper Networks) joins ClearDATA Networks as vice president of growth and innovation.
Steven Steinhubl, MD (Scripps Translational Science Institute) joins Vantage Health as chairman of the board.
---
Technology
This article covers the debut of Spruce, an app that lets users privately share photos and medical information with dermatologists, and then receive in-app treatment. Baseline, Cowboy Ventures, and Kleiner Perkins Caufield & Byers contributed $2 million to the launch in initial seed round financing.
---
Other
Samsung, the Children's Fund, and Columbia University announce at the 2014 Clinton Global Initiative Annual Meeting a two-year partnership to develop the Samsung Innovation Center at the Children's Health Fund. The center will focus on advancing access to and quality of healthcare for medically underserved children through telehealth and other strategies.
---
Sponsor Updates
---
EPtalk by Dr. Jayne
Our hospital recently hosted a healthcare career day for middle school students. We're in an economically depressed part of town with some serious socioeconomic issues, yet fully realize we're going to need dedicated and well-educated healthcare workers to deal with the challenges we'll continue to face. The goal of the day was to expose them to various opportunities either directly in or supporting healthcare. They were able to visit various areas of the hospital, including sterile processing, the laundry, patient care floors, engineering, and an operating room.
Some students were grossed-out by the idea of direct patient care, but were interested in engineering or IT, which is a good thing. It takes an army of people to keep an institution of our size going and often those jobs are independent of patient census or case mix, which is a good thing for job security. The highlight of the day for many was being able to see one of the air ambulances land and speak with the flight crew.
As a member of hospital administration, my role was to shepherd a group of students through various stations set up throughout the hospital, where they could talk directly to staff and learn about their jobs and how they contribute to the healthcare team. As is predictable with students in that age group, frequent questions included: "What's the grossest thing you've ever seen? What's the worst injury you've ever seen?" My favorite question was, "Is the stuff that happens on Grey's Anatomy really true?" which made me wonder why a parent was letting a 10-year-old watch a show about sex-crazed doctors.
At one point, the air ambulance pilot received a question about emergency situations. He told the student his question was in the top 10 list of things he didn't want to experience, to which the student responded "What's number one?" I had to give him full credit for that one. I kind of tuned out after that because I was thinking about what I'd put on my own top 10 list of things of things I never want to happen.
I've experienced some things in my IT and practice careers that would definitely make that list:
Someone accidentally activated the fire suppression system at our corporate data center. Because we were using Halon, the building had to be vented by the local fire department with their positive-pressure ventilation equipment. This took about eight hours for a building the size of our data center. Unfortunately, our "hot backup" failed due to a defective network switch, requiring all practices to go to paper.
A local road crew cut the T1 line to my office. Luckily, we equipped key staff with wireless cards and network hot spots, so it wasn't that big of a deal.
With my first EHR, the clinical documentation workflow went through a "locking" process as the provider finalized the note. This was after the provider reviewed the documentation on screen. Unfortunately, during the locking process some kind of character limit went into effect, causing the documents to truncate. When patients returned for their follow-up visits, their plans (at the bottom of the documents) were missing critical elements. Nothing makes your blood run cold like reading "Counseled patient on…" and having that be all that remains of your highly detailed patient plan.
Vendor sunsets a product that actually supports your workflow and that your staff likes, transitioning you to a product that is not yet ready for prime time. This has now happened to me twice.
None of these are quite as scary as having rotor failure on your helicopter or having the landing pad collapse underneath you, but in our world they're pretty unnerving. What's on your top 10 list of things you never want to happen? Email me.
---
Contacts

Mr. H, Lorre, Jennifer, Dr. Jayne, Dr. Gregg, Lt. Dan, Dr. Travis.
More news: HIStalk Practice, HIStalk Connect.
Get HIStalk updates.
Contact us online.