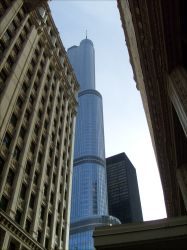 Thanks to everyone who attended the reception tonight. Thanks, too, to our speakers and presenters (especially Jonathan Bush), our sash wearers, and the Ingenix folks who ran an efficient check-in process. Thanks also Ingenix and Ingenix Consulting for sponsoring the event. I hope you enjoyed it. It was an honor to have you. I'll get the HISsies winners up soon.
It was a nice day today, actually, with very little snow and some welcome sunshine. Much better than I expected.
No expensive burger for dinner this time. I had a $5 combo from the McDonalds right by the Trump. I bet I'm the only person patronizing them back to back.
I was ruminating (always dangerous) on the shuttle bus today about all the newfound interest in HIT, but minimally focused on the patient compared to the profit. My conclusion: right or wrong, healthcare is set up under the business model, where allegedly nonprofit hospitals have to earn their keep by cranking out the bills and making shrewd business decisions (as someone told me the other day, some of the meanest executives they've known were in nonprofit healthcare management). So, vendors are clearly for-profit, no different than defense contractors. Looking back, one might conclude that the charity/compassion model might have made more sense, but that's not what we have.
Here's an interoperability idea: after hearing the cell phones of supposedly tech-savvy IT people constantly going off in the HIMSS education sessions, someone needs to invent a door sensor that automatically turns all phones to mute.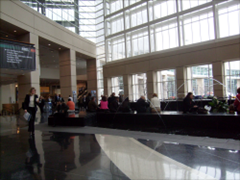 Best session of the day (and of the conference so far): Pat Skarulis of Memorial Sloan-Kettering, on developing an oncology order entry system for what I assume is Eclipsys Sunrise. It was quite cool and the way they handle study protocols, sequential orders, and lab alerts is sophisticated. I can see a lot of interest in how they did it since oncology OE is a tough nut to crack and MSKCC is pretty much an authority. Unlike all the other sessions I've been to, nobody left, even during the questions (however, the audience members asked atypically knowledgable and concise questions, so kudos to them).
Speaking of Eclipsys, they had a quite effective back-cover ad in HIMSS Daily Insider today, showing their CPOE penetration. A minor quibble is that both dimensions of the quadrant measured pretty much the same thing (number of hospitals and percent of hospitals) and didn't show percent of orders or doctors, but it still got the message across.
I'm sure it's just me, but people walking around with those blue-blinking Bluetooth cell phone earphones look like self-important douchebags.
Our new best friend Dennis Quaid gets some nice USA Today press, saying his new GI Joe: The Rise of the Cobra could be the next Independence Day.
Our rumor reporters had the right idea, but the wrong scope: Dell and Perot announce a partnership involving EMRs and hardware. That's Dell's second recent announcement: the eClinicalWorks offering through Sam's Club was the first.
Noticed during the education sessions: nearly no one pronounces HIMSS Analytics correctly. Also, an increasingly large number of presenters use "sort of" as the modern equivalent of "um", such as "We built sort of a data warehouse, with sort of an essential item being real-time extraction."
More booth reviews:
RelayHealth's was nice and cheery, also putting out their HIStalk sign.
Microsoft had throngs of people again for some reason (the coffee table thingie?)
Nextgen had what might be the largest and coolest booth (forgot to mention it yesterday). It was like the Hollywood Bowl.
QuadraMed had interesting stations for each product they were demonstrating.
Emdeon had cool arcs that spanned their booth, although the three booth mimes seemed to be causing passers-by to steer clear (people really dislike mimes and clowns who try to engage them in some kind of hijinks).
I made Inga push the Enovate-IT carts to show here how smooth and sexy they feel.
ONCHIT had a booth, believe it or not, staffed by some rather nice civil servants. They have a handout on how to start on the ARRA grants, which is their main reason for being on the show floor. They said Blumenthal won't be starting until the end of the month. They also speculated that Rob Kolodner will retire instead of going back to the VA.
Eclipsys had a quite dramatic and open booth. I forgot to mention it yesterday.
A trend: I saw no two-level booths, so everybody went from traditional to ranch style.
It was nice to have the sun streaming in floor-to-ceiling windows over in the 3900 aisle.
BlackBerry had a cool booth (I think my AT&T Bold was drawn to it).
AT&T had the telemedicine setup that I always like running.
IBM's booth wasn't very big. Maybe they don't have enough people left in this country to need a larger one.
Allscripts still had people packing the booth and spilling out into the aisle.
Greenway was demonstrating Prime Research.
Cumberland Consulting Group had a nice wood-floored booth and some friendly people who were starting up conversations with passers-by (an art that every vendor needs to perfect if you're going to spend big money on a booth).
The folks at Legacy Data Access e-mailed pictures of their vintage, old-school Pong video game, kind of an early 80s version of the Wii or Xbox for all you youthful types I see all over the convention center.
Industry long-timer Scott MacKenzie (RelayHealth, Cerner) is named CEO of revenue cycle systems vendor Passport Health.
LMS Medical Systems of Canada sells McKesson its CALM OB suite. The company's been in big trouble for some time, so it was a good move and McKesson gets what I think is probably a pretty good specialty system.
Medicity announces its Q1 business wins, raising its total HIE customer base to an astounding 700. Thirteen new Q1 customers are named, some of them very large. Someone asked me about them today and I was explaining how well they were doing, but I clearly didn't know the half of it.
Sentillion is giving these little guys away in the booth, USB drives loaded with Advanced Authentication Solution for Direct Access to Cerner, Eclipsys, Epic, Mckesson and MEDITECH Applications. The company also announced a do-it-yourself tool for SSO and CCOW. I think I read somewhere that SSO was one of the top priorities of hospital CIOs trying to get clinical applications used, so I imagine these new announcements are timely.
Also announced: Allscripts Prenatal, a SaaS specialized EHR.
Dewey Howell of Design Clinicals gave me a demo of some new software the company is finishing up involving anticoagulant monitoring for physicians (adding to its medication reconciliation functions). I said last year that the med rec stuff was very cool – highly intuitive, functional, and taking full advantage of third-party drug databases. This is at least as cool. I've seen big-vendor applications sold for physician use (often meaning that some bean counters and programmers got together in 1985 to figure out how to capture charges without having to hire keypunch people) and this is how it should be done (and would be if it weren't for the legacy baggage the big boys have to drag around).
From Blinded by the Snow Storm: "Re: Allscripts. Allscripts might need to do a bit more due diligence. dbMotion only has 2 clients in North America that have initiated a real project: 1) The Bronx RHIO, which currently has an RFP on the street to replace their core functionality, and 2) UPMC, which has an equity investment in dbMotion but has yet to announce any significant tangible benefit despite a multi-year relationship. Not exactly the type of track record that proves true interoperability." I think dbMotion's long suit is having a ton of users, like entire countries in Europe, and a better product than the ones Misys and Allscripts brought to the table. I don't think Allscripts will regret it.
From Glad I'm In Sunny CA: "Re: Voalte. Interesting product, but how many nurses do you know that carry iPhones?" Not many – yet. However, that's because there has been little justification for them. Connect a nurse to a real-time alerting and communicating system using them and they suddenly look like a good deal given corporate rates and ease of use (not to mention their use as a recruiting tool).
From Ex-Broadlane: "Re: layoffs. Broadlane, the third largest GPO in the US, laid off 33 employees today, the majority being in the IT department. Ironically, the cuts come just when they are beginning to reinvent themselves as a 'Technology enabled Service Company' which is code for 'we cannot scale as is and need technology', hence the irony."

So HIMSS finally admits that both registrations and exhibitors were down. I wouldn't say they necessarily were dishonest in bragging on the registration rate a few weeks ago, but it's clear that they put the best spin on what they had to know was going to be the first drop in both critical categories in many years (maybe ever), most likely to stave off a last-minute bandwagon effect that would have made it worse. It would have been a complete disaster without the last-minute stimulus interest.
Speaking of positive spin, McKesson's clinical systems are "gaining momentum," at least according to its PR people. The proof: five hospitals, some pretty obscure, bought products in 2007 (!) You would think McKesson had developed a lot of new, cutting edge clinical apps instead of continuing to sell the old, multi-heritage software bought years ago from Vanderbilt, HCS, etc. from the flowery wording. Nobody's asking me, but here's my advice: build something from scratch and finally get the "buyers, not builders" monkey off the corporate back and catch Cerner while they aren't selling much either.
Susan Hagerty is named CEO and chairman of Noteworthy Medical Systems. She comes from CompuGROUP, the majority owner of Noteworthy. Larry Dolin stays on the board.
Nuance makes a series of HIMSS announcements: 25 new healthcare customers, a Dragon EHR certification program, and a preview of Enterprise Workstation Version 8.

HERtalk by Inga
It's Monday afternoon and still snowing in Chicago. So far today I have had a chance to sit in a few sessions, including one featuring the Ambulatory Care Davies winners. Three different groups were represented, including a solo physician practice, a five-doctor group, and an 85-doctor practice. If I were to come up with a common theme, it would be that ROI is not just about the tangible things, but about soft costs as well (reassigned workflow, paper elimination, faster chart access, etc.) Also, that getting up and running is the hardest part: once you have been live for awhile, it gets better.
I have had assorted conversations with folks about what the "buzz" is this year. Aside from ARRA and how everyone has a solution, a oft-mentioned word is interoperability. Of course, given that the government is making interoperability a requirement to obtain stimulus money, vendors seem to be discussing what and how they are working to make their products interoperable with the world. Seems like we have heard that word before and we still see lots of silos, so we will see if times really have changed.
Another issue mentioned is how providers will be able to fund the up front EHR costs before they are able to receive their Medicare carrots. Many hospitals are claiming they can't afford to help physicians despite relaxed Stark laws. Not hearing any great answers to this issue yet.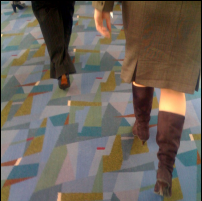 As I was walking I saw some great looking boots. I was pretty proud of my ability to walk and take a photo at the same time.
Overheard: "I am not sure how we will be able to be interoperable with our community when we can even interoperate within our hospital walls."
A few people mentioned that Microsoft's booth looked quite busy, so I will go see what the buzz there is all about.
I took a guided tour of the interoperability booth (there is that word again) and saw a patient's history flow from her PHR to the physician to the hospital and to another physician. Looks cool, but the cynical Mr. H pointed out that everything on the floor "looks" cool. One day it will happen, right? I have to say the piece that might be the hardest to implement is the PHR. How many people are really going to spend the time to keep their data current? And how many doctors are really going to trust the data?
From the look of the artwork on display in their booth, I would say Epic is making some money. I enjoyed viewing the various non-traditional paintings and statues situated around the booth. In case you were wondering, the fireplace is still there.
A reader shared details of a Perot-hosted party last night at the Hancock building observatory. "Unfortunately with the snow you could not see much from the 96th floor. Perot could have saved some money and had the same party in the basement. Party was still fun, though."
Yesterday, Mr. H and I walked by the Tech Lab (near HIMSS Central) and peeked in on the blogger round table. Mr. H was actually a bit miffed that he was not invited since he sees himself as one of the original HIT bloggers. Probably didn't help matters that I was invited, though I declined participation in order to maintain my low profile. If the session were in a bigger room that allowed you to stand unobtrusively and listen in, we probably would have stayed, but the room was a bit too cozy for us.
Official HIMSS attendance numbers as of Sunday: 25,672, which is down 5% from last year. That number is fairly evenly split between professional attendees and exhibitors, which is consistent with previous years.The number of vendors (905) is down 15 from last year. HIMSS folks seem happy.
Someone claiming to be "in the know" says that McKesson did not lay off all their ambulatory sales staff, though a few folks were let go.
I saw the famous Matt Holt from afar today. Also Grizzled Veteran, one of HIStalk's regular posters. Heading back to the exhibits later this afternoon, then primping for the HIStalk soiree!