From Bignurse: "Re: primary care. Someone I know who is a less-than-compliant diabetic was recently dismissed by his primary care physician because his HgA1c was too high. The letter said they could no longer manage his diabetes and he would have to see a specialist. So much for primary care. This is the scary part about P4P and other incentives-based medicine." 
From Don Artest: "Re: lawsuits. A better idea than the plaintiff paying if they lose is for the plaintiff's legal representation to pay the defendant's costs. Sometimes the loser is right and shouldn't be penalized for seeking redress. But it sure would cut down on lawyers gone fishin'."
From The PACS Designer: "Re: STM PMI standard. In my HIStalk interview last September, I mentioned that ASTM was working on a Privilege Management Infrastructure format to enhance HIPAA requirements. This month, ASTM has released the ASTM E2595 – 07 Standard Guide for Privilege Management Infrastructure document for healthcare. The PMI standard contains a guide that defines interoperable mechanisms to manage privileges in a distributed environment. This guide is oriented towards support of a distributed or service-oriented architecture (SOA) in which security services are themselves distributed and applications are consumers of distributed services. The mechanisms defined in this guide may be used to support a privilege management infrastructure (PMI) using existing public key infrastructure (PKI) technology. Also, the guide addresses an environment in which privileges and capabilities (authorizations) shall be managed between computer systems across the enterprise and with business partners." Link.
Chuck Podesta went to Fletcher Allen Health Care (VT) as CIO, so his CIO job at Caritas Christi is posted. Odd requirement: "Meditech is a definite must-have and current." I thought CIOs were supposed to be strategic thought leaders and visionaries, not application experts. That's like searching for a CEO with experience retrieving Nortel voice mail.
Speaking of voice mail, here's a pet peeve. You dial a company's support line and the recorded message prattles on about how the options have changed. We get it – you're always screwing around with the options and we should always listen before pressing buttons, except that your damned message runs forever before we can actually hear the new options listed. One vendor's help line starts off with a leisurely, long-winded message that finally starts listing the choices 22 seconds later (and painfully slowly even then), followed by the usual round of sub-messages.
Tim Elwell of Misys Healthcare responded (via Fred Trotter) about Ryan Bloom's departure and what that means for the company's open source initiatives. They're hiring software architects, so there's a hint.
Mercy Medical Center in Cedar Rapids, IA was evacuated due to flooding on what will certainly be a memorable Friday the 13th for the folks there.
A reader's comment last week suggested that I cover more conferences, to which I replied that, unlike most consultants-turned-bloggers who can troll for business there, I'd just be spending my own money and PTO to run around anonymously (not that there's anything wrong with that). I won't names, but a certain vendor offered to cover all registration and travel expenses for me to report live and anonymously from HFMA. I can't swing the days off, but HIStalk readers are so cool.
Jim Goldberg, whose 23-year-old son died during treatment for a swollen leg in Bumrungrad Hospital while visiting Thailand to be ordained as a Buddhist monk, will be featured in a European TV show (Clip 1, Clip 2, Clip 3). He claims Josh Goldberg was murdered, that a conspiracy was formed to keep him from finding out, and that Joint Commission (which accredits the hospital) won't acknowledge his complaints because they were paid off to accredit the medical tourism facility for its American owners (I haven't verified his claims, obviously, so I'm just telling you what they are). Microsoft bought the hospital's information system and called it Amalga, you may recall.
John Finch Jr., VP of corporate development for Benedictine Hospital (NY), is named CIO for new oversight corporation Health Alliance Planning.
Cerner and Zynx Health expand their strategic relationship, which seems weird for both parties to announce (kind of like dating your ex) since Cerner bought the company from Cedars Sinai for $23 million in 2002 and sold it to Hearst for $12 million in 2004, keeping its life sciences business and the rights to use its medical content. Hearst announced its original plan as rolling Zynx into its First DataBank offerings, but that must have changed.
3M announces a "consulting solution" for charge master review.
Harris Corp. spent part of its Q1 $600K lobbying tab to push EMRs. Very noble.
Listening: The Muffs, LA garage pop with big guitar hooks. They're defunct, but still sound great. Digital recordings means bands live forever.
Hospitals laying off staff: Cape Cod Hospital (MA), Kaweah Delta Medical Center (CA), Simi Valley Hospital (CA). The list seems to get longer each week.
Odd: a woman hospitalized in India called the night nurse about her stomach cramps. The patient's husband said the nurse then beat his wife. The patient complained, the nurse was removed, a mob of 100 people "laid siege" on the hospital administrator's office, and police had to break them up.
Speaking of India, a lab there is fined for taking 25 days to send the lab results of a man whose kidney treatment couldn't begin without them. He died. The lab blames a problem with a US reference lab's laboratory information system.
Medicare isn't do so well in sniffing out fraudulent billing, paying most claims without question, according to the Washington Post. One high school dropout cranked out $105 million in claims with nothing more than a laptop, submitting 140,000 phony bills for HIV treatment in South Florida and making herself a millionaire. Apparently someone got wise at around the $100 million mark.
Northwest Health Systems (AR) invokes HIPAA-like secrecy about why computer systems were offline in all three of its hospitals this week, refusing to comment. If they won't talk, I'll guess: hacker attack (bot?) since they said systems couldn't communicate.
Critics of Barack Hussein Obama like calling him "Barack Osama," but who knew one of them is Microsoft? Word's spell checker helpfully suggests substituting Osama for Obama, which being your intrepid reporter, I had to try (below.) I smell hotfix!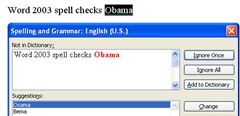 I have no idea what this Merge Healthcare stock announcement means, but I'm sure it's earth-shattering given that share price has rocketed up to 96 cents.
And speaking of imaging companies on the ropes, the "corporate pirates" trying to get enough shareholder proxies to overthrow Emageon's board turn down the company's offer of some seats in return for going away.
Thank you for reading. Click a few of those ads to your left and take a look if you get a minute. If you're not getting e-mail updates or the Brev+IT newsletter, you can sign up to your right. I'm always up for rumors and news and you can submit longer pieces of your own (anonymous or otherwise) for the Readers Write weekly edition. Bye.