From Save Us Blue: "Re: Emageon. Bloody proxy fight coming between EMAG and OPP in June." Link. Oliver Press Partners, which owns almost 17% of Emageon's shares, files an SEC notice that it's going after shareholder proxy votes to replace three directors whose terms are expiring, proposing its own people as replacements. Shares are 78% off their 52-week high and the market cap is $49 million.
From Tom Servo: "Re: MedcomSoft. The ambulatory EMR vendor's Q3 results were ugly and contained this statement – 'As at March 31, 2008, the Company had working capital of $257,613 and a shareholders' equity of $517,976, which is not sufficient to sustain operations over the next 12 months.' Its product is Best in KLAS 2007 for 1-5 physician groups." Link. I like the idea of an EMR built around Medcin coding, but maybe the company's results indicate that it's not a big hit in small practices (i.e., like pretty much all EMRs, it doesn't increase your productivity or profit, so buyers aren't lining up). It sounds like an excellent product, though, and its KLAS scores and client comments are outstanding. At the current Toronto Stock Exchange share price, you could buy the whole company for around $8 million, a fraction of what it would cost to build the product, so maybe someone will.
Listening: Black Rebel Motorcycle Club, garage rock from a band with the usual problems (addiction, creative differences, inconsistency). Reader-recommend, sounds pretty good. Trivia: the singer's father was the leader of 80s rockers The Call.
Former McKesson CIO Cheryl Smith is now CEO of utility.net, a California startup that offers broadband access over power lines.
Misys qualifies for the Ohio State Medical Association's Standards of Excellence program of user-friendly contract terms for purchasers of physician EMRs.
An analyst says that the Allscripts-Misys merger will provide an $850 million opportunity for Allscripts because of the 110,000 physicians who use Misys. That values each doc at around $7,000 to the new company. I don't buy it. Same products, same companies that doctors already either want or don't, plus customers of Misys have shown little propensity to want to buy anything else from the company. Both companies know how hard it is to sell EMRs, especially ones that aren't cheap or easy to use.
Did I miss this when it was announced three weeks ago? Intel's SOA Expressway for Healthcare is a "codeless" integration solution that allows data sharing across its network, like for RHIOs or hospital networks. Partners include Oracle and Red Hat.
Researchers develop a chip that will accurately diagnose a heart attack by having the patient spit into a tube.
Canadian EMR vendor Healthscreen Solutions gets $4.25 million in financing. From the CEO's LinkedIn profile, he appears to be 27 or so.
MedAvant files an extension on its 10-Q, which isn't usually a good sign.
Baxter, the company that supplies half the US supply of the vitally important blood thinner heparin, is rumored to be considering getting out of that business after taking a hit due to contaminated product from China and lawsuits like that of Dennis Quaid. Product shortages are now a concern, as are potential mistakes due to unfamiliar packages turned loose on nurses as hospitals scramble to find other sources. Somebody will probably sue Baxter for that too.
State auditors in Washington hire auditors to review the purchase of Empire Health Services by the for-profit Community Health Systems, Inc. Part of the concern is the value placed on Empire's stake in Inland Northwest Health Services, which includes a $45 million EMR business called Information Management Resources. Empire pays $5.2 million a year for computer services from INHS, which is $3-5 million under market price, and CHSI would keep that discount based on the original valuation.
MediNotes will demonstrate its new inventory application at TEPR this week. I assume it's a module for the recently acquired Bond Clinician EMR.
Talyst, which just got a new interim CEO and $20 million in investor money, confirms that it has cut 11 of its 154 positions after missing sales numbers. Sounds like the new investors are intent on getting their money back.
An unspecified clinical system finally goes live in Prince Edward Island, Canada hospitals at 140% over budget. I'm willing to take a fact-finding trip since I've always wanted to see Anne of Green Gables country and a friend who did said it was great. In summer, that is.
Virginia Commonwealth will use InnerWireless Horizon wireless technology and PatientKeeper physician applications in its new $192 million Critical Care Hospital (rendering below from VCUMC).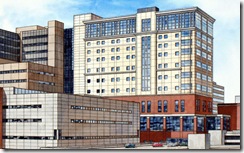 A Long Beach newspaper article covers Long Beach Memorial Medical Center's $62 million EMR implementation. The vendor isn't named, but I think it's Epic.
NPfIT is running at least four years behind schedule, the National Audit Office says. iSoft's Lorenzo (now owned by IBA Health)  is implied to be the main culprit. Total cost is now estimated at $25 billion US.
Humility of Mary Health Partners (OH) will be a test site for billing software developed by another Youngstown firm,  ERIS Medical Technologies. That company apparently is coy about who's running it, given that the "Who We Are" page doesn't, in fact, say who they are. You could check the News page, but there's no news there.
Nuance announces a web-based BI tool called RadCube that uses natural language processing to parse dictation. 
I read every e-mail you send. I really do. If it's gushy and suck-uppy, I respond in kind if I have time. If it's nasty, I delete it. And if it's juicy or opinionated, I used it right here on HIStalk.
Art Vandelay on The Surprising State of Retail Clinics
For all the hype and attention around retail clinics, myself included, I find their slow uptake surprising. I believe this is due to five factors.
1. There has been little branding. With such a drastic change, consumers require education to know the what, who, where, why, and how much for the service.
2. The clinics are poorly placed, away from the pharmacy and the front of the store. They are competing for prime sales shelf real estate. The retailers know that products on prime shelves will sell, but clinics have no such guarantee. This is especially true of grocery store clinics, which are barely distinguishable from the optical store, "kidz" cuts, and bank storefronts that were already there.
3. The lemmings came out. Rather than look at the market drivers and develop a plan, the copycat competitors immediately made their decisions to get in the business. Not everyone needs to be a first mover, but the lack of original thought caused overbuilding and now closures, taking away money that could have been used for branding.
4. Clinics aren't partnering with local health systems, which could offer low-cost brand association and visibility and possibly a staffing safety net. Referrals to a more capable health system would create at least the illusion of value and continuity of the care experience.
5. High-deductible health plans, which were supposed to drive retail clinic usage, have had minimal uptake, accounting for only 5% of health plan enrollment.
The PACS Designer's Open Source Software Review
Xchart is a project created by the Open Healthcare Group to create an electronic medical record that is easier to use than paper. XChart can be viewed with a web browser and requires minimal training. It supports open standards.
XChart uses an XML repository because:
1. It is becoming ubiquitous and easy to use.
2. It is portable across operating systems and languages.
3. XML can be transformed via XSLT into many presentation formats, including HTML for rendering within browsers and WML for wireless devices. Using XML, a portable and ubiquitous information system can be created.
Xchart appears to have resources on the web that are quite detailed, so an experienced XML user should be employed to download and install the Xchart files. One puzzling aspect of this open software application is the absence of any history of bug fixes. The last activity anywhere to be found for Xchart was 2005. Also the "XML and Healthcare" link and some other links are not working on the site. If you plan on going forward with this application install, try to find a current user for hand-holding purposes.
TPD Usefulness Rating:  5.
Links:
http://www.openhealth.org/XChart/
http://www.openhealth.org/index.htm