From Sookie Steppenwolf: "Re: Columbus Regional. With some of the recent dialogue about the need for IT based solutions for nursing, I'm surprised there was no mention about Columbus Regional Hospital's 2008 Health Data Management Nursing IT Innovation Award. They were also first to achieve nursing magnet designation in the state of IN. Would be interesting to profile what they have done." I will ask Inga to connect.
From BlueBadge: "Re: Epic. Epic is replatforming to Microsoft .Net, reversing a decision in December 2007 to go all Java/BEA." That didn't take long if so.

From Californiasunshine: "Re: Keane. Looks bad for them with the loss of the CHS account and decimation of the sales staff. The Medsphere relationship appears to be holding them up. Anyone hear anything?" Unverified.
From Agent99: "Re: layoffs. I'm curious whether other states show upcoming company layoffs." Link. California's web page shows WARN Act (Worker Adjustment and Retraining Notification) Notices, which employers must file 60 days before conducting mass layoffs (50 employees or more) or office closings. That would be quite interesting to know for other states, particularly since it lists individual positions affected.
From Cary Outsider: "Re: KLAS. People need to understand that KLAS results can be manipulated pretty easily. Certainly every vendor can play the game, but I guarantee you that Greenway and Allscripts incent their top reference sites to fill out glowing reviews. Marketing drives this and each company aggressively promotes their results." Adam Gale said a year ago that the company would be willing to have its processes validated by an outside expert, but I haven't heard that they've done it. And in this case, you're right — it could be that vendors can convince marginally happy customers to screw over prospects by turning in a falsely positive review. In case it's news to anyone, you really can't trust reference sites any more — many of them are firmly in the pockets of their vendors. You'll have to slip off from the executives and find a frontline worker to get an honest assessment these days.
Our now-doubly wealthy (he was an IDX co-founder) old HIStalk friend Paul Egerman of eScription, maybe the nicest guy in the industry, gave us a reaction when we e-mailed about today's announcement of the company's acquisition by Nuance for around $400 million. "We are very excited about today's announcement. eScription is a great success story about emerging from a small entrepreneurial company with a pioneering approach to medical transcription, to the proven, well-respected market leader that we are today. We are appreciative of our customers, partners, and employees who have helped us achieve our great success. Further, we believe that we have been able to provide tremendous value to healthcare organizations through our software, in terms of improved productivity, lower costs and reduced turnaround time of medical transcription. Our mission, since our inception, has always been to improve the process of clinical documentation. Ben Chigier and I believe that, as part of Nuance, we can accelerate our ability to achieve our goals, and continue to innovate and serve the healthcare industry." My 2005 interview with him is still one of my favorites. He mentions Dictaphone, also since acquired by Nuance. I think he should run for political office – I'd vote for him.
Speaking of acquisitions, it seems that HIStalk's sponsors have enjoyed a high rate of being acquired for tidy sums. I'm not suggesting a cause and effect, but if you're on the sponsorship fence …
Listening: Switches, British powerpop.
Jobs: McKesson HEC Project Advisor (FL),  Surgery Systems Analyst (FL), Revenue Cycle Systems Analyst (FL), Clinical Improvement Analyst (TX). Weekly job alerts are going out to several thousand folks, of which you can be one.
Happy one-year HIStalk anniversary to Inga. It's seems impossible that it's been that long since we crossed paths, but even more impossible that I did the first four years of HIStalk without her. I think she's hooked on being an anonymous celebrity.
If you're an IT exec interested in project portfolio management, Baystate Health and Solution Q will have an April 24 webinar on Baystate's PPM implementation.
At least it isn't yet another case of celebrity EMR snooping: UCLA Medical Center spends twice as much on end-of-life care as top-ranked hospitals. All the variation, interestingly, was from volume, not cost. Patients spent twice as long in the hospital than at Mayo. UCLA's boilerplate response, like every other hospital's with unflattering numbers: our patients are sicker.
McKesson sells its pharmacy management unit to Comprehensive Pharmacy Services for an undisclosed sum. No reason was given – not core business, I expect.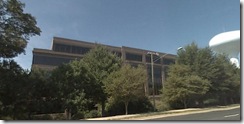 Misys Healthcare, Raleigh, NC (click to enlarge).
Froedtert Hospital's CEO, fresh off a $60 million Epic implementation, says interoperability is the best hope for IT to control healthcare costs (also implying that clinical systems won't pay for themselves and repeatedly mentioning their high cost). "IT right now will improve healthcare in some ways, but the bigger issue in IT is that we've got to get to greater interoperability to really create some of the economies of scale that are needed. That requires a higher degree of collaboration among manufacturers. It may take the federal government to get involved in the standard setting, but I think at this point IT offers a promise. The cost of IT is incredibly expensive." Depends on your vendor.
UPMC announcements: VP of emerging technologies Jay Srini is named chief innovation officer. CIO Dan Drawbaugh is elected to the board of Tickets for Kids Charities.
London-based Informa's Map of Medicine is acquired by Hearst Corporation. Its graphical clinical pathways are used by NPfIT.
AORN hires CSC to develop a standard perioperative record for use in information systems and for benchmarking, using its PNDS nursing vocabulary. CSC's Deward Watts is a buzzword-emitting Chatty Cathy doll whose string was pulled by the announcement, at least if you believe the boilerplate that's attributed to him five paragraphs down in the press release. Nobody talks like that except press release writers.
Bizarre: two employees of a South African hospital, one of them a computer programmer, are arrested and charged with attempted murder and animal cruelty for killing 18 pigeons with pellet guns on the hospital's roof, assigned to do so by hospital management because the birds were pests. Two other hit men are still on the loose.
Idiotic hospital lawsuit: a former hospital nurse fired after 35 years on the job files suit against her former employer. She claims her husband, who is the hospital's CEO, discharged her when she confronted him for having an a suspected affair with the VP of physician practices. She says the hospital permitted his dalliances during his business trips and in his office.
Inga's Update
In response to its North American growth, Israel-based dbMotion, names Peter A. McClennen as its North American president. McClennen has spent time as president and COO at AMICAS, a GM at GE Healthcare, and in hospital and ambulatory healthcare management.
Re: reminiscing about Fake Ingas. For those of you not at the party, the one of the left is the pregnant Inga. Still lovely, but pregnant nonetheless. Come TEPR in May, pregnant Inga will be much more in blossom. Sure, it might spice things up, but I am not digging Mr. H's twisted sense of humor. By the way, I am not sure who the pretty tall blond is between the Fake Ingas, but she should apply for the Inga job next year.
Fujitsu and NHS's National Programme for IT (NPfIT) contract renegotiations continue to be stalled, leading to additional go-live delays.
This week marks my one-year anniversary with HIStalk. In reading over Mr. H's initial introduction, he mentioned hoping that in time, my sarcasm would develop (to be more like the rest of HIStalk's writers and posters.) Most days, I'm able to maintain my sweet Pollyanna persona, and I know compared to Mr. H, I am a honeybee's delight. Hope that hasn't been too much of a disappointment to the boss. It's been an incredibly fun year and my knowledge of HIT has broadened dramatically, so thanks to both Mr. H and readers. Mr. H originally hoped my assistance would provide him additional time to be a coach potato, but I think instead he is now spending more time than ever figuring out creative ways to be the coolest read in HIT. Oh well, I take that as job security for me and more entertainment for all of us.
Synamed, an EMR vendor that has had won a few TEPR, AC Group, and KLAS awards, is offering its EMR/PM "free for life." In the press release, they say they're now selling ad space on their site, giving them the ability to offer the software free. I would also assume they are still selling and support (not mentioned in the release) because ad revenue is unlikely to provide much incremental revenue. My take is that they had a good product that never hit its stride in a competitive market, so they decided to change the business/marketing model. We'll see if doctors "rush to enroll" as suggested in their release. Also just announced is a free on-line personal health record, also supported by ads.
Walters Kluwer Health announces the results of a survey showing 82% of ambulatory surgery centers do not yet use an EHR. Reasons: cost, lack of interfaces to other clinical systems, and fears of lost revenue. Walters Kluwer, by the way, provides clinical solutions for ASCs through its Provation Medical division.
The big news in Belfast, ME is that athenahealth's first local employees punched in for the first time Monday. With 180,000 square feet, each of the 12 Mainers has about 15,000 square feet to spread out. When you look at the photos, you can see athena plans to put the other 100 folks they hope to have on board by the end of the year.
Children's Hospital Boston is purchasing eClinicalWorks EMR/PM software for its primary care network, which includes about 175 doctors. ECW will work with the network to build a pediatric-specific disease registry reporting module for the physicians' use. The hospital will host the software.
Internet-based revenue-cycle management provider Accuro Healthcare Solutions buys contract management services vendor TPMS. Both serve hospitals and healthcare providers.
Mr. H mentioned that HIStalk sponsor InnovateCG has a new website, so here's the correct link. I noticed that, in addition to company information and listings of current employment opportunities (if you have McKesson, Siemans or Cerner skills, check it out) they also have a cool map displaying locations for an impressive list of clients.
A.O. Fox Memorial Hospital in New York signs a multi-million dollar deal for McKesson's Horizon Clinicals.