From Jackie Chiles: "Re: McKesson. It's probably not really a rumor anymore, but McKesson is acquiring Rosebud Solutions, a maker of tracking software for tissue, instruments, scopes, etc.  Press release will likely hit today. The Rosebud booth at AORN conference has the McK logo hanging above it.Another more juicy nugget that I have heard from several independent sources is that McKesson is making some major changes in its salesforce, with some significant restructuring likely. One well-placed source told me McKesson's cost of sales is about double its competitors due to current sales force structure." Here's a link to the press release on Rosebud.
From Sophie Winslett: "Re: RHIOs in Europe. They're not that monolithic in the UK and Canada. Primary care providers are in their own clinics in the UK.  Even though it is a single payer system, they all buy their own IT systems. The UK is trying to get them to standardize on a few systems to provide competition and flexibility while limiting the number of interfaces, but each doc decides on their own. In Canada, hospitals the hospitals I'm familiar with are the equivalent of non-profit groups (such as you would see in a metropolitan Catholic consortium in the US). They are not directly owned by the government and they all made their own informatics decisions."
From EasyRHIO: "Re: RHIOs in Europe. There is already a country with a nationwide RHIO for all eight million citizens. All clinics in the country are connected and most hospitals are connected with the remainder rapidly deploying. Welcome to Kaiser country, my friend."
From Amanda Rada-Range: "Re: Brev+IT. I quite enjoy this – thanks for publishing it. You might have heard that AWP stands for ain't what's paid." Amanda was commenting on the latest issue's lead story.
From Lester Bangs: "Re: Axolotl. Axolotl has won the Queens NYC HIE contract, which adds to their dominance in NY state — they also have Buffalo and Rochester, which are also live. Check the details of the press release for what they are doing — EMRLite, e-Rx. It's not just results reporting."
From Chang Kai Shek: "Re: Epic campus. Looked pretty basic, but cool drive-through. Do you have other vendors' campuses?" Well I mapped Cerner's campus and found a drive-through just for you. Here's a shot (if that design feature stays that way for more than four hours, I'd suggest going to the company infirmary). Thanks to the power of the Internet, I also found Judy Faulkner's house with drive-by pictures and its appraised value (surprisingly modest), but that's nobody's business, of course, including mine. I'm thinking I'll do a series featuring hospital pictures – what do you think? You could try to guess the hospital from its exterior.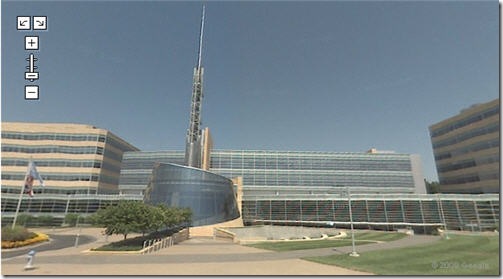 Greenway Medical announces expanded support for PQRI/P4P programs.
If you want a copy of the 101 Healthcare IT Marketing Ideas booklet I mentioned, e-mail Steve Bennett (he said it was OK to give his e-mail, although he may regret that once he starts licking a mountain of envelopes and stamps).
Heard: Hayes Management Consulting is working with a Fortune 100 company to develop an employee health clinic — consumer-centric, paperless, and with an EMR linked directly to medical devices.
CIOs or other hospital IT execs: help me out by completing a questionnaire on medical devices and IT. We've got a crackerjack group working on a white paper and we need some input. Thanks.
Jobs: Clinical Applications Analyst Lab (WA), Business Analyst (CO), Centricity Senior Healthcare Consultant (CA), Client Manager (TN).
I thought Dennis Quaid was just being a self-centered movie star in his ripping of the medical system after his twins were overdosed with heparin at Cedars-Sinai. He's changing my mind: he implies he won't sue the hospital if it does the right thing — implement bedside barcoding of medications (from his foundation page). He also seems to have a handle on the "system problems, non-punitive culture" concept: "Individually, the doctor, nurse, pharmacist, or other staff members, who commit these unintended medical errors, are not bad people. Indeed choosing a career devoted to curing the sick and easing the suffering of others is one of life's highest callings. But these health care professionals are working in, and are sometimes victims themselves, of a broken health care system that has become more and more obsessed with the threat of exposure to liability and protecting it's bottom line rather than being vigilant about correcting the flaws in that system that are the root cause of that very exposure." Damn well said, although this quote surely means he hasn't seen the barcoding products currently available: "They have a bar code system in every checkout stand of every supermarket in the country. How could it be so complicated, and so expensive?"
A UK health minister admits that work on Cerner Millennium in the South has stopped because of contract disputes with Fujitsu and Cerner.
Problems in Australia, where devices set their clocks back for fall (seasons are backwards from us down there, remember) even though daylight savings time had been extended by a week in New South Wales.
It was hard to tell with all their goofy April Fool's announcements, but Google is apparently serious that its Google Docs word processor can now be used offline, courtesy of the Google Gears project.
Here's a pretty interesting look at telehealth in India. Interesting comment: "Technology has never been, and never will be, a stumbling block to progress in telemedicine." Another: "We should, however, remember that a fool with a tool is still a fool, and ultimately therefore it is the individual, not the technology, that can make or break the system." Sounds like they've got some great ideas over there. How long before someone starts offering telemedicine consultations from there at low rates?
Fun: a Wales hospital has had its own radio station for entertaining patients for 40 years.
A VA patient who nearly had unnecessary surgery because a nurse mistakenly read an old lab result proposes a software solution that the VA is considering: modify VistA to show only current lab results unless users explicitly request older ones.
Inga's Update
McKesson announces its acquisition of Rosebud Solutions, which provides software to track and manage surgical instruments and implant materials.
StatCom hires former Siemens and Lawson sales executive Michael Holland to head up sales and marketing.
David Brailer's Health Evolution Partners launches a $200 million investment fund aimed at early stage and venture companies. The fund's advisors include a former US Surgeon General, a past Kaiser CEO/President, a Leapfrog Group founder, and a founder/CEO of The Health Technology Center. Former Partech International/First Consulting/Accenture executive Roy Ziegler will lead the group. I guess when you have been a healthcare IT czar, you're able to get all sorts of folks to come to your party.
Elmhurst and Queens Hospital Centers plan to make a go of a RHIO using Axolotl's Elysium technology. The project is expected to take three years.
I am not sure how significant this news is, but I smiled a bit at the press release. gMed announces the launch of a new EMR product called gCardio, which the company claims is a solution that "thinks like a cardiologist." Hmmm.
Cardiac Science announces that its HeartCentrix ECG software is certified with NextGen and the two have already deployed their first installation. Meanwhile, Cardiac Science also just signed a letter of intent to start working on a similar connectivity model with the Misys MyWay product.
Nuance announces the release of Dictaphone healthcare division's Veriphy-Ready HL7 Integration Server to automate the closed-loop communication process.
Picis announces version 8.1 of its total perioperative automation and critical care applications.
Soarian clients have a new users' forum available at www.soarian.com. Formed with the help of Stoltenberg Consulting, the group will initially focus on question posting/answering and discussion.
Health Management Associates and Novant Health announce a partnership in which Novant will purchase a 27% stake in HMA. The two organizations will co-manage 16 hospitals.
Sachi Rath asked if there were other CIOs besides Halamka writing blogs. Check out Ed Marx's CIO Unplugged. I like Ed because he's a regular HIStalk reader.
A Dell issue or sign of the times? Dell announces actions to restore its competitive advantage and drive $3 billion in cost savings. Included in the plans is the closing of its Austin desktop manufacturing facility, eliminating 900 jobs.