Top News
In Canada, the 16-month bidding process for Nova Scotia's province-wide EHR project called OPOR (One Person One Record) comes down to the wire, with Meditech, Epic, Evident, and Harris Healthcare Group failing to make the final cut.
Only Cerner and Allscripts were allowed to bid based on results from a qualification round that was apparently based entirely on their Request for Supplier Qualification submissions, a document of around 50 pages describing each company's qualifications. Vendors were not allowed to provide detailed documents or to demonstrate their systems.
Evident, a smaller vendor that was an original contender, has become vociferous in its allegations of what boils down to cronyism and an unfair procurement process.
Even Epic, which wasn't even approached by the government for a proposal, seems to have suffered from mysterious postal mishaps in not being made aware that Nova Scotia was considering its project until someone let them know in late 2016, then having its documents package delivered in time but not internally routed to the correct office by the deadline.
Meditech, which is the incumbent vendor for many of Nova Scotia's hospitals, did not make the short list despite no particular complaints from existing users.
Vendors were told that the authority was not meeting with vendors, but Evident claims to have evidence that people involved with Cerner and Allscripts gained unfair access in social and educational settings, with Allscripts in particular having had executives participate in health authority's "Let's Talk Informatics" education events.
A final decision is expected by the end of the year on the project, which could cost several hundred million dollars.
---
Reader Comments
From Spanker: "Re: HIMSS. Did you get this email?" HIMSS now claims that it is not only a "partner in the creation of transformative change," but is also a leading "health and wellness association." Any claims of health and wellness expertise or accomplishment by HIMSS or its members should be taken with a truckload of salt. It sounds good on a vision statement, but it's insured sick people who make it rain for all of them.
From Leading Indicator: "Re: IT advice. Links here." LI calls out three recent examples in which people who have never worked in a health system IT department – much less run one – apparently feel qualified to tell CIOs how to manage their IT organizations, dispensing painfully obvious, simplistic recommendations that usually involve soft subjects like management style or consumerism. I'm all for pontification based on experience and accomplishments (and have seen plenty of it), but possessing a TV, armchair, and beer does not make one a coach.
---
Webinars
October 30 (Tuesday) 2:00 ET. "How One Pediatric CIN Aligned Culture, Technology and the Community to Transform Care." Presenters: Lisa Henderson, executive director, Dayton Children's Health Partners; Shehzad Saeed, MD, associate chief medical officer, Dayton Children's Health Partners; Mason Beard, solutions strategy leader, Philips PHM; Gabe Orthous, value-based care consultant, Himformatics. Sponsor: Philips PHM. Dayton Children's Health Partners, a pediatric clinically integrated network, will describe how it aligned its internal culture, technology partners, and the community around its goal of streamlining care delivery and improving outcomes. Presenters will describe how it recruited network members, negotiated value-based contracts, and implemented a data-driven care management process.
November 7 (Wednesday) 3:00 ET. "Opioid Crisis: What One Health Plan is Doing About It." Presenter: Samuel DiCapua, DO, chief medical director, New Hampshire Health Families; and chief medical officer, Casenet. Sponsor: Casenet. This webinar will describe how managed care organization NH Health Families is using innovative programs to manage patients who are struggling with addiction and to help prevent opioid abuse.
Previous webinars are on our YouTube channel. Contact Lorre for information.
---
Acquisitions, Funding, Business, and Stock
Cerner reports Q3 results: revenue up 5 percent, adjusted EPS $0.63 vs. $0.61, meeting earnings expectations but falling slightly short on revenue.
Tesla CEO Elon Musk mentions during an earnings call that the company offers onsite clinics, a relatively new employee perk at its Fremont, CA facility that has helped the high-end auto manufacturer decrease its lost work days and days missed by 10 percent. A job posting on the company's website hints at the need to find someone who can assist with the "development, implementation, and management of Tesla's electronic medical record (EMR) system by developing standardized processes for on-site medical staff."
Medicare quality reporting company Mingle Analytics merges with care management software company SilverVue to form Mingle Health.
---
Announcements and Implementations
Optum360, Waystar, and TruBridge take top spots for customer satisfaction and client experience across multiple categories in Black Book's latest RCM technology and outsourcing solutions survey.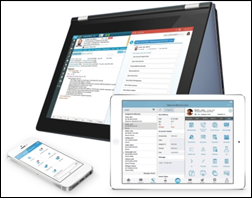 EClinicalWorks adds an opioid risk smart form to its EHR, giving providers the ability to assess a patient's risk for drug abuse and offer alternatives that align with CDC recommendations.
Philips releases IntelliVue Guardian, an mobile app that allows clinicians to view patient vital signs and early warning scores on their Android mobile devices.
Medication safety technology vendor Tabula Rasa HealthCare creates a technology and consulting division called CareVention HealthCare.
---
People
Peter Pronovost, MD, PhD joins University Hospitals (OH) as chief clinical transformation officer, where he will oversee population health, high-reliability medicine, the ACO, and digital health initiatives. Thanks to the reader who forwarded the internal announcement. Pronovost left Hopkins Medicine after seven years in February 2018 to join UnitedHealthcare as SVP of clinical strategy, was promoted to chief medical officer in June 2018, then resigned three months later.
Healthwise appoints CMO Adam Husney, MD to the additional role of CEO.
Health Catalyst brings on Ryan Smith (Banner Health) as SVP of client engagement; Will Caldwell, MD (Novant Health) as SVP of physician and market development; and Cathy Menkiena, RN (Encore Health Resources) and Steven Vance (Intermountain Healthcare) as VPs of professional services.
ClearData promotes Chad Coder to VP of strategic alliances.
---
Sales
Managed care organization Virginia Premier selects ZeOmega's Jiva population health management software.
---
Government and Politics
Amazon announces that Alexa is now able to answer questions about opioids and the opioid epidemic shortly after President Trump signed the opioids-focused SUPPORT for Patients and Communities Act into law. The company's AWS Opioid Crisis Council has also pledged to use the cloud to improve first responder access to medical records, and identify fraud using PDMP data and analytics.
---
Other
A two-year OCHIN study on the feasibility of documenting social determinants of health in EHRs finds that end users need more training to ensure relevant data is entered and acted upon, especially in the area of referrals for community services. Screenings for community service referrals ended up creating unmanageable workloads.
The New York Times looks at the ways smart thermometer maker Kinsa licenses its "illness data" – temperatures submitted by users based on ZIP codes – to help companies like Clorox better target ads. The cleaning wipes company saw interaction with its digital ads spike 22 percent with Kinsa's help, allowing it to target markets suffering from the flu in nearly real time. While Kinsa founder and CEO Inder Singh says he's likely to sell or share the de-identified data only with companies whose services could help Kinsa's users, others aren't so sure public health benevolence will win out over profit and privacy concerns. Christine Bannan of the Electronic Privacy Information Center is one such skeptic: "It's less of a privacy question and more of an ethical question on what we think is acceptable for targeting people who are ill and what safeguards we want to have around that. I can just think of how cigarette and alcohol companies could use strategies like this, or other industries that could really have more harmful effects on people."
Weird News Andy's clickbait headline for this story is, "Physician, Steal Thyself." A 79-year-old doctor borrows $300,000 from a patient to keep her struggling practice afloat, then when asked to repay the money, diagnoses the patient with dementia without any supporting evidence. The doctor says the accusation is "all lies" and that she's been making loan payments since she borrowed the money 20 years ago, but she nonetheless voluntarily surrendered her medical license in assuming that her case is unwinnable.
---
Sponsor Updates
Blog Posts
---
Contacts
Mr. H, Lorre, Jenn, Dr. Jayne.
Get HIStalk updates. Send news or rumors.
Contact us.