A Health Affairs article written by five Republican senators says their 2013 question of what value Americans have received in return for their $35 billion HITECH investment hasn't been answered. They say EHRs "are not meaningful for physicians," interoperability remains elusive, the $12.5 billion CBO-predicted EHR savings haven't been realized, and ONC's interoperability roadmap doesn't provide enough specific details for vendors to work from. It criticizes ONC for releasing its interoperability roadmap well after Stage 2, which "was promised to be the stage when health providers were interoperable." The article finishes on a slightly positive note in complimenting Karen DeSalvo:
In listening to the concerns from EHR vendors and EHR users from across the care continuum, ONC has taken an important turn under the leadership of Dr. Karen DeSalvo. The previous ONC leadership did not understand the difficulty and enormity of creating government-approved products in a market that struggled to exist before government incentives arrived. As a result, our nation's health care providers are stuck with the huge cost of unwieldy systems trying to conform to government mandates. They are stuck adopting EHR systems which don't fit into their established workflows. And if they actually want to share their patients' data, they are stuck with even more costs imposed by vendors. At the center of all this is the patient who must sit quietly in the exam room looking at her physician use a computer instead of directly talking with her, who likely has seen no better access to her own data, and who is struggling to understand why her doctor has such a difficult time getting her lab results.
---
HIStalk Announcements and Requests

I was thinking today about the kind of reader who probably shouldn't be reading HIStalk because I won't be able to meet their expectations. I'm not offended by losing readers who:
Assume there's a direct relationship with how important a story is and how much space is used to describe it.
Need repeated mentions of the same story over several days, with no new information, to make sure they understand they should pay attention to it.
Enjoy catchy headlines (especially those click-desperate, frothy ones that include a number as in a "listicle") with cartoonish action verbs that sit atop stories that fail to deliver anything insightful.
Don't mind stories that fail to link to the source document with the hopes you'll mistake the story as containing original reporting.
Require pictures even if they have nothing to do with the story, like generic shots of stethoscopes or smart phones, or who value slick design over substance.
Are convinced that keeping up with the industry requires spending a lot of time each day reading several sites.
Enjoy reading opinion pieces written by people who have never worked in either health IT or healthcare.
Quite a few people are writing about the study that found little overlap in the "best hospitals" lists of four organizations that create them. It's a lost cause in my opinion – any "best" list, whether it be restaurants or plumbers, is situationally subjective and even medical experts can't provide a definitive answer. Go to an academic medical center when you have a tricky diagnosis or need a rare surgery performed by someone who does a lot of them, but expect to have privacy and restfulness compromised by rounding teams made up of everybody and his brother popping in at all hours, expect more mistakes to be made (especially in July, on holidays, on weekends, and at night), don't mind the happy indifference of employees who aren't afraid of being fired, and expect to have a lot more tests done because that's the research culture (no pun intended). Community hospitals are fine for most medical situations, but they don't always have high volumes in what you need done, the employees they attract are probably friendlier but maybe less accomplished, and if you crash you might be a long way from somewhere better equipped to save you. I would rather see a list of the worst 30 percent of hospitals (as measured by mistakes, poor outcomes, low-quality medical staff) and then feel safe in choosing any of the others as long as you bring someone to watch everything done to you like a hawk. It also won't matter which hospitals are "best" if you aren't willing or able to travel halfway across the country and possibly go out of network, and for many mid-sized cities, consolidation has left only one or two choices anyway. I think for most people, long-term health is driven more by the choice of PCP and specialists rather than the big, bureaucratic building with the lights on all night that often makes things worse instead of better. The "best" hospital is the one you stay out of.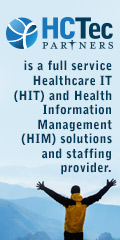 Welcome to new HIStalk Platinum Sponsor HCTec Partners. The Nashville-based HIT/HIM solutions and staffing provider offers services related to EHRs (build, implementation, training, optimization, go-live support), clinical transformation, revenue cycle and ICD-10, data migration, data warehouse, and HIM and coding. I was happy to see prominent mention on their site of the extensive benefits they offer consultants as well as the company's "giving back" activities, such as working with Habitat for Humanity. Testimonials from clients and consultants are here. Thanks to HCTec Partners for supporting HIStalk.
I had a sign made to commemorate Atlanta's convincing HIStalk reader poll win as healthcare IT capital of America that Jenn presented it to the folks at Metro Atlanta's Bioscience-Health IT Leadership Council on Thursday. Receiving the award from Jenn were Council Chair Robert Hendricks of McKesson and Pat Williams, chair of the Institute of Health Information Technology and TAG Health.
This week on HIStalk Practice: Palm Medical Group picks HealthFusion as its VoC. KVC Nebraska turns to telemedicine for behavioral health services. Hospital employment loses luster with Ohio physicians. CHESS and Chase Brexton Health Care implement new pop health management tools. ClickAClinic CEO discusses telemedicine business model outlook. The Consultant's Corner takes a look at primary care networks.
This week on HIStalk Connect: Google and Stanford University publish a paper on the use of deep learning neural networks to expedite drug discovery research. During the Mobile World Congress conference in Barcelona, Jawbone announces that it will partner with Huawei to provide access to Jawbone's UP fitness ecosystem for the company's growing portfolio of smartphones and wearables. Rock Health invests $100,000 in Chrono Therapeutics, a startup building a wearable device that supports smoking cessation programs by administering nicotine at strategic intervals based on the time and intensity of each user's actual cravings.
---
Webinars
March 12 (Thursday) 1:00 ET.  "Turn Your Contact Center Into A Patient-Centered Access Center." Sponsored by West Healthcare Practice. Presenter: Brian Cooper, SVP, West Interactive. A patient-centered access center can extend population health management efforts and scale up care coordination programs with the right approach, technology, and performance metrics. Implementing a patient-centered access center is a journey and this program will provide the roadmap.
Here's the recording of the "5 Steps to Improving Patient Safety & Clinical Communications with Collaborative-Based Care " webinar.
---
Acquisitions, Funding, Business, and Stock


I mentioned that the Forbes list of 2015 billionaires omitted Terry Ragon of InterSystems, with my speculation that his net worth should be in the same $1.5 billion neighborhood as Cerner founders Cliff Illig and Neal Patterson. Turns out he's actually on the list at #1190 at $1.6 billion, but categorized under "technology" rather than "healthcare," which is technically correct (no pun intended) since the company's Cache' database has at least some use outside of healthcare.  
Stanford Health Care and GE Ventures launch Evidation Health, which will pair digital health companies with possible provider customers to define product value.
---
Sales


Greenville Health System (SC) chooses Caradigm's population health management products.
---
People


CareCloud clarified a reader's rumor report that CEO Albert Santalo was asked to step down. Per the company, he'll be "focusing his time almost entirely on advancing our products for the next several months," with an emphasis on meeting the needs of large-practice customers, but will remain chairman and CEO.
---
Announcements and Implementations

First Databank will distribute Polyglot's Meducation simplified medication patient instructions.
Physicians at Community Memorial Health System (CA) are entering 98 percent of their orders and notes electronically into Meditech after implementing PatientKeeper's CPOE and NoteWriter systems.
Agastha and Axon HCS add the CompletEPA electronic prior authorization solution from Surescripts to their systems.
---
Government and Politics

FDA releases its first mobile app, which identifies drug shortages.
HHS Secretary Sylvia Burwell publishes an article on HHS's move to value-based payments, but reading it involves another type of payment – sending $20 to the New England Journal of Medicine for the privilege of seeing the comments of the government official whose salary is paid by your taxes. It should be law that elected officials should not publish paywall-protected articles or appear at conference sessions that require a fee or that are invitation-only. They represent all of us, so they should speak to all of us.
Here's Karen DeSalvo's keynote and comments from a Wednesday session on health IT at Brookings Institution. 
---
Privacy and Security


The Australian radio station whose "morning zoo" hosts called a London hospital in 2012 claiming to be the Queen and Prince Charles and were given information on the condition of the Duchess of Cambridge may lose its license for airing the call without consent. The India-born nurse who didn't recognize the "ridiculous comedy accents" transferred the call to the floor. The nurse committed suicide three days later, leaving a note blaming the shame of the call for her death. British prosecutors declined to press charges against the two DJs even though they probably broke Britain's privacy and malicious communications laws, explaining that they weren't likely to be extradited from Australia and their action was intended to be a harmless prank.
Texas Health Resources, responding to a negligence lawsuit brought by its nurse Nina Pham over her exposure to Ebola, says in an email to employees that despite her claims, it had her permission to release information about her and that it followed HIPAA rules.
The federal government's Office of Personnel Management  OIG says Anthem twice refused to allow it to perform security testing of Anthem's systems as part of a routine OIG security audit. Anthem told the OIG that its policies don't allow external entities to connect to its networks (Chinese hackers excluded).
An Oregon TV station uncovers an interesting privacy law: universities are allowed to dig into the health records of any student who sues them without running afoul of HIPAA. They're covered under a separate law called FERPA.
---
A JAMA Internal Medicine case study profiles the case of an occasionally symptomatic patient whose tachycardia was diagnosed only after his PCP suggested he buy an AliveCor smartphone-based cardiac monitor.
RxRobots delivers four of its pain management robots to the Alberta, Canada hospital where they were developed. The robot distracts children who are undergoing painful procedures.
---
Other


Garen Sarafian from Citigroup sent over the company's analysis of the most recent Meaningful Use data titled "Stage 2 Clingers: Weak Vendors Try Holding On." While I would be cautious about reading too much into the skimpy number of EP Stage 2 attestations, the report's conclusions feel about right:
Cerner and Epic are increasing their Stage 2 market share (somewhat at the expense of Meditech, which is sliding a bit) and Athenahealth is succeeding on the EP side.
Provider EHR difficulties should drive a robust replacement market that will benefit those same three companies.
Low EP attestation rates should benefit quickly implementable products from Athenahealth and Practice Fusion.
A dropoff on Stage 2 attestations by users of Allscripts and NextGen could indicate declining market position, especially given their acknowledged problems with reduced client spending and satisfaction problems, respectively.
The BBC finds that the US is the most expensive place in the world to give birth, drily adding that, "there is no publicly financed health services as in most developed countries." A Johns Hopkins professor summarizes our healthcare mess succinctly: "If you can make more money as a doctor by ordering more tests, you are going to order them and therefore patients end up getting more tests … If you don't have health insurance in the US, hospitals and doctors will ask you to pay three to four times what someone with insurance will pay for the same service because no one is negotiating rates on their behalf."
The AMA, seemingly unable to find anything to whine about these days other than technology and the EHRs its members bought of their own free will, twists CMS's latest ICD-10 testing results to suggest that "the claims acceptance rate would fall from 97 percent to 81 percent if ICD-10 was implemented today." AMA and other physician groups want CMS to develop contingency plans "to save precious heath care dollars" (the Medicare ones that arrive in the pockets of doctors) and to describe how PQRS and Meaningful Use reporting will work given that the calendar year will straddle ICD-9 and ICD-10 (that part is valid). Meanwhile, AMA's online newsletter wraps up a supportive article with a link to its online store, where those cash-strapped doctors are invited to buy AMA's ICD-10 data file. AMA makes a good point: CMS should release more specific testing details. It also makes a bad one: CMS should pay doctors in advance in case they have billing problems.
Weird News Andy notes what he calls a "kidney kidney kidney kidney kidney kidney" transplant. A San Francisco hospital performs six paired donation kidney transplants, using software developed by a technology executive (who underwent a kidney transplant himself years ago) that performs the number-crunching that matches unrelated donors and recipients using their medical characteristics.
---
Sponsor Updates
---
Contacts
Mr. H, Lorre, Jennifer, Dr. Jayne, Dr. Gregg, Lt. Dan.
More news: HIStalk Practice, HIStalk Connect.
Get HIStalk updates.
Contact us online.