From Chuck Ponozzo: "Re: latest EMR developments. I attended via phone and Webex both the HIT Policy Committee call and the CCHIT Town Call meetings over the past two days. First I was a little disappointed in the Policy Committee and ONC for not having some of the discussions hashed out prior to the meeting and that nothing was approved to move forward. ONC let the media hype up this meeting as the place where meaningful use is going to be defined, and yes we have some idea, but we are all left sitting on the edge of our seats for another month before anyone makes a decisions. Even more concerning to me, though, is the way CCHIT is going about their business without any regard for the fact that they haven't been identified as a certifying body and the folks on the Certification / Adoption Workgroup didn't seem like they were ready to anoint them."

From Former Sunquester: "Re: reports. The fact that you are squashing reports from current and former Sunquesters is disgusting." Someone claiming to work for a couple of vendors keeps sending anonymous hatergrams with unsubstantiated claims about employee discontent in various forms. Employee-employer squabbles, even real ones, are not interesting to anyone else, so I'm not likely to run them here. I complained bitterly and regularly when I was unhappily working for a vendor several years ago, fantasizing that an outraged world would rush to my side if I kept moaning about it. I finally grew up and realized that (a) people had their own problems and didn't care about mine, and (b) I looked stupid for whining instead of doing something about it. If  it's that bad, leave. If you can't do better, be grateful they're paying you when nobody else wants to. That's the harsh lesson I had to learn.
From Lemmy: "Re: Harvard Vanguard. Anne Fitzgerald, co-chief of operations and former CIO, is leaving on July 15. From the e-mail announcement: 'Under Anne's leadership, we completed major upgrades to Epic, launched three other Atrius Health groups on Epic, designed and built CHAPS (Community Hospital And Physician Systems Initiative) which can identify our patients when they arrive at a community hospital's emergency room, increased the visibility and support for our ancillary and specialty services with investments such as the Central Lab move, PACS selection, pain management service and others, began the Site Councils as a way of moving to more local decision-making, and undertook a major investment in improving job do-ability." Sounds like a mutual admiration society, other than the fact that she's leaving. Maybe she took my advice above.
Physician warning: someone is faxing practices claiming to be with Medicare (and sporting its logo) and asking to have account information faxed immediately to prevent payment delays. It's a scam.
New poll to your right: are the meaningful use criteria contained in HHS's preliminary matrix too easy, too hard, or juuuuusssst right?
Cerner shares hit a 52-week high today. I'm squinting at the historical chart and it looks like CERN share prices just missed hitting an all-time high.
HIMSS says hospitals will spend over $14 billion on IT systems in the next five years.
Meditech gets a 6.0 sale to a 700-bed hospital in England, with Perot part of the deal for implementation consulting.
CalPERS, Anthem Blue Cross, Medco Health Solutions, and Blue Shield of California launch a big e-prescribing project.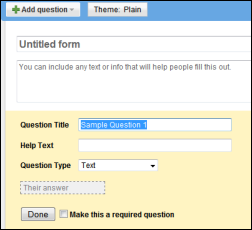 Here's something I bet you can use: Google Forms, called a SurveyMonkey killer by some, lets you create online forms that can collect Web-based responses by e-mail or in a Google Docs worksheet, making it perfect for doing polls or surveys. You just go to Google Docs and click New, then Form. I'll be putting it to a couple of immediate uses, I expect.
Noteworthy Medical Systems announces the release of NetPay, a Web-based application interfaced to its practice management system that lets doctors collect patient payments as they leave the office.
An oncologist arrested on national TV's "To Catch a Predator" for soliciting what he thought was a 13-year-old girl online says he should go free because alleged explicit chat room logs were lost when the hard drive of a Perverted Justice investigator failed. The prosecutor says it doesn't matter since he has a saved copy, but the defense is arguing that there's no chain of custody. The prosecutor counters with what sounds like a clincher: the doc showed up to have sex with a child and was caught on national TV, hard drive or not. Doh!
South Carolina, like other cash-strapped states, holds a health IT summit with the objective of getting federal money (EMR Welfare, I'm going to start calling it) and maybe even helping a patient or two in the process if the cards are right.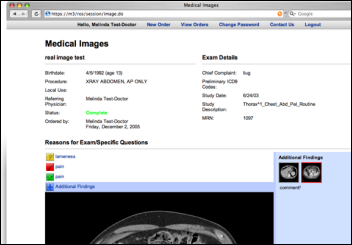 A company called Clear Innova implies that it has launched a new radiology information system, but it appears to be a marketing company pitching Origin from Medaxis.
A former Army surgeon and assistant medical professor at Washington University in St. Louis is implicated by major newspapers as having been paid $800K by medical device maker Medtronic for fabricating a favorable study of one of its devices.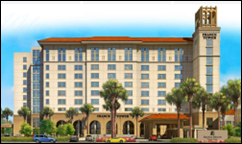 Halifax Health (FL) chooses Meru Networks as the wireless network provider for its new 500,000-square-foot building.
So whatever happened with the April DoD raid on Siemens in Malvern? You would think they would have announced something if they found it.
University of Iowa Hospitals will lay off 130 employees.
Jobs: Senior Developer, VP Sales – Healthcare Software, Cerner eMAR Project Manager, McKesson PACS Administrators.
The gossip site paying OctoMom to follow her around with cameras is charged with violating California labor laws, leading to its defense that it's a "news-gathering organization" not subject to entertainment industry laws.
I told you a few days ago that hospital IT people see this depressingly regularly, but here's a new example: an employee of a Florida hospital is arrested for using his work PC and printer to print child porn. I guess site-blocking software isn't working or isn't being implemented.
Unibased Systems Architecture opens a demo center in Chesterfield, MO.
PACS vendor AMICAS will join the Russell 3000 stock index.
Informatics Corporation of America markets its ICA CareAlign as a "green" solution that leaves legacy systems intact, reduces paper and duplicate work, and reuses patient information.
Michigan's medical society, Microsoft, Covisint, and PBM company MedImpact Healthcare Systems announce a collaboration that will give users of the medical society's portal access to the HealthVault information of patients.
Interesting lawsuit: two male nurses sue their former hospital employer claiming they were illegally discriminated against since only they, not their female colleagues, were called when patients got violent. They say they were fired for complaining and want money for medical expenses, injuries, and emotional pain.

HERtalk by Inga
From No satisfaction: "Re: Healthcare reform and insurance for all. This op-ed piece in the WSJ is a 'must-read,' suggesting that our failing healthcare system is also the fault of bloated Medicaid, Medicare, and other public programs that have strained state and federal finances. In my opinion, it's time to move towards a free market. This much government in the middle adds cost, and long term means more people with less or no coverage. In all of modern history, no central government has ever succeeded in controlling a nation's economy or managing its industries. This noble experiment will be no different. Start getting rid of insurance and let people pay for their care out of pocket — that way, they can truly compare prices and quality. Adding more government to something the government is already running that isn't working isn't going to fix anything!"
From Winnie Ryder: "Re: Hospital embezzlement. Thought you'd like this article." Winnie forwarded a story that claims that women over the age of 45 are most likely to commit inter-office fraud and embezzlement in hospitals. Reasons include the need for money, revenge, and the the thrill of the challenge. My take: it's best to take care of the mature women in your world.
And obviously hospitals in Czechoslovakia have figured that out. The nursing shortage there has led some institutions to offer creative perks to attract workers. Candidates seem particularly attracted to offers of free plastic surgery, including tummy tucks, remodeled breasts, and face lifts. I think I'd like to hang out with Nurse Petra, who's quoted as saying, "I would rather have plastic surgery than a free car." Heck, if the shortage is that bad, why not ask for both?
SCI Solutions announces the signing of 22 contracts during the first half of their fiscal year, ending on March 31.
An Alabama judge orders HealthSouth founder Richard Scrushy to pay shareholders almost $3 billion in damages after being found guilty of liable in a shareholder lawsuit. He denies any knowledge of the fraud scheme that nearly bankrupted HealthSouth.
The state of California files suit against six Target stores, alleging the illegal of dumping hazardous waste, including medical waste, into landfills.
MGMA reports that the starting salaries for physicians in many specialties are on the rise. Neurologists saw the biggest gain, from $200,000 to $230,000 a year, up 15%. Those earning the highest specialty salaries were neurosurgeons ($605,000), while pediatricians started at $132,500.
GE Healthcare's CTO is named leader of the company's $6 billion health care initiative. The "healthyimagination" program focuses on improving healthcare for people at a reduced cost.
Congrats to eClinicalWorks CEO and co-founder Girish Kumar Navani for winning the E&Y Entrepreneur of the Year Award for New England in the healthcare technology category.
MedCentral Health System (OH) implements Siemens Soarian Quality Measures to automate chart abstraction and help expedite the submission of quality measures.
WebMD and HLTH Corp. resurrect their merger deal, with WebMD purchasing its parent company in a $2.31 billion, all-stock deal. The transaction is scheduled to close by the end of the year pending regulatory approval.
Ingenix introduces Ingenix Revenue Manager, a new suite of software applications to assist hospitals with RCM activities. The suite includes three separate modules that can be purchased separately or together: Denials Prevention, Appeals Automation, and Denials Analytics.
Hayes Management Consulting just published its summer 2009 issue of the Hayes Review Newsletter. Included in the issue: tips for interoperability design with Ensemble and details on Red Flag Rules.
U.S. News Media Group releases its second annual rankings by specialty of America's Best Children's Hospitals. Rankings were based on  reputation, medical outcomes, and care-related indicators.
Heritage Valley Health System (PA) selects Allscripts Enterprise EHR for 150 of its employed physicians.