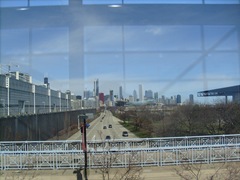 It's a pretty nice day in Chicawgah, with brilliant sunshine and tolerably cool temps. The locals are out jogging and playing shirtless volleyball like they were Canadians. HIMSS is looking pretty smart in choosing its own city for the conference, but I doubt anyone will be saying that as they slog through the snow the storm will bring Monday. If you see someone smiling, it will be a vendor chop-licking at the certain booth traffic that will result since there's no golf or other outdoor activity as an alternative (coincidence, I'm sure). Good for them, bad for those of us who enjoy the traditionally warmer conference locales. I even heard one of the HIMSS people saying it was convenient, but not as nice as going somewhere less wintry. Look at it this way: because of the schedule-juggling needed to jam Chicago into the mix, it's only 11 months until the Atlanta conference.
Why is healthcare so expensive? I can't figure it out as I sit in a $250 hotel room using a $20-per-day Internet connection and ponder the $26 hamburger (including mandatory gratuity and delivery charges) that the hotel's room service would like to sell me. (Actually, I pay my own way, so I'm not contributing to healthcare inflation). One of the sessions today was full and someone headed out to get more chairs – don't do that, they were told, only union members can pick up convention center chairs.
That same $250 hotel just about sweated me out last night. My room must have been 85 degrees and the heat was blasting. No AC, naturally, being a historic hotel full of character (meaning: tiny closets, weird bathrooms, and a maze of halls to find each room). I figure there was some forgotten old guy down in the bowels of the basement shoveling coal into the furnace like he'd been doing since the Truman administration. Solution: I opened the window, which was surprisingly not bolted shut (the hotel must not have a legal staff). Other than the racket each time an El train lumbers by, it's OK (as long as I don't think how much nicer a $69 Microtel would be if I'd been smarted enough to book once, spend a little on cabs each way, and still save a bundle).
It looked like the Marines stockpiling supplies before a siege at the conference center. Vendors hauling in their exhibit stuff, food and drink people making sure not to run out of wildly overpriced inventory, and AV people setting up an endless number of rooms. The conference center is actually pretty easy to get around and, as is always the case with HIMSS, is well marked. Some sessions are across the land bridge on the west side, most seem to be on the south side, and the opening reception will be on the east side overlooking Lake Michigan (which attracted me to stroll out to the patio for a look, immediately finding myself locked out of the convention center until a maintenance guy reopened the door).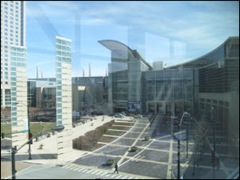 It was pretty dead at the conference center today, at least in the common areas. I walked by the venture fair and it was overflowing, so I assume ARRA has attracted some people newly interested in healthcare but having no clue about the patient widgets with which we deal outside their financial realm.
The schedule still seems odd. You would think that the opening reception would be today (Saturday) since everything moved up a day, but it's still Sunday. There's no morning keynote tomorrow – Dennis Quaid isn't on until 12:30. One thing is like always: the education tomorrow runs only 8:30 until noon, followed by Dennis, followed by the ceremonial herding of the attendees into the exhibit hall like cattle up an abattoir ramp. Nothing conflicts with the exhibit hall hours, of course, since that's the entire point of the conference (a smattering of time-conflicting educational offerings notwithstanding). Sunday's education (not counting Dennis): 3.5 hours. Exhibits: 4 hours.
Rumor heard: McKesson's board had lost confidence in Pam Pure, believing she was in over her head. She fired all of the company's ambulatory salespeople right before she herself was defenestrated, supposedly. A WSJ article mentions concerns about the technology division. It says John Hammergren is speaking at HIMSS, but I'm not sure where.
An anonymous reader says that Radianse chairman and CEO Manuel Lowenhaupt has left after less than a year. Steve Schiefen is now listed as CEO on the company's Web page. The reader speculates the RFID asset/patient tracking company will be sold to Hill Rom.
A reader sent a copy of an e-mail that George Halverson of KP sent out company-wide, bragging that 12 of the 15 hospitals that will be recognized as EMRAM Stage 7 at the conference are Kaiser facilities.
HCS president Tom Fahey e-mailed news of a new Interactant sale: the five-hospital Encore Healthcare LLC (MD). They're in Booth 7834 if you want to extend personal congrats or just say hi (Tom didn't ask for the plug, but I figured I'd look it up in the HIMSS guide since it's right in front of me).
I passed former HIMSS CEO John Page in the hall today. Looking good, running a CEO and entrepreneur support organization.
HIMSS is having some kind of blogger session at the conference. I was not invited. I'm insulted even though I wouldn't have gone anyway.
TeraMedica announces Smartstore-Ultrastream, a storage optimization protocol that improves the efficiency of image storage and routing for its vendor-independent imaging and information system.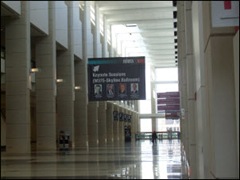 GAO names 13 members of the Health Information Technology Policy Committee, the advisory group that will make policy recommendations for a national HIT infrastructure. Some are familiar names: Marc Probst of Intermountain, Paul Tang of PAMF, and Judy Faulkner, who has done more for HIT adoption than any of them because she's selling the heck out of Epic to big hospital systems (quick: name any big-name hospital that has bought anything other than Epic in the last year or two. Need more time?)
People keep e-mailing me that Perot will be acquired by Dell shortly. Sounds farfetched, but I said the same about Misys and Allscripts right before HIMSS last year (and ran the rumor for the same reason: multiple reports). Purely speculation, but there you go.
Nine Texas patients, most of them homeless, drug abusers, or mentally ill, made 2,700 ED trips in the past six years, racking up $3 million in taxpayer cost. I bet your first reaction was: irresponsible losers screwing up the system. Maybe your second would be: perhaps the healthcare system gave them no alternative, making a business case for using the avoidable cost to fund options for them.
GE Healthcare, whose name is prominently plastered on the quite nice tote bag being handed out to HIMSS registrants, lays off more employees in Wisconsin.
Taking pictures at HIMSS? Send them my way (or maybe I should start an online album). People seem to like them.
A reader is working with a boutique RIS/PACS vendor that is looking for quality resellers. Not my sweet spot, so if you have suggestions, e-mail me and I'll pass it along.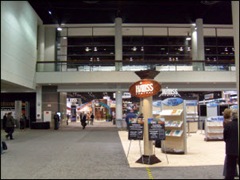 A study in contrasts (not the same as a contrast study): a NEJM report says that only 1.5% of hospitals have comprehensive clinical systems, but HIMSS Analytics trots out its own stats saying that, hey, they're pretty close, missing only a couple of key applications to be there. Count on it: any time anybody publishes a high-profile article (even a research one) that seems to indicate less than rosy industry use of technology (or especially that the technology itself may not be up to snuff), HIMSS will circle the wagons with a rebuttal.
Allscripts cuts revenue estimates, blaming a purchaser preference for subscription-based pricing. Overheard today: nobody's financing companies that drop ship software like in the old days (say, before last year). True partners make money only when their customer makes money and that's all that's selling these days. Welcome to the recession.
My guest editorial in this week's Inside Healthcare Computing e-mail update: Here's President Obama's Mandatory EMR Feature List: Firing GM's CEO Makes it Clear That Federal Money Has Strings Attached. A key sentence: "The CEO of every company right now, right or wrong, is the former junior senator from Illinois who has never had a real job (I don't count being a professor or lawyer) or run a business."
If you're at the conference, welcome to Chicago. I'll be doing some kind of daily report and I expect (and hope) that people will e-mail the good stuff they hear out and about since that's the fun of being here.