From Violet Baudelaire: "Re: RHIOs/PHRs. Are the goals so different between the RHIOs and PHR vendors that they will stay separate, or do you envision a time that they will merge? From a data collection perspective, are they not collecting mostly the same information from/to providers and payers, but only organizing and distributing it for different audiences and users?" The biggest differentiator of PHRs is that they give patients a place to record their own information, but certainly that function could be rolled up into RHIOs (and nobody in their right mind really expects patients to do that anyway). The biggest value of PHRs is potential direct-to-consumer advertising, so PHRs will desperately try to stay separate, hoping that RHIOs and system vendors don't build the equivalent capabilities into their systems and squeeze them out of the revenue picture. That's my guess, anyway.
From Tad Paoli: "Re: Howard Industries. Point-of-care cart manufacturer. 600 illegal aliens were arrested and the plant shut down." The newspaper stories rattled of a bunch of odd stuff made there, but I didn't realize they did carts. The Mississippi plant is where fellow workers applauded as the illegals were hauled off by immigration, Legal workers claimed the illegal workers were getting preferential treatment and even the union was recruiting them. The company's site indicates that the Howard Medical division sells computing and charting stations, COWs, scanners, and mobile devices.
From Blond Adonis: "Re: Epic. You buy the idea that Judy does not own a controlling interest in the company? And you are smoking what?" Pork shoulder, preferably over hickory, while watching college football (it's back!) and drinking a Yuengling. 

From Paranoid Googler: "Re: HIStalk search. Did you change the search engine on the back end from Google? And on a different note – regarding the guy who is so busy he wants you to write less, I bet I am as busy as he is and I want you to write …more. Actually, the size of the blog as it is today is just perfect, and don't let any annular muscle tell you otherwise." Ha … he said "annular muscle." Before today's redesign, there was an old search box on the upper left (it had always been there) that didn't do a Google search. The one in the right column was a Google site search. Now, the Google one is the only one left since I had the other one removed. Jeez, that was confusing.
From Lance Tenor: "Re: free cataract surgery in India. Even as 29 people were fighting to get back their vision at Joseph Eye Hospital in Tiruchirapalli after cataract surgery, 34 more people, who also underwent the operation at the same hospital, were admitted to Villupuram government hospital after they complained of blurred vision." Nine will lose their eyesight permanently, leading protestors to break into the hospital and trash it. The culprit is preliminarily identified as infected saline ophthalmic solution. It reminded me of an old story about traveling con men in India who would claim to cure cataracts. They would poke the eyes of patients with a briar or stick and drain out the fluid. Patients could miraculously see again, they paid the con men, the con men skipped town, and the patients went blind right after since draining the milky fluid is a temporary solution and the eye poking caused even worse damage.
Pardon our dust as the site changes, but hopefully you're noticing some benefits even though we're not quite finished. The smoking doc graphic is smaller, the top links are now horizontal to push articles further up on the page, the comments work better, and the page loads faster. Next step: resized ads.
The potential class action lawsuit against McKesson that alleged drug price-fixing (along with First DataBank) has been dismissed by a federal judge. That was a huge exposure that could have been disastrous.
I saw no announcement, but I noticed that LingoLogix, the natural language processing company we profiled in April, has been acquired by Cerner. Or at least I think it was: the August 1 announcement was on their site this morning, but is gone now (but the commented out HTML below from their main page proves it). The contact page also says Cerner. Hey, I'd be proud of it. Maybe Cerner found them through HIStalk.

I don't get the 'tude: the local paper in SD headlines the locals who were "stung" because Medicare accidentally overpaid them and now wants the money back. "Somebody who did this (made the error) should pay it back," said one recipient who already spent the money.
Jobs: Director, Clinical System Architecture (WA), EMR Implementation Associate (MA), Cerner CPOE Consultant (any location), SeeBeyond/Sun Health Systems Integration (any location). Sign up for weekly job blasts.
Cisco buys Linux-based Microsoft Exchange alternative PostPath for $215 million, saying it will add e-mail and calendaring services to WebEx, another Cisco acquisition from last year. PostPath was pretty aggressive about claiming its 100% compatibility with Exchange and was getting traction there, so surely Cisco will spank Microsoft a little by continuing to sell it for that purpose. I know several hospitals that are running it, finding it exactly the same as Exchange except for the price.
Nortel announces its "office on a stick" product (Nortel Secure Portable Office) that puts authentication, a VPN, and a virtual desktop on a USB key. When the key is removed, data and applications are removed with it.
I haven't research it thoroughly, but this desktop remote control software can be downloaded free for personal use. A lifetime business license is $699. Pretty cool, maybe, for remote support or team projects.
A New Zealand health network bans iPhones, citing security risks and admitting that doctors aren't happy about it.
Heartland Health, trying to clamp down on identify theft and insurance fraud, requires patients to show photo ID each time they appear for treatment. I think they're in Missouri, but the goobers at the local paper are apparently so agog at the concept that someone from more than five miles away might be reading their site that they don't put their location on it anywhere.

HERtalk by Inga
From Former Road Warrior: "Re: Misys/Allscripts. I have friends working at both of these companies. Each camp seems to believe their products will survive the merger and the sunset products will come from the other company. Meanwhile, salespeople are being told to expect some territory changes as the two sales teams are merged. Glad I don't work at either company right now." I am with you there. I read the following comment in the Raleigh area business journal: "The company also has strongly hinted that local layoffs should be expected, with Misys CEO Mike Lawrie telling analysts the day the deal was announced that they could 'let your imagination run wild' about potential synergies in the Triangle." I'd be running wild all the way to Kinko's to clean up my resume.
From Scott Shreve: "Re: Perot and Medsphere. HIStalk just recorded its 1.5 millionth hit. Besides the snarky commentary, HISTalk (and the lovely new addition of HERTalk) has continued to gain readership with its deadpan commentary that is always dead-on. As the readership has grown, the quality of the tips and the accuracy of the insight has also increased. I believe nearly everyone with a need to know turns to HIStalk when they need to know." We thank Scott for the shout-out, which he made recently on his Crossover Health blog. Scott also makes an interesting prediction that Perot will buy Medsphere.
From Vendor Exec: "Re: ICD10 effect. I think ICD10 will be very hard on the older vendors. I would hope that most of the newer vendors planned for it (we did, as we knew it would come eventually). I think it will cause a squeeze on vendors more than anything, as it will have a significant cost associated with it. I do not think it will really hurt EMR sales, though, as I think the vendors will just have to suck it up and do it. I do think that it might push some clients into asking their hospital to help via Stark. In that way, I think it might help drive EMR sales." While I'm sure most vendors have been planning for this change, I stand by my original assertion that we'll see a number of product sunsets by companies supporting multiple similar solutions. Say goodbye to some of those oldies but arguably goodies (at least in the day) such as vintage Medical Manager and Misys PM.
From Wompa1: "Re: Duffy and Inga. She has a real retro sound to her music. I haven't heard anything (recent) that comes close to her style. I might have to start listening to more Inga Radio." Wompa1 is such the Renaissance man. On top of his regular thoughtful HIT commentary, he appreciates great music and has whipped out a follow-up Inga love sonnet (ok, maybe it's not a love sonnet, but it made me feel loved nonetheless): "Inga the incognito, illuminating, intrepid investigator of industry intelligence. Tirelessly trudging through online tomes…"
There have been a few posts of late regarding standards (CCHIT and others.) It reminded me of a recent conversation with a friend who is in the EMR implementation trenches. As a vendor, the complexities of lab connectivity are giving him fits. The way he explains it, all parties agree that sharing lab data creates a more complete patient record (and presumably leads to better care.) However, each lab has its own set of standards, meaning each lab requires a unique interface. And because of mergers and acquisitions over times, the national labs typically have multiple products and a variety of "standards" (in other words, just because you have a Lab ABC interface functioning in Dallas does not mean it will work in Seattle because Lab ABC products may differ). The underlying issue is who pays for whatever changes are necessary to develop a standard and the required interfaces. Currently, he claims, there are no mandated standards, thus no pretty fix. So, I am left wondering if anyone can shed some light on this. Are lab standards an issue one of the various work groups is addressing? Are the labs on board?
And speaking of standards, the SEC is considering requiring all publicly listed American companies to move from US accounting standards to international model instead. That GAAP stuff always gave me fits when I was in college, so I say good riddance.
Carilion Health System (VA) makes the front page of the Wall Street Journal. Critics claim Carilion's monopoly in Roanoke has led to care that costs as much as four times more than other regional providers. And if they turn to the local paper for solace, the big story there is that Carilion's CEO was paid $2.27 million last year.
I went with some girlfriends this week to see the movie Mama Mia. It's a total chick flick that left my pals and me dancing and singing on the way home. If you are guy wanting to understand the stuff of female fantasies (e.g. rekindled lost love, hunky men on remote Greek islands, looking glamorous while singing at the top of your lungs), then buy a movie ticket, sit in the back, and observe middle aged women letting loose.
Sage Software Healthcare names former Cerner VP Lindy Benton as COO.
It appears as if Google Earth has more uses than simply checking out your home on the Web (or your boss's home). Olympic cyclist Kristin Armstrong details how she used the application to help with a gold medal (I included a photo of Kristin because I bet Mr. H overlooked this one on TV. If you missed his Inside Healthcare Computing editorial yesterday, he only noticed the beach volleyball babes).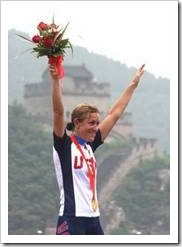 The CHIME folks tell me that CIO registration is up for their 2008 Fall CIO Forum in Henderson, NV in October, despite concerns over rising travel costs. And for budget conscious vendors, CHIME has a new entry level Foundation membership option. The Associate level member is $20,000 a year, far less than the $75K Premier level. I suppose you can't knock an organization for having high fees that prevent vendor membership from outnumbering the CIOs (like at HIMSS, for example). I have actually been to a CHIME meeting in the past and am sorry my own rising travel cost concerns will keep me home this year. They are a fun, smart bunch.