From Kinky Friedman: "Re: Misys. Misys announced this weekend that Vern is staying on board after the merger in a yet-undefined role. Mike Etue and Glen are thrilled."
From CaryObserver: "Re: Allscripts. It will be interesting to see Allscripts Q1 results and the market reaction. My guess is deals stalled due to the announcement and things will get blamed on timing issues rather than execution issues. How many quarters will they miss before management is held accountable?" Well, a bad quarter now could jeopardize the deal, anyway. The Brits were already whining that MDRX was being overvalued, so that would be ammo.
From Delores del Rio: "Re: RHIOs. Not that another RHIO going under is news, but it's (just) slightly more interesting when it's out of Silicon Valley. I don't feel the need to comment much myself since it'll be easy for others to do so." Link. California's Smart Health is worm food after two uninspiring years. Board member Richard Levy (also chairman of the board of Varian Medical Systems) is quoted as saying that breathy estimates of RHIO cost savings will never happen, especially with the big California acute care players like Sutter and Kaiser building their own interconnected systems. Even Daughters of Charity CIO Richard Hutsell took a kick at the still-warm corpse: "There was no economic model that said this makes sense. Who is going to be the one in charge, to manage it and iron out all those millions of details?" CalRHIO's got a much better chance because it reaches beyond areas of local competition and may have learned from the funding mistakes of its predecessors.
From The PACS Designer: "Re: Web 2.0 magazine. TPD thought HIStalk readers might want to brag to their peers about seeing one of the first of a string of new ways to read magazines and books online. Cardiovascular Business Magazine is one of the first to employ reading their magazine as it would look in your hands. To go to a featured article on the front page, click on it and you'll be brought to the article's first page. To proceed to the next page, move your cursor to the lower right hand corner and drag the page to your left. Have some fun exploring and reading online!" Link. There's probably a medical records analogy in there — the paper metaphor was so strong that somebody took the latest, sexiest technologies just to emulate it on-screen. Can I get a chisel and stone tablet plug-in for Word? 
Listening: The Czars. Big, haunting vocals over lush melodies. If a guy could sing Paint the Moon like John Grant, he'd need one of those deli ticket dispensers to make the smitten ladies wait their turn to idolize him.
Epic launches its next big construction project in Verona, getting Campus 2 underway. The local paper says the company is up to 3,000 employees (tripled in five years) and over $500 million in annual revenue. The article took some nice shots at Epic's competitors, noting Epic's KLAS ratings, its disdain for publicly traded companies, its six sales reps, its unwillingness to negotiate prices, and its resistance to selling out or going public. The new digs will add 1,700 offices to the 1,500 built in Campus 1 in 2006. Here's a story about the Epic treehouse (the picture below is from the Wisconsin State Journal). Thanks to the reader who sent the links over – cool stuff.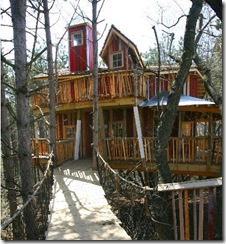 Daughters of Charity chooses SIS's perioperative solution.
Vendors and consultants, meet your newest competitor: University of Pittsburgh Medical Center. UPMC will install five clinical applications in 14 months in three UK hospitals under the banner of a for-profit company it formed last year. UPMC and the hospitals have also formed a joint venture to sell IT services to other UK hospitals. Per CIO Dan Drawbaugh: "The Newcastle contract is the first of what we hope will be many international agreements for our information technology services." They have an unfair advantage in that they run every information system known to mankind, so they're certainly living the vendor-agnostic creed.
Presidential candidate (and my choice, not that it matters) Ron Paul endorses B.J. Lawson for a North Carolina House seat. Both men are physicians and graduates of Duke University School of Medicine. Lawson was a founder of mobile computing vendor MercuryMD, sold to Thomson in June 2006.
Industry long-timer Dale Chernich is named CIO of WestCare Health System in Sylva, NC. I know he used to be with Dynamic Control and I think he was somewhere in PA for awhile (Hershey, maybe?) and most recently at Medical College of Georgia.
Picis will have a May 14 webinar on its Perioperative Dashboard. A customer will be presenting. Since they e-mailed me a press release, I felt empowered to conveniently ignored the copyright warnings at the beginning of their online demo and take a screen shot because I though it looked cool. You can click to enlarge, at least until they tell me to yank it down.
May is "Legacy Free" Day, according to a New York medical society. CMS and HIMSS want clearinghouses to send NPI in the provider identifier field of claims. CMS information is here. NPI is required starting May 23.
Penn White is named medical director of WiFiMed Holdings.
My editorial this week at the newsletter: "The First Lesson I Learned Working for a Vendor: Products Don't Need to Be Great, Just Good Enough." I'm obviously still holding some grudges toward the crappy vendor I worked for years ago.
BidShift apparently felt its conjoined name was too descriptive of what it offers, so, like every other company before it, it dug out a Latin dictionary and came up with Concerro. That will no doubt strengthen its brand recognition among people who have been dead for centuries.
Community Hospital of Bremen (IN) gets $500K of someone else's money (yours, specifically, if you pay federal taxes) to buy more Meditech stuff.
Wall Street Journal has an article on healthcare security lapses. Not much new, but it does mention that HHS has yet to levy even one HIPAA fine, although some incidents have resulted in criminal prosecution.
A survey of second-year medical residents in Canada says that 75% of them want to use EMRs.
Here's a fun piece about medical tourism from the perspective of several patients who not only used it, but enjoyed it. Mentioned: grocery chain Hannaford Bros.. which offers overseas procedures for which it pays the employee's share of the bill, flies the employee and a companion to Singapore, and pays for two weeks in a hotel for recovery. "He was blown away by how patients were treated – each are picked up at the airport by limousine and get to stay in hospital suites complete with mini-fridges. Physicians are always prompt; their bonuses are tied to how long they keep patients waiting."
Inga's Update

Quest Communications CEO Edward A. Mueller is named to McKesson's board of directors. He was formerly CEO of Williams-Sonoma, which sounds like a much more fun gig. McKesson also announces that more than 10 community hospitals have signed on for its Paragon HIS solution and Practice Partner EMR/PM during the past year.
Qatar University pharmacy students will use Cerner's Academic Education Solutions for EMR practice.
A survey of European general practitioners finds that 87% use a computer, 70% the Internet, and 66% for consultations.
David Brailer and his Health Evolution Partners firm announce their first investment. Evolution is providing an eight-figure financing commitment to e-Rx company Prematics. Brailer will join the company's board.
Misys partners with Wolters Kluwer Health to enhance the clinical content of MyWay.
Sunquest opens a new London office as its international headquarters. The company has 17 UK hospitals using its systems.
The Indiana HIE is considering taking its expertise outside of the state to share with other markets. Leaders would like to see its model become the national norm. It may not be a bad idea given its success financially (self-sustaining without grants and donations; the 39 participating hospitals pay service fees, but not the 8,500 physicians).
Premier will promote Eclipsys solutions to its 1700 hospital members.
The 18-doctor Florida Cardiology group is implementing Sage's Intergy EHR and PM. The software will be web-based and available across the group's eight locations.