Top News
Personal genome testing vendor 23andMe raises a $115 million Series E on a $1.1 billion valuation. The company nearly shut down in 2013 after the FDA shut down its direct-to-consumer sales and marketing efforts, but has pivoted and now generates its revenue supporting drug discovery. Lt. Dan takes a closer look on HIStalk Connect.
---
HIStalk Announcements and Requests
This week on HIStalk Connect: Philips partners with Amazon to bring HIPAA-compliant IoT connectivity to its population health platform. Microsoft co-founder Paul Allen invests $500 million in artificial intelligence research. Berlin-based reproductive health app Clue raises a $7 million Series A to grow its user base and expand functionality within its app.
This week on HIStalk Practice: MGMA15 updates from Sunday, Monday, and Tuesday. AdvancedMD launches new interoperability and benchmarking tools. AMA's new Telehealth Services Group convenes to discuss expanding CPT codes. Heart and Vascular Center of Lake County goes with Allscripts for chronic-care management. AAFP takes ONC to task for its weak interoperability roadmap. Primary care and mental health clinicians discover integrating data can be painful.
---
Webinars
None in the next few days. Contact Lorre for webinar services. Past webinars are on our HIStalk webinars YouTube channel.
---
Acquisitions, Funding, Business, and Stock
Glytec's patent for its mobile diabetes management app, which offers patients real-time insulin-dosing guidance, receives approval from the US Patent and Trademark Office . 
DrFirst firms up $25 million in equity financing from Goldman Sachs, bringing its total financing over the last year to $42 million. The company announced last week the integration of its medication management software and secure communications with the Rx30 Pharmacy Management System.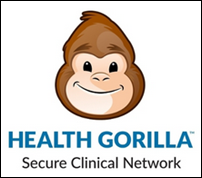 Sunnyvale, CA-based Health Gorilla secures a $2.4 million Series A led by Data Collective. The company has also expanded its diagnostic test automation platform to include electronic ordering and secure messaging.
Theranos fires back after the Wall Street Journal publishes an exposé-like piece by Pulitzer prize-winning investigative journalist John Carreyrou highlighting the fact that company uses its proprietary testing equipment on only 15 of the 200-plus tests it performs, and that many of those tests require large samples rather than the "few drops of blood" the company claims. Theranos asserts that, "Stories like this come along when you threaten to change things, seeded by entrenched interests that will do anything to prevent change, but in the end nothing will deter us from making our tests the best and of the highest integrity for the people we serve, and continuing to fight for transformative change in health care."
---
Sales
Seattle Children's Hospital signs a three-year contract with Wellcentive to implement its population health management and value-based care solutions. The hospital will use the tools within its Seattle Children's Care Network and Pediatric Partners in Care program.
Steward Health Care System (MA) moves forward with Meditech 6.1. Implementation across its nine hospitals is slated to begin next month, with a go-live date set for 2017.
---
Technology
Philips partners with Nuance to offer Nuance PowerScribe 360 users the ability to import radiology dosimetry data from its DoseWise Portal.
Medhost implements ExtraHop's wire data analytics platform to gain insight into how providers use and experience its software. It's also signed up for the Seattle-based company's HL7 analytics to improve the troubleshooting process when HL7 interface problems crop up.
---
People
Validic Chief Marketing Officer Chris Edwards wins the CMO Growth Award from The CMO Club.

Pam Stampen (American Family Insurance) joins Nordic as vice president of human resources.
Eric Topol, MD (Scripps) joins the MyoKardio Board of Directors, and becomes chair of its science and technology committee.
Hackensack University Medical Center (NJ) Vice President and CIO Shafiq Rab, MD receives CHIME's 2015 Innovator of the Year award.
Miles Snowden, MD (TeamHealth) and Linde Wilson (L.E.K. Consulting) join the Oxehealth advisory board.
---
Announcements and Implementations
LBJ Tropical Medical Center and 17 outpatient clinics in American Samoa go live on Medsphere's OpenVista EHR. Four more clinics will roll out the technology in the coming months. Providers in the unincorporated US territory are eligible for Meaningful Use, and are in the process of qualifying for Stage 1.
Hospice Buffalo (NY) implements e-prescribing technology and services from Delta Care Rx.
Baystate Health selects Kyruus ProviderMatch software to streamline and standardize referral processes across its integrated network in Springfield, MA.
Holy Family Memorial (WI) rolls out telemedicine services via the Zipnosis platform. The vendor inked a deal with Michigan-based multispecialty provider group IHA earlier this month.
Mayo Clinic (MN) implements the Viewics Health Insighter analytics platform across several divisions within its Dept. of Laboratory Medicine and Pathology, including Mayo Medical Laboratories.
---
Government and Politics
The VA and Indian Health Service receive accreditation from EHNAC and DirectTrust, making them the first federal agencies to gain interoperability via the Direct exchange network.
---
Privacy and Security
Accenture reports that cyberattacks over the next five years will cost US health systems $305 billion in lifetime revenue. Adding insult to injury is the company's estimate that one in 13 patients will have personal data stolen from technology systems within that same timeframe, leading 6 million people to become victims of medical identity theft. 
---
Innovation and Research
University of Wisconsin-Whitewater researchers determine that Hawaii, Wisconsin, and Iowa have the most efficient healthcare systems based on a five-year look at patient satisfaction scores and access trends, as well as financial and human resource data. The study, sponsored by the Wisconsin Hospital Association, was designed to give employers more insight into employee healthcare ROI across the country.
---
Other
The Georgia Partnership for Telehealth collaborates with Appling HealthCare System (GA) and WellCare Health Plans to open two new telemedicine-equipped health centers at schools in Appling County.
Epic's "triple harvest" solar installation in Verona ranks as one of the largest in the area, with two arrays totaling 2.2 megawatts. The company grows alfalfa underneath its largest array, and has installed a network of 2,500 ground-source heat pumps under the alfalfa to heat and cool the campus. It's somewhat ironic to compare the company's attempts to go green with the impact its employment boom is taking on Madison's public transportation system. Ridership on the city's two routes to the Verona campus has increased by more than 25 percent annually since 2012. The company kicked in $26,000 to help run an extra route starting last month.
---
Sponsor Updates
Blog Posts
---
Contacts
Mr. H, Lorre, Jennifer, Dr. Jayne, Dr. Gregg, Lt. Dan.
More news: HIStalk Practice, HIStalk Connect.
Get HIStalk updates.
Contact us or send news tips online.