Top News
Verisk Analytics is rumored to have retained Morgan Stanley to sell its Verisk Health business in what should be a billion-dollar deal.
---
Reader Comments
From Laura: "Re: EHRs. Thanks for highlighting that the problems with EHRs aren't (just) design and usability. They also relate to the major new spate of inane and arcane, bureaucratic, insane regs and new rules that keep HIT tools from being efficient (or even sufficient). If we could cut loose all of Meaningful Use and all E&M codes, we could open new modes of treatment and care and improve everywhere." Laura is an informatics-certified physician and professor. I suggest this exercise for those who blame their EHR for excessive clicks and documentation collection. Make a list of every piece of information the EHR requires to inboard and treat a new patient, then map it back to who demands or uses that data element. I'm pretty sure EHR vendors aren't just adding required fields for their personal enjoyment – the provider has agreed to collect that information for some approved purpose, internal or external, most likely as a condition of getting paid. Usability factors aren't all that important when your users, by the nature of their jobs, are required several times each day to enter the same 200 codified data elements on the the same screen for each new patient. Clinical employees of EHR vendors dream of a fantasy world in which their products are designed strictly for doctors, nurses, and patients. In the mean time, blaming the vendor for operationalizing the sad current state of healthcare is like blaming fast food restaurants for obesity – those who created the market demand refuse to accept responsibility and instead complain about those they pay to supply their needs.
---
HIStalk Announcements and Requests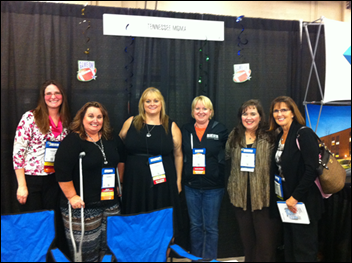 Jenn is filing daily reports from the MGMA conference in Nashville. Want to know how ICD-10 turned out for practices or what's being discussed in the exhibit hall? Check out her recaps from Sunday and Monday.
Ms. Byrd-Johnson sent photos of her Alabama class using the 10 Android tablets we purchased via the DonorsChoose project. The school district implemented a "bring your own device" policy and we bought the tablets for students who don't have a device to bring. Also checking in was Mrs. Clark from Tennessee, whose students used the STEM kit we provided to study engineering design and then collaborate to design, discuss, and improve their projects.
Good or bad, the conference season is back. People are endlessly live-tweeting quotes from anyone with a PowerPoint behind them. I don't get anything (except annoyed) from reading out-of-context, 140-character quotes pulled randomly by tweet-seekers compensated either by ego strokes or paychecks. I'll be interested to see how conferences handle Periscope and other live video apps whose tech-obsessed users stream low-quality video from presentations and exhibit halls.
I'm also always reminded at this time of year at just how some healthcare people seem to spend every free minute attending conferences at the expense of their employers (and thus patients), reminding me of undergraduates who embrace the undemanding college life so much that they just hang around taking classes forever courtesy of their indulgent parents. I'm also amused that attendees flock to conferences devoted to mobile and tele-anything services, apparently not appreciating the irony of traveling great distances to physically watch someone talking about the huge benefits driven by online collaboration.
Welcome to new HIStalk Platinum Sponsor Clinical Computer Systems, which offers the Obix perinatal data system. The employee-owned, Elgin, IL-based company, which was founded in 1997, has been a labor and delivery technology leader, earning 10 consecutive KLAS rankings. It's a CommonWell member, a member of the Allscripts developer program, and an Epic collaborator. Obix offers charting modules for intrapartum, recovery, post-partum, strip annotations, care plans, newborn, SCN, and remote provider access. It provides clinical decision support for fetal heart rate assessment and monitoring with automatic charting into the intrapartum charting module. Obix is certified as an EHR module and its products are approved as medical devices by the FDA. Thanks to Clinical Computer Systems for supporting HIStalk.
I found this Obix overview video on YouTube.
---
Webinars
None in the next few days. Contact Lorre for webinar services. Past webinars are on our HIStalk webinars YouTube channel.
---
Acquisitions, Funding, Business, and Stock
IT solutions provider UST Global makes a $5 million stock investment in Sandlot Solutions.
I mentioned this weekend that Dell was rumored to be acquiring EMC. The deal was announced Monday, with Dell paying $67 billion for the storage vendor, a 28 percent premium to the share price before word of the acquisition leaked out. Dell will take on another $50 billion in debt and use its VMware equity to finance the deal as it anxiously tries to find something to sell other than low-demand commodity PCs. EMC is lucky that someone with access to capital also is in a business that makes enterprise storage look sexy.
Xerox announces that it has decided not to complete implementation of its overdue Health Enterprise Medicaid processing systems in California and Montana and will write off $385 million in settlement costs in Q3.
---
Sales
In the UK, University Hospital of South Manchester NHS Foundation Trust chooses Allscripts Sunrise.
---
People
XG Health Solutions names Mike Bertrand (HealthWyse) as SVP of EHR application development.
ZeOmega hires Chris Brown (Cardinal Health Specialty Solutions) as SVP of sales and marketing.
University of Vermont Health Network promotes CMIO and interim CIO Adam Buckley, MD to the permanent CIO position.
Divurgent promotes Paul Anderson to VP of advisory services.
---
Announcements and Implementations
Two hospitals of Centegra (IL) go live on T-System's EV EDIS, with Centegra-McHenry's LWBS (left without being seen) count dropping to zero on go-live day.
AdvancedMD announces new benchmarking and interoperability solutions at MGMA, where the company is also highlighting its patient engagement and iOS-powered point-of-care solution.
Voalte announces Voalte Platform, which includes collaboration, management, analytics, and integration solutions.
---
Technology
British Health Secretary Jeremy Hunt says that computers rather than physicians will diagnose medical conditions within 20 years, adding, "You can get 300,000 biomarkers from a single drop of blood, so why would you depend on a human brain to calculate what that means when a computer can do it for you? I think it's really important that we're ready in the NHS to harness the power of data to give us more accurate diagnoses, in particular with that example."
---
Other
A study finds minimal improvement from the Choosing Wisely program that addresses unnecessary tests and procedures. The authors conclude that the program needs a wider rollout.
Farzad Mostashari, MD tweeted out this photo of a page from Saving Gotham, a just-released book by former NYC Health Commissioner Tom Farley, MD, MPH that describes the public health efforts by former Mayor Michael Bloomberg and former NYHHC Commissioner Tom Frieden, MD, MPH (now CDC director). It sounds like a great read as the rest of the country starts catching on that there's no such thing as health without public health no matter what intervention-obsessed hospitals and doctors would have you believe.
Peer60's new standalone ambulatory facility EHR report (not ambulatory EHRs in general as other sites misinterpreted) finds that Epic and Cerner are tied for mind share leadership, with Epic holding a big market share lead. Meditech and Allscripts have decent market share in hospital-owned facilities, but zero mind share, meaning their customers are at risk for defecting. NextGen is also at risk since it has the highest market share among independently owned facilities, but also zero mind share in which Cerner, Epic, and eClinicalWorks dominate. Respondents said vendors should make their product easier to use, improve reporting, and improve practice management capabilities, although 32 percent say it won't matter since the hospital dictates the EHR used.
The Kansas City paper covers Neal Patterson's address at the Cerner Health Conference. He called on Epic to join CommonWell's "open architecture" and announced that Epic-using Geisinger Health System will implement Cerner's HealtheIntent population health management system. Karen DeSalvo looks like she's passing Neal a happy stuffed bear in the photo.
Texting-obsessed teens are like compulsive gamblers who can't stop even as they miss sleep, lose their attention spans, and lie about the time they spend texting, a new study finds. It recommends that parents set screen-free times, which doesn't give me a lot of hope since many adults are just as phone-zombified as their kids. One opiate of the masses was probably enough.
Weird News Andy finds this story "selfieish," in which selfie-obsessed millennials, convinced that they are celebrities basking in the exhilarating glow of their own limelight, are flocking to "the shallow end of the value pool" in trying to look better and market themselves more effectively by having plastic surgery.
---
Sponsor Updates
AirStrip will exhibit at the HMA CEO Forum October 14-18 in Deer Valley, Utah.
Aprima will exhibit at the Oklahoma Primary Care Association event October 14-16 in Oklahoma City.
Wellsoft will exhibit at ACEP15 in Boston October 26-28.
Hospital Sisters Health System writes about their reduction in medication alert fatigue using First Databank's AlertSpace in Patient Safety & Quality Healthcare.
Cardiopulmonary Corp. (Bernoulli) will host a focus group session October 16 during the CHIME15 Fall CIO Forum October 14-17 in Orlando.
Bottomline Technologies will exhibit at Health Informatics New Zealand October 19-22 in South Island.
PatientKeeper will exhibit at Becker's ASC 22nd Annual Meeting in Chicago October 22-23 and will sponsor HFMA's Revenue Cycle Conference in Fort Lauderdale October 25-27.
CapsuleTech will exhibit at Salon Infirmier October 14-16 in Paris.
HealthLoop Chairman Jordan Shlain, MD will present at London Business School's Driving Innovation in Healthcare Delivery on October 20.
Culbert Healthcare Solutions will partner with ConnexaHealth for consulting.
Verisk Health and ZeOmega will exhibit at AHIP's National Conference on Medicare and Medicaid & Dual Eligibles Summit October 18-22 in Washington, DC.
Huron Consulting hosts a Coverage Analysis & Billing Compliance Workshop October 16 in Washington, DC. 
EClinicalWorks will exhibit at The National Conference on Correctional Healthcare October 17-21 in Dallas.
Fujifilm Medical Systems will exhibit at the Annual Scientific Meeting of the ACG October 16-21 in Honolulu.
Blog Posts
The following HIStalk sponsors are exhibiting at the Cerner Health Conference October 11-14 in Kansas City, MO:
Access
AirWatch
CoverMyMeds
Crossings Healthcare Solutions
Divurgent
Elsevier
Experian Health/Passport
Fujitsu
Zynx Health
GE Healthcare
Healthwise
Imprivata
Intelligent Medical Objects
Leidos Health
Lexmark Healthcare
LifeImage
MedCPU
Merge Healthcare
Nuance
Summit Healthcare
Surescripts
The SSI Group
Versus Technology
VMware
Wolters Kluwer
---
Contacts
Mr. H, Lorre, Jennifer, Dr. Jayne, Dr. Gregg, Lt. Dan.
More news: HIStalk Practice, HIStalk Connect.
Get HIStalk updates.
Contact us or send news tips online.